VIEW CART
To search this page for specific words type "Ctrl" + "F" on your keyboard (Command + "F" on a Mac). Then, type the word you are searching for in the search bar that pops up. In Firefox, the search bar will appear on the bottom of your screen. In Internet Explorer, it is at the top.
---
LOTS 1-50 | 51-100 | 101-150 | 151-200 | 201-250 | 251-300 | 301-350 | 351-400 | 401-450 | 451+
---
Trade Tools Auction 2017
Antique Trade Tools 2017 Auction is now available for absentee bidding below!
Auction is LIVE July 15th, 2017 at 1:00pm at Tillers International Facility, Scotts, MI. Auction will be outdoors following the M-WTCA Area C Meet in the morning. Please see our info page for more information.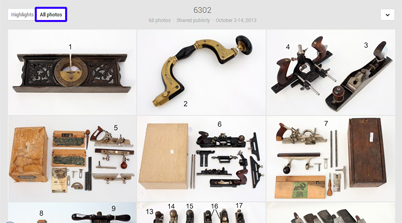 Auction Information:
All bids must be received on or before the end of the day Friday, July 14, 2017. Initial bids can be increased at any time until the end of the day Friday July 14, 2017. If you would like to bid on a paper bid sheet, blank bid sheets can be printed out here. Mail, fax, or email your bids to the address provided on the form. You may also bid on the auction and submit an electronic bid sheet using the online auction listing below. Auction takes place LIVE on at 1:00pm July 15th, 2017 at Tiller's International Facility, Scotts, MI.
To view all auction items in our Web Albums, click here. To see all photos in order, select All Photos (in blue in the image above). Clicking on individual photos reveals full description and the ability to zoom in.
How to bid in our current auction below:
Enter bid in Maximum Bid box to the right of lot desired and click "Add to Cart" button.
Review bid on the next page.
If you would like to bid on more lots, click the "Continue Bidding" button to return to the current auction to place more bids. The number of bids in your cart will appear at top of current auction page.
Bid on next item(s) until completed bidding on all lots you wish to bid, hitting the "Continue Bidding" button after each bid is added to cart.
When placing your final bid, select the "Place Bid" button, then the "Confirm" button after reviewing all bids. Proceed with entering contact information to submit bid(s) to Fine Tool Journal.
To quickly and automatically process any auction wins, please call us a (800) 964-9036 to securely place your credit card on file.
*PLEASE NOTE: There is a $3 bidding fee for each bid won. Shipping for heavy and oversized items will try to be shipped as economically as possible but will include oversize charges from the shipping provider as applicable. Feel free to contact us if you have any questions*
Thanks for bidding!
To confirm we received your bids and to check on current High Bids please call (800) 964-9036. Bids may be increased by calling or by submitting increases online below.
Items marked with an asterisk (*) before the description allow a minimum bid of $1. All other items have a minimum $20 bid.
| | | | | | | | |
| --- | --- | --- | --- | --- | --- | --- | --- |
| LOT | DESCRIPTION | CONDITION | SOURCE | LOW | HIGH | PHOTO (CLICK TO ENLARGE) | BID |
| 2017-001 | 2017-001 Decorative fore plane. 19 inches long by 5 inches wide closed tote unmarked 3- quarter inch cutter. Body looks to two pieces glued together in middle all surfaces except for sole have been painted yellow with red and orange vine and floral motif paint has some wear on edges and crackling from age. A few cracks where wedge meets body one or two holes in body. A beautiful piece of folk art combined with functional plane. | Good | PLH | 40 | 80 | | |
| 2017-002 | 2017-002 STANLEY BEDROCK No. 605C smoothing plane. Later type with flat top sides. Vee shaped logo on cutter. Wood ok japanning 75 percent a few spots of discoloration on body. | Good | CDE2333 | 60 | 120 | | |
| 2017-003 | 2017-003 STANLEY No. 10 carriage makers rabbet plane. Later type with kidney shape in lever cap japanning 99 percent wood good clean. | Good plus | CDE1211 | 40 | 80 | | |
| 2017-004 | 2017-004 STANLEY No. A6 fore plane. Rarest of the aluminum bench planes. early type with patent date cast into bed and sweetheart cutter. Average scratching on sole lever cap has chips on bottom and no plating wood lightly worn and old chip on edge of tote smoothed over. Would clean up nicely. | Good | CDE1217 | 50 | 100 | | |
| 2017-005 | 2017-005 OHIO TOOL No. 328 patented jointer plane. OTC -Thistle Brand- cutter some light surface rust japanning 70 percent wood ok. | Good | PLH592 | 60 | 120 | | |
| 2017-006 | 2017-006 STANLEY BEDROCK No. 605- halfC smoothing plane. Looks like a Type 7 but has round top cheeks surface rust user initials stamped in cheeks japanning 90 percent large chunk missing on side of tote plating good on lever cap and could be newer replacement. | Good- | DJS692 | 80 | 160 | | |
| 2017-007 | *2017-007 STANLEY No. 5- quarter junior jack plane. Later type with kidney shape in lever cap japanning 95 percent wood lightly worn a few light scratches on sole. | Good | CDE1427 | 25 | 50 | | |
| 2017-008 | 2017-008 STANLEY BEDROCK No. 604- halfC smoothing plane. Type 6 with flat top sides and vee mark on cutter wood has light wear and chip and hairline crack at base of tote at screw. Japanning 95 percent light surface rust. | Good | PLH420 | 120 | 240 | | |
| 2017-009 | 2017-009 STANLEY No. 2 bench plane. Later type with kidney shape in lever cap japanning 95 percent lever cap good some wear to wood but no major damage light surface rust that can be easily cleaned. | Good | PLH425 | 75 | 150 | | |
| 2017-010 | 2017-010 STANLEY No. 62 low angle jack plane. Designed for cutting cross and end grains this is one of Stanley's rarer planes. Minor flaking to nickel japanning 85 percent sweetheart mark on cutter mouth ok. Repaired crack in tote and old chip on side of tip dinging to knob a few spots of mild surface rust. | Good | CDE1551 | 175 | 250 | | |
| 2017-011 | 2017-011 STANLEY No. 45 combination plane. Looks to be a mix of Type 3 and Type 4. Includes short rods screwdriver and 14 cutters loose inside repurposed tobacco tin. Chips on top and bottom of handle body has most of nickel plating but fences have traces brass screws and wingnuts. | Good | DJS394 | 40 | 80 | | |
| 2017-012 | *2017-012 STANLEY No. 50 light plow plane. Post-1910 model with fishscale pattern on handle. Nickel plating mostly gone no depth stop one cutter. | Good- | RBN159 | 25 | 50 | | |
| 2017-013 | 2017-013 STANLEY No. 46 combination plane. Type 9 no cutters except seven-eighth inch small chips in handle tips and fence corners plating 75 percent also has short rods. | Good | RBN341 | 40 | 80 | | |
| 2017-014 | 2017-014 STANLEY No. 45 combination plane. Looks like a late Type 1 but no patent date on slitter. Repainted missing one brass screw handle is laminated replacement long rods only and one cutter. | Good- | DJS461 | 50 | 100 | | |
| 2017-015 | 2017-015 MILLERS FALLS No. 14 jack plane. Plane gently used with most of its japanning wood lightly worn some rust on sole. Has STANLEY No. 386 jointer gauge with vee mark and one or two spots of rust but still works well. | Good | DJS693 | 60 | 120 | | |
| 2017-016 | *2017-016 STANLEY No. 3C smoothing plane. Type 13 wood good except a tiny crack at base of knob surface pitting but nothing severe. | Good | CDE2341 | 25 | 50 | | |
| 2017-017 | 2017-017 Infill rabbet shoulder plane. Unsigned and possibly user made cast iron body with user initials on toe rosewood infill with replacement oak wedge. Strike button missing blade looks cut down from larger one surface rust on body. | Good- | JAR361 | 30 | 60 | | |
| 2017-018 | 2017-018 Infill smoothing plane. Unsigned but nicely made. Nicely carved front bun and laminated rosewood wedge shaped area behind cutter tote ok. Surface rust hole in rear right cheek small chip in mouth. Cutter is J. JOWETT with SORBY chipbreaker. Could use some TLC but pretty. | Good | PLH498 | 50 | 100 | | |
| 2017-019 | 2017-019 MATHIESON infill smoother. Marples cutter user stamp on cap body and cutter rusty wood has wear and chip from tip of tote. | Good- | PLH73X | 50 | 100 | | |
| 2017-020 | 2017-020 MILLERS FALLS Buck Rogers No. 709 bench plane. Type 1 japanning 60 percent wear and scratching to tote and knob a few spots of very mild pitting. Two small chips in throat. Decent user. | Good- | DJS694 | 50 | 100 | | |
| 2017-021 | 2017-021 STANLEY No. 238 weather-stripping plane. Japanning 95 percent sweetheart mark on quarter inch cutter some milling marks on skate. | Good | RBN146 | 40 | 80 | | |
| 2017-022 | *2017-022 STANLEY No. 113 circular plane. Type 7 with sweetheart mark on cutter japanning 75 percent surface rust but seems to work fine. | Good | DJS691 | 20 | 40 | | |
| 2017-023 | *2017-023 Unhandled plow plane. Unmarked except for user name A. Duncan JNO. CUTLER No. 9 cutter. A few chips on threads one arm has crack and one outer nut has repaired crack. | Good- | DJS641 | 20 | 40 | | |
| 2017-024 | *2017-024 Wedge-arm plow plane. Unmarked small body brass ends one wedge a little loose wear on body. Missing cutter wedge a little chewed. | Good- | JRI577 | 15 | 30 | | |
| 2017-025 | *2017-025 Unhandled plow plane. Arms and depth stop locked with wood thumbscrews user name on toe cutter marked J KENDALL some staining to lacquer wedge a little chewed. | Good | DJS642 | 20 | 40 | | |
| 2017-026 | 2017-026 TD and CO handled plow plane. Beech body with boxwood nuts arms have a few large chips OHIO TOOL cutter. A chips off end of tote chip on front corner of fence three circular dents and a tight crack behind brass depth stop thumbscrew. | Good | DJS644 | 30 | 60 | | |
| 2017-027 | 2017-027 Handled plow plane. Looks like beech unmarked except for user name OHIO TOOL cutter. Nuts have some staining moderate chipping to arms fence has dovetailed rosewood edge good tote overall clean with a ding or two. | Good | DJS645 | 50 | 100 | | |
| 2017-028 | 2017-028 G.W. DENISON handled plow plane. Boxwood body and fence. Major chip out of the end of the tote and some cracks on the top around throat but otherwise very nice with immaculate threads and good nuts. D.R. Barton No. 4 cutter. B mark -2 stars-. | Good | NHN48 | 75 | 159 | | |
| 2017-029 | 2017-029 Handled plow plane. Looks like applewood unmarked large chip at end of one arm and mild chips on other parts of arms. Ding out of brass depth stop thumbscrew tote and fence good crack in one outer nut. | Good | DJS643 | 40 | 80 | | |
| 2017-030 | 2017-030 Wedge-arm plow plane. Beech unmarked wedges look like replacements some staining and checks fence has cracking light pitting on skate. | Good | DJS646 | 30 | 60 | | |
| 2017-031 | 2017-031 Lot of chisels and gouges. Most are by D.R. BARTON including 3 gouges and 5 chisels from quarter inch to 1- quarter inch in width various handles but ends generally good and a spot or two of rust. Plus 3 larger chisels including two 1- three-fourths inch by JAMES SWAN and BUCK BROS. and 2 inch by CHARLES BUCK. And a G.E. WOOD everlasing chisel quarter inch. Plus a scratch awl made of a file and a small screwdriver with knurled handle. | Good | NHN72 73 247 265 266 340 | 60 | 120 | | |
| 2017-032 | 2017-032 Lot of 5 gouges. Two with 1 inch edges a 21 inch long unmarked one and 17 inch long one with partial mark illegible and replaced handle. A 2 inch wide one by TILLOTSON a half inch unmarked one with 10 inch handle and a half inch fluted gouge by BUCK. Larger ones have some rust. | Good | JAR107 109 115 394 477 | 40 | 80 | | |
| 2017-033 | 2017-033 Lot of 7 chisels and gouges. 3 chisels 1- half inch Japanese style 1 inch MARPLES quarter inch unmarked. 4 gouges a 1 inch marked Cam a half inch modern STANLEY a three-eighth inch unmarked and a 1 inch curved gouge with cherry stamp and number 26 above it. | Good | JAR76 77 102 400 402 476 | 30 | 60 | | |
| 2017-034 | 2017-034 Patented mallet. Patented by George Goddard of Brookton MA and manufactured by BROOKTON MALLET CO. Wood handle wrapped in leather cast iron round mallet head with hide wrapped around middle a few spots of rust. The patent states this mallet is used primarily in shoe-making and this one is in pretty decent shape. Uncommon. | Good | PLH66X | 75 | 150 | | |
| 2017-035 | *2017-035 Scraper. Thats my best guess. 19 inches long with curved end. End has one side that is sharp | Good | JAR482 | 20 | 30 | | |
| 2017-036 | 2017-036 Lot of chisels. Two three-eighth inch Japanese chisels two 2 inch by SORBY and PSandW an unmarked seven-eighth inch and a 1- quarter inch by STANLEY. And a corner chisel with half inch sides unmarked. Plus were throwing in a five-eighth inch gouge. All fairly clean corner chisel has most wear and cracked handle. | Good | JAR105 106 112 113 233 479 481 | 50 | 100 | | |
| 2017-037 | *2017-037 Lot of handled tools. 6 screwdrivers including one YANKEE No. 33H a nail puller and two scratch awls. All clean. | Good | NHN218 | 20 | 40 | | |
| 2017-038 | 2017-038 Lot of two mortise chisels. Both quarter inch 4 inches long by WADE BROS. and 7 inches long by MOSELEY and WILLSON. | Good | JAR396 399 | 30 | 60 | | |
| 2017-039 | 2017-039 Lot of tins. Large 12 x 11 inch biscuit tin depicting landscapes of Mohawk Valley from the Beech-Nut plant light wear plus a smaller floral decorated Beech-Nut fruit cake tin with matches inside. Plus a UNION LEADER tobacco tin a LOCKTITE service kit tin and an empty STARRETT micrometer wood box. | Good | NHN43 131 | 30 | 60 | | |
| 2017-040 | 2017-040 DIETZ Buckeye Dash kerosene lantern. Made from 1895-1940 and designed with a rear clamp to attach it to the dashboard of a horse drawn wagon. Reflector in front traces of nickel plating glass ok some surface rust. | Good | DEN64 | 40 | 80 | | |
| 2017-041 | 2017-041 Lot of two kerosene lanterns. A DIETZ Victor No. 0 tubular lantern some surface rust. And an ADLAKE Kero No. 400 likely Version 3 or 4 with some surace rust but wick looks never used. | Good | DEN60 61 | 50 | 100 | | |
| 2017-042 | 2017-042 Lot of two DIETZ No. 2 lanterns. A Blizzard some surface rust and a D-Lite with most of its original plating. Both in decent shape. | Good | DEN62 63 | 50 | 100 | | |
| 2017-043 | 2017-043 Lot of two COLUMBUS WASHBOARD CO. washboards. An uncommon Easy Gold some light wear and dirt but still has most of its gold washboard and paint depicting polar bear on ice. And a Maid-Rite No. 2062 light wear and soap stains. | Good | BSR669 | 30 | 60 | | |
| 2017-044 | 2017-044 Powder horn. Horn has some staining good leather strap and wood plug. Sounds like still it has powder in it so live auction or local pickup only. | Good | DJS615 | 30 | 60 | | |
| 2017-045 | 2017-045 Pyrene fire extinguisher. Brass body on metal frame one quart size for boats or cars no longer under pressure and empty. Missing black paint on label some specks of green paint near spout. | Good | DJS616 | 30 | 60 | | |
| 2017-046 | 2017-046 Tramp art box. Hinged lid layers of notched carvings on wood frame stained red surrounding black velvet centers. Brass feet on corners. Crack in base no key. | Good | GFR296 | 50 | 100 | | |
| 2017-047 | *2017-047 Graniteware coffee pot. 10 inches tall good handle some spots of rust and one small scrape to enamel. | Good | DEN65 | 25 | 50 | | |
| 2017-048 | *2017-048 Lot of two galvanized tin canisters. A 4 quart milk pail with lid unmarked and a grain pail with partial Harvester Brand label both with some spots of light rust. | Good | BSR670 | 20 | 40 | | |
| 2017-049 | 2017-049 Lot of circus memorabilia. Ringling Bros and Barnum and Bailey and Cole Circus letterheads framed but backing loose. And around 15 ticket stubs for King Bros Wallace Bros Clyde Beatty Tom Mix Dobritch Barnett Bros Russel Bros etc. circuses. Also in frame with intact backing. | Good | GFR277 | 30 | 60 | | |
| 2017-050 | *2017-050 Lot of NABISCO saltine tins. Two are more modern two vintage. Vintage ones have more wear and are shorter. Plus were throwing in a tinkertoy canister with toys inside but I cant guarantee all parts are there. | Good | BSR671 | 20 | 40 | | |
| 2017-051 | *2017-051 Lot of paper fans. Stick handle fans advertising products like Sleepy Eye flour Alka-Seltzer Mabels Wash Beany and Cecil cartoon. Plus two fold-out side ones depicting a mountain scene and other is the Last Supper. A few have wear on edges but most clean. | Good | GFR292 355 | 25 | 50 | | |
| 2017-052 | 2017-052 Lot of manufacturing letters invoices and photos. Many from hardware dealers lumber mills shoe factory grocers tobacco companies paper companies etc. most in California. At least 60-80 documents some inside sleeves in binder. Photos look like reprints of historic prints household and business photos most in Pasadena CA. | Good | GFR | 40 | 80 | | |
| 2017-053 | 2017-053 Lot of 7 spokeshaves. STANLEY No. 51 with sweetheart cutter No. 53 missing cutter and screw No. 55 and No. 151 with unmarked cutters. Plus two BAILEY No. 1 bodies with replacement Stanley cutters and caps some dings. Most have rust and wear to japanning. And were throwing in a KUNZ No. 63 clean. | Good- and better | JAR380-383 386 390 533 | 35 | 70 | | |
| 2017-054 | 2017-054 Lot of 4 tools. A SNELL and ATHERTON No. 5 heel shave repainted. STANLEY No. 151 shave with sweetheart cutter japanning 80 percent and a No. 66 hand beader with straight fence and one cutter traces of plating. And a KEEN KUTTER No. 79 cabinet scraper with ATKINS No. 0 cutter clean and may be repainted. | Good | NHN204 206 207 210 | 40 | 80 | | |
| 2017-055 | 2017-055 Lot of 6 spokeshaves. STANLEY Two No. 51 including one with Atkins cutter and other has replacement thumbscrew two No. 53 with one missing a screw and a No. 54 also missing a screw. And one by S. SMITH and SON no japanning and some rust. | Good | JAR376 378 384 385 389 534 | 30 | 60 | | |
| 2017-056 | 2017-056 Lot of 2 brass spokeshaves. Both 11 inches wide and look user made but well done open handled one stamped ABC other with upward angled handles is missing cutter. Hang holes. | Good | NHF40 41 | 30 | 60 | | |
| 2017-057 | 2017-057 Cloggers knife. Used to make wooden clog shoes. 40 inch long straight body with 5 inch curved edge. Carved handle. Heavily pitted. | Good | DJS647 | 40 | 80 | | |
| 2017-058 | 2017-058 Cloggers knife. Used to make wooden clog shoes. 40 inch long curved body with 12 inch straight edge. Carved handle. Some pitting. | Good | DJS612 | 40 | 80 | | |
| 2017-059 | *2017-059 Drawknife. Unmarked 9 inch blade. Some surface rust but no pitting and still very sharp nice old wooden handles one looks replaced. | Good | JAR47 | 10 | 20 | | |
| 2017-060 | 2017-060 Lot of 4 drawknives. One looks handforged with 9 inch edge wood handles. Two with 8 inch edges one by J.S. CANTELO with spring latch handles and staining to wood and unmarked one with wingnut locking handles. And a small 6 inch one with bulbous handles. | Good | DJS458 | 40 | 80 | | |
| 2017-061 | 2017-061 Fleshing knife. 11 inch edges double handle on one end and single handle on other to use blade in multiple directions. What looks like maker mark W COX stamped three times on blade. Nicely carved handles. | Good | DJS648 | 40 | 80 | | |
| 2017-062 | 2017-062 Lot of 3 edge tools. A 10 inch drawknife by PSandW clean edge lightly stained handles. A double handled scorp with 4- quarter inch edge handles have wear. And a box scraper with triangle head. Scorp and scraper fully painted silver on metal drawknife just has handle collars painted. | Good | NHN34 241 243 | 30 | 60 | | |
| 2017-063 | *2017-063 Lot of 2 drawknives. Uncommon one by PACE WHITMAN and CO a mid-19th century company in West Fitchburg. 6- half inch curved blade surface rust and light pitting but edge sharp handles have wear and right one is loose with a crack. And 10 inch by DOUGLASS MFG CO. edge needs honing adjustable handles good. | Good | DJS708 | 20 | 40 | | |
| 2017-064 | *2017-064 Lot of 2 drawknives. 8 inch folding handles by AJ WILKINSON and CO some surface rust. And 12 inch mark not visible under surface rust moderately worn wood handles. | Good | CPK52 53 | 20 | 40 | | |
| 2017-065 | 2017-065 Lot of 3 STANLEY planes. A No. 4 Type 13 a No. 5C Type 11 and a No. 5- halfC Type 13. Good japanning on No. 4 but chips at toe rest 60 percent japanning. No. 5 has replaced tote screw wood worn on all. | Good | CD1194 1201 1271 | 50 | 100 | | |
| 2017-066 | 2017-066 Lot of 3 bench planes. Two No. 5 size by STANLEY and SARGENT japanning retouched and wood worn. And a No. 5- quarter junior jack with notched rectangle marks chip and crack in tote chunk missing in knob japanning good. | Good- | CDE1261 1263 1268 | 40 | 80 | | |
| 2017-067 | 2017-067 Lot of 4 No. 4 size planes. A STANLEY Type 7 with cracked tote and 50 percent japanning and DEFIANCE No. 1213 1203 and 1244 all repainted and relacquered 1244 has cracked knob 1203 tote loose. | Good- | PLHK21 | 35 | 70 | | |
| 2017-068 | 2017-068 Lot of 5 No. 4 size planes. Makers include SHELTON LAKESIDE CRAFTSMAN TRUE VALUE and LOLAR -German-. Most clean a few have repaired totes. | Good | PLHK22 | 50 | 100 | | |
| 2017-069 | 2017-069 Lot of 2 STANLEY No. 4 planes. A Type 11 corrugated with patent date cutter good wood japanning 75 percent. And a later type clean. | Good | CDE1262 1270 | 40 | 80 | | |
| 2017-070 | 2017-070 Lot of 5 No. 4 size planes. One unmarked others are a DEFIANCE LAKESIDE CHALLENGER PARPLUS and one unmarked. All look repainted and revarnished. Wear and cracks to knobs Lakeside has crack in tote. | Good | PLHK25 | 50 | 100 | | |
| 2017-071 | *2017-071 European style bench plane. 14 inch sole 2- half inch ATKINSON BROTHERS cutter front and rear handles checks in body and some old repairs especially around top of the throat. | Good- | BSR672 | 20 | 40 | | |
| 2017-072 | *2017-072 A.G. MOORE moving filletster plane. 2 inch DWIGHTS FRENCH cutter nicker wedge a little chewed and a small chip here and there otherwise clean. | Good | CDE1789 | 25 | 50 | | |
| 2017-073 | 2017-073 Crown molder. Unmarked 5- half inches wide rope hole soem wear on sole and chip out of end of tote checks and staining on body. | Good- | PLH385A | 40 | 80 | | |
| 2017-074 | 2017-074 Lot of 3 Japanese tools. Wood spokeshave with 1- three-fourths inch edge and two smoothing planes. One in original box with 2- half inch cutter and one with 2 inch cutter that has some pen mark on top but nothing major. All look barely used. | Good plus | JAR350 462 501 | 50 | 100 | | |
| 2017-075 | 2017-075 Lot of 4 coffin planes. 7 inch flat sole with BINGHAM and CO. cutter 6- half inch compassed sole with AUBURN TOOL CO. cutter and strike button on heel 8 inch D.R. BARTON flat sole and 6 inch flat sole UNION FACTORY that looks refinished. Rest have light wear. | Good | NHN74 79 271 273 | 40 | 80 | | |
| 2017-076 | 2017-076 Lot of 4 STANLEY Goldenberg planes. Manufactured by the British arm of Stanley these look fairly modern and are similar to Ulmia planes with lignum soles. A narrow bodied rabbet and three smoothing planes. All look barely used but a few could use a cleaning. | Good | JAR351 354-356 | 60 | 120 | | |
| 2017-077 | 2017-077 FAYETTE R PLUMB broad axe. Philadelphia maker based on stamp looks to date to late 1800s. curved handle 10 inch edge surface rust and discoloration. | Good | SPM490 | 60 | 120 | | |
| 2017-078 | 2017-078 BEATTY and SON broad axe. 1840 era Chester PA stamp with steer on top of grass 9 inch edge handle has checks light rust head a little loose. | Good | SPM491 | 50 | 100 | | |
| 2017-079 | 2017-079 Broad axe. Unmarked short handle 7 inch edge recently sharpened. | Good | JAR239 | 40 | 80 | | |
| 2017-080 | 2017-080 Hewing axe. Unmarked Danish style looks old and hand forged 12 inch edge. | Good | SPM489 | 40 | 80 | | |
| 2017-081 | 2017-081 Lot of 2 axes. A PLUMB 4- half inch edge with long handle sharpened on both sides. And unmarked 4 inch edge silver paint half gone metal wedge driven into eye. Rust spots on both. | Good- and better | JAR91 218 | 30 | 60 | | |
| 2017-082 | 2017-082 Broad axe. Partial stamp looks like UNDERHILL EDGE TOOL CO. 6- half inch edge rust worn handle. Head a little loose. | Good | JAR23 | 60 | 120 | | |
| 2017-083 | 2017-083 Lot of 2 broad hatchets. 5 inch edge by SARGENT user stamps other by AMERICAN AXE and TOOL with 4- half inch edge. Both rusty with some wear on handles. | Good | JAR241 242 | 40 | 80 | | |
| 2017-084 | 2017-084 Lot of 2 hatchets. Unmarked broad hatchet with some pitting but sharp 5 inch edge good handle. And a more recent STANLEY Jobmaster 3 inch edge with good label looks never used. | Good- and better | JAR235 240 | 30 | 60 | | |
| 2017-085 | 2017-085 Lot of 2 STANLEY hatchets. 59-200 model newer light use 3 inch edges. | Good | JAR234 238 | 30 | 60 | | |
| 2017-086 | 2017-086 Iron hearth ware. What looks like a fire fork and two spatulas. One spatula heavily pitted with decoratively forged handle end other just has bent handle all with some rust. | Good | GFR288 | 30 | 60 | | |
| 2017-087 | 2017-087 Lot of 2 tools. A stonemasons hammer that looks like a horseshoe mark with ASHA TOOL inside it old handle has tape at end for grip. And a carpenters hand adze unmarked but clean handle has splits. | Good | DEN67 101 | 30 | 60 | | |
| 2017-088 | 2017-088 Lot of 3 blacksmithing tools. Unmarked tongs and two pairs of KEEN KUTTER nippers all fairly clean. | Good plus | DEN77 81 82 | 40 | 80 | | |
| 2017-089 | 2017-089 SALTERS spring balance scale. Richard Salter invented the spring balance scale in 1770 and his firm was the leading manufacturer for the next century. This is the 11 inch version with good brass face plate and works well. | Good | DEN87 | 35 | 70 | | |
| 2017-090 | 2017-090 Lot of 3 farrier tools. A hammer with partial stamp that looks like MAYDOLE a toothed tong for shoeing and DIAMOND nippers. All clean hammer has light pitting. | Good | DEN74 75 76 | 40 | 80 | | |
| 2017-091 | 2017-091 Lot of 2 carpenters hand adzes. One with C3 stamped in head good handle. And one with smaller hammer poll similar to ship adze thin handle unmarked with some pitting. | Good | DEN100 | 30 | 60 | | |
| 2017-092 | 2017-092 Rope maker. Handle-turned rope maker marked only EBS but some have turned up marked with Dec. 15 1914 patent date. And a circular head rope wrench sometimes called a lolipop. | Good | DEN85 | 40 | 80 | | |
| 2017-093 | 2017-093 JOHN DEERE PTO air pump. No hose has most of original green paint marked 6886-C. | Good | DEN84 | 40 | 80 | | |
| 2017-094 | 2017-094 Lot of three 30 inch levels. A STANLEY No. 10 early type but no eagle mark dings and wear to stock and plates. A STRATTON No. 1 mahogany some deep dings. And a DAVIS and COOK looks like rosewood fairly clean. | Good | CDE1774 1776 1778 | 50 | 100 | | |
| 2017-095 | 2017-095 Lot of 3 levels. A 26 inch mahogany STRATTON No. 1 a couple dings. A 30 inch KEEN KUTTER KK30 moderate wear. And a 30 inch STANLEY No. 11 lamination separating slightly and some chips to edges. | Good | CDE1785 1786 2255 | 40 | 80 | | |
| 2017-096 | 2017-096 Lot of tools. A STANLEY adjustable quick square two PEC TOOLS steel tempered straight edges A LIE-NIELSEN dowel plate mounted to wood PSandW spring dividers and a panel gauge with brass bottom and aluminum head. | Good | JAR136 161 503-505 | 40 | 80 | | |
| 2017-097 | 2017-097 Lot of two MARPLES spirit levels. Both with brass top plates a 9 inch mahogany and a 10 inch ebony. Light wear but good ebony one looks polished. | Good | CDE2269 2270 | 35 | 70 | | |
| 2017-098 | *2017-098 Lot of 6 STANLEY rules. Nos. 27 61 66- half 68 68AE and 163. All have wear and a few have staining. A coule with sweetheart marks. | Good | PLHK6 | 20 | 40 | | |
| 2017-099 | 2017-099 Lot of 3 levels. Two torpedo levels by MAYES BROS. TOOL MFG. in aluminum and a wood with brass top. Plus a STARRETT mounted machinist level with vial rotating vial cover japanning and plating 90 percent. | Good | CDE2271 2274 2489 | 35 | 70 | | |
| 2017-100 | 2017-100 Lot of 4 STANLEY marking gauges. Nos. 65 65- three-fourths 70 and 265. 64- three-fourths has no pencil all have wear and some staining 65 has head painted red but mostly worn off. | Good- and better | PLHK5 | 30 | 60 | | |
| 2017-101 | *2017-101 Lot of tools. A STANLEY No. 259 torpedo level and another one that is unmarked bevel with brass blade that folds into rosewood body and 5 straight edges including one triangular. | Good | NHN52 85 100 132 228 | 25 | 50 | | |
| 2017-102 | 2017-102 Lot of 2 spirit levels. A torpedo by J. RABONE and SONS mahogany body with one small chip and brass plate. And a 9 inch PRESTON and SONS with ebony body and brass top plate. Light wear. | Good and better | CDE2272 2273 | 40 | 80 | | |
| 2017-103 | *2017-103 Lot of 4 STANLEY pocket levels. Three No. 31 in 2- half 3 and 3- half inch sizes two smaller are brass and 3- half is nickel plated. Plus a No. 41 japanning 95 percent. | Good | PLHK8 | 20 | 40 | | |
| 2017-104 | 2017-104 Lot of 3 STANLEY Levels. More modern No. 264 aluminum torpedo clean. A No. 38 oil burner level orange enamel 95 percent. And a No. 87 aluminum line level sweetheart mark in original tin. Level good but tin has some wear. | Good | PLHK7 | 35 | 70 | | |
| 2017-105 | *2017-105 Tracer tool. For reductions and enlargements sticker on box says H.H. SULLIVAN Rochester who made engineering supplies. Has instructions box is exremely tattered and falling apart into many pieces. Tool looks unused. | Good plus | NHN58 | 20 | 40 | | |
| 2017-106 | 2017-106 GESCO CUTLERY CO store display. 17 x 19 x 8- half inches with glass front back door opens with shelves for inventory and behind those is a particleboard display to attach items for display. Appears to be from the 1950s-60s. Has 13 pocket knives on display and in clean condition look never used and originally sold for 1.29 dollars. Some have elk bone mother of pearl wood handles. Very nice. | Good plus | RBN30 | 100 | 200 | | |
| 2017-107 | 2017-107 Wall display with tools. 8 compartments with various tools including a STANLEY No. 30 angle divider No. 98 marking gauge with script logo No. 59 dowel jig 2 inch and 3 inch mending plates IOB original 1926 SARGENT Planes and Other Tools catalog. And various other small tools like scratch awls pocket tapes rules line levels dividers etc. | Good plus | RBN | 75 | 150 | | |
| 2017-108 | 2017-108 CENTURY DRILL store display. Looks to be from the 1950s blue enameled tin display with glass lid that lifts up from front slots inside for various dirll bits by size. Some wear to edges and a few letters at top rust spots otherwise in overall decent condition. | Good | RNB28 | 60 | 120 | | |
| 2017-109 | *2017-109 PET drill-saw IOB. From the 1950s and converts your electric drill into a saw nickel plated and looks never used. Includes instruction book box ok. | Good plus | RBN88 | 25 | 50 | | |
| 2017-110 | 2017-110 Junior Carpenter tool chest. Includes a dozen or so various small toys some look original but not all are. Tin box has some mild wear. | Good | RBN297 | 35 | 70 | | |
| 2017-111 | *2017-111 Junior Linesman Tool Belt IOB. Leather tool belt with hammer and electrical tape no pliers or screwdriver. Looks unused. Box good. | Good | RBN45 | 20 | 40 | | |
| 2017-112 | *2017-112 Lot of 2 HANDY ANDY Tool Chests . A No. 602 wood box has about half the original tools with blue paint flaking some stains to box original label ok. And A No. 680 tin box that opens on top at least a dozen tools and some original. Box has some water damage and rust particularly on bottom. | Good- | DJS617 | 25 | 50 | | |
| 2017-113 | 2017-113 Lot of 2 wooden boys tool chests. UNION No. 700B about 15 tools inside with lift out tray some wood damage especially on trim label 80 percent. And a XCELSIOR No. 1700 about 10 mostly wooden tools label ripped but majority there box has wear. | Good | RBN48 165 | 40 | 80 | | |
| 2017-114 | *2017-114 HANDY ANDY No. 172 tool chest. Just a few tools but includes saw which is typically missing label a bit tattered and stained but ok. | Good | PLHK3 | 20 | 40 | | |
| 2017-115 | 2017-115 MHC granite surface plate. 9 x 12 x 2 inches weighs about 20 pounds no ledge looks unused. | Good plus | JAR | 40 | 80 | | |
| 2017-116 | 2017-116 Bits in wood box. About 40 clean spur auger bits in 10 x 20 x 7 wood box with latches and side handles. | Good | CDE2697 | 40 | 80 | | |
| 2017-117 | 2017-117 Various bits in wood box. About 50 bits mostly spur auger but a few others some have rust. In 6 x 8 x 18 inch box with brass corners and handle some wear. | Good | CDE2174 2177 | 40 | 80 | | |
| 2017-118 | 2017-118 Honing stones. 5 stones 6 inch to 11- half inch in length one in handmade wood base all have light or no use. | Good | JAR543 | 40 | 80 | | |
| 2017-119 | *2017-119 Various bits. Includes spoon and twist probably 40-50 total mostly clean. | Good | JAR138 140 141 | 25 | 50 | | |
| 2017-120 | 2017-120 Forstner bits. 17 in various sizes look lightly used and most in good shape. | Good | JAR22 | 40 | 80 | | |
| 2017-121 | 2017-121 RUSSELL JENNINGS auger bits in box. No label original 3 compartment box painted green most are Russell Jennings a few may be different maker. | Good | NHN211 | 30 | 60 | | |
| 2017-122 | 2017-122 Lot of tools. LINKS transfer punches set IOB look to be all there but no promises. And 4 router cutters in different sizes bt ECE. | Good | JAR160 510 | 35 | 70 | | |
| 2017-123 | 2017-123 CARBORUNDUM honing stone base. Made of bronze trapezoid shape about 2 inches tall in very nice condition with most of original red yellow and green paint. Holds 7- half x 2 inch stone -not included-. | Good | GFR358 | 40 | 80 | | |
| 2017-124 | *2017-124 Lot of bits. Most are spoon bits a couple are flat bottomed about 8-10 total some rust. | Good | JAR139 151 166 | 10 | 20 | | |
| 2017-125 | *2017-125 Carpenters adze. 4 inch edge with grooved square hammer head 30 inch curved handle. Some rust and pitting. | Good | DST920 | 20 | 40 | | |
| 2017-126 | *2017-126 Carpenters adze. 4 inch edge 32 inch slightly curved handle. Some rust and dings. | Good | CP60 | 20 | 40 | | |
| 2017-127 | 2017-127 Slick. Unmarked and looks handforged 4 inch edge light pitting. 15 inch turned handle has a couple chips and some deep spots of inactive worm. | Good | DJS196 | 50 | 100 | | |
| 2017-128 | 2017-128 F. DICKINSON slick. 3 inch laid-on edge 19 inch overall with turned handle. Spots of rust and pitting. Friend Dickinson worked in Connecticut in the first half of the 19th century. | Good | DJS333 | 60 | 120 | | |
| 2017-129 | 2017-129 Bark spud. Unmarked handforged handle looks like newer replacement. 3 inch curved head 33 inch long total. | Good plus | DJS164 | 40 | 80 | | |
| 2017-130 | 2017-130 Lot of 2 froes. 13 inch and 10 inch edges both have rust and pitting handles look original. | Good | DJS | 30 | 60 | | |
| 2017-131 | *2017-131 Lot of 2 froes. 10 inch and 5 inch edges both have rust and pitting handles look original. | Good | DJS | 25 | 50 | | |
| 2017-132 | 2017-132 Lot of 3 farrier tools. A handforged buttress pitting wear and chips to handle 2 inch edge. And two hoof picks one by C.S. OSBORNE and other combo pick caulk wrench and screwdriver. | Good | DEN78 79 80 | 40 | 80 | | |
| 2017-133 | *2017-133 WELLS BROS farrier buttress. Late 19th century makers. 2 inch edge brass collar rust. Wood handle has wear. | Good | DJS | 25 | 50 | | |
| 2017-134 | 2017-134 Lot of 3 adzes. Two heads one by PLUMB with original sticker clean. And a larger rusty one with axe on other end. Plus a small bowl adze 2 inch wide edge nicely carved handle and leather sheath. | Good | JAR55 56 244 | 40 | 80 | | |
| 2017-135 | 2017-135 Jewelers anvil. 6 pound marked only A1 hardy hole and horn. Overall fairly clean and mild use. | Good | PLH67X | 40 | 80 | | |
| 2017-136 | *2017-136 Lot of 2 splitting wedges. 8 inch and 7 inch long edges relatively sharp some pitting. | Good | JAR78 82 | 20 | 40 | | |
| 2017-137 | 2017-137 Lot of 2 tools. An axe head 3 inch edge stamped with letter R underneath crown light rust. And a splitting wedge solid end curved edge heavy. | Good | JAR53 84 | 30 | 60 | | |
| 2017-138 | 2017-138 Lot of iron tools. 4 anvil hardies that fit into square holes of anvils and used to cut off hot metal small splitting wedge and slick with handle broken off. Rust on all. | Good- | JAR133 173 296-299 | 40 | 80 | | |
| 2017-139 | *2017-139 Lot of 2 tools. Nippers and pliers both with surface rust. | Good | JAR165 167 | 10 | 20 | | |
| 2017-140 | *2017-140 Lot of 2 hatchets. Crating hatchet with yellow and black painted handle and a PLUMB carpenters hammer hatchet. | Good | JAR236 237 | 20 | 40 | | |
| 2017-141 | 2017-141 Lot of cast iron tools. Large nippers and 6 large double ended wrenches several of which are hex. All have rust. | Good | PLHK1 | 30 | 60 | | |
| 2017-142 | *2017-142 Lot of framed items. An antique valentine 3 invoices or letters on company letterhead a drawing of a river valley and a photo of men standing in front of a trolley car. Trolley car frame has cracked glass rest are ok. | Good- and better | GFR320 | 20 | 40 | | |
| 2017-143 | *2017-143 Railway mail package. Small wooden box nailed and screwed shut with address levels on a couple sides and labels for Railway Express Agency. Box was shipped via rail from Massachusetts to San Francisco. I havent opened it so there could still be treasure inside. | Good | GFR84 | 20 | 40 | | |
| 2017-144 | *2017-144 Lot of lumber photographs. About 20 reprints of various lumber photos of -From Forest to Home- a photographic story of quality redwood lumber inside a wood box. | Good | GFR62 | 20 | 40 | | |
| 2017-145 | 2017-145 Lot of railway memorabilia. Stocks bonds ticket stubs postcards engineer letters invoices travel passes telegrams deeds photo reprints etc. Most inside sleeves of binder but a few loose. | Good | GFR | 75 | 150 | | |
| 2017-146 | 2017-146 Lot of tobacco packaging. A 20c package of Yankee girl scrap tobacco tattered and lid missing and two Yankee Girl large size bags unused. Plus Union Leader an empty tin and a cardboard package with tobacco still inside and a Christmas time label with wreath. | Good | GFR | 30 | 60 | | |
| 2017-147 | *2017-147 Tobacco tins. A Union Leader rectangular tin Willis circular tin plus an Orphan Boy box slightly bent and a Browns mule tobacco tin stamp. | Good | GFR297 | 20 | 40 | | |
| 2017-148 | *2017-148 Lot of miscellaneous memorabilia. Mother Hubbard fig can repurposed as a coin bank gag gift Jackrabbit Milk rusty can still has some sort of powder inside. A rattlesnake rattle stapled to souvenir postcard from the Wild West Daisy Fly Killer tin which I cant verify whether any of the poison inside is gone so buy at your own risk and various dress pins and buttons which some are labeled Australian pearl. | Good | GFR331 333 356 | 20 | 40 | | |
| 2017-149 | 2017-149 Lot of tobacco packs. 11 total most still have tobacco in and a few are unopened various brands including Snow Apple Peachey Plow Boy Napoleon etc. | Good | GFR310 | 50 | 100 | | |
| 2017-150 | 2017-150 Lot of small product boxes and tins. For various pills prophylactics mints toothpicks perfume matches including Pep Boys brand a few various pins and small wooden shoes. | Good | GFR304 | 30 | 60 | | |
| 2017-151 | *2017-151 Household products. Olivers Patent inkwell TEXACO and HOOVER home lubricant cans candlestick and wick trimmer and hanging spring scale. | Good | GFR284 317 483 | 20 | 40 | | |
| 2017-152 | 2017-152 SARGENT No. 418 fore plane. Missing lever cap repainted and revarnished chip in cheek at toe. Plus were throwing in two 2- quarter inch cutters with chip breakers by SANDUSKY and AUBURN TOOL. Auburn has a chip. | Good- | PLHK26 | 30 | 60 | | |
| 2017-153 | 2017-153 Lot of 3 No. 5 size planes. Two by STANLEY one with sweetheart cutter and 80 percent of decal on tote a few chips to wood japanning 85 percent. Other is Type 9 or 10 replacement Victory cutter. And a WINCHESTER 3010 japanning 80 percent small chips to wood. | Good | CDE1208 1258 1274 | 50 | 100 | | |
| 2017-154 | 2017-154 Lot of 4 bench planes. Three STANLEYs - a Type 10 No. 3C a No. 5 later type with sweetheart cutter and a Handyman No. 1205 all have some dings to wood. Plus a FULTON No. 414C japanning 80 percent. | Good | CDE1259 1264 1428 1429 | 60 | 120 | | |
| 2017-155 | 2017-155 Two STANLEY No. 40 scrub planes. One with third sweetheart on cutter some wear to wood logo capscrew chip at toe. Other has notched rectangle mark plain capscrew tip of tote missing and smoothed over and has crack. Japanning 70 percent red dots painted on lever caps. | Good- | JAR365 366 | 40 | 80 | | |
| 2017-156 | 2017-156 Lot of 3 STANLEY planes. A No. 3 Type 6A crack in knob japanning 75 percent. A No. 4C Type 11 small cracks at base of knob and hairlinecrack at throat and a Type 10 No. 4- half with widened throat and a chip repaired tip of tote pitting on cutter. | Good- and better | CDE1210 1267 1433 | 60 | 120 | | |
| 2017-157 | 2017-157 Lot of 3 STANLEY planes. A No. 3 later type wood ok. A No. 4C Type 9 or 10 with sweetheart cutter and a Type 11 No. 4- half with good wood but hairline crack at throat. All have light pitting on cutters. | Good | CDE1192 1212 1215 | 75 | 150 | | |
| 2017-158 | *2017-158 Lot of 2 planes. A STANLEY No. 6 fore plane later type rusty with crack in knob and tote. Plus a No. 4 size by SHELTON wood worn has scratch in sole. | Good- | JAR194 362 | 20 | 40 | | |
| 2017-159 | 2017-159 Lot of 2 bench planes. A STANLEY No. 5 later type some white paint at heel otherwise good. And an OHIO No. 07 jointer with proper blade wood polished and japanning retouched ding in knob. | Good | NHN319 336 | 50 | 100 | | |
| 2017-160 | 2017-160 Lot of 4 bench planes. Two No. 5 size both unmarked but one has Union cutter and two No. 6 size one that looks like a Sargent with chip in front corner and Stanley cutter other has Everkeen cutter. All repainted and varnished. | Good- | PLHK17 | 30 | 60 | | |
| 2017-161 | 2017-161 Lot of 5 planes. A SIEGLEY No. 5C No. 4 sized WINCHESTER 3005 two unmarked in No. 3 and No. 4 sizes and a No. 4 sized one that looks German. All repainted and wood relacquered. | Good | PLHK16 | 50 | 100 | | |
| 2017-162 | 2017-162 STANLEY No. 604 Bedrock. Type 10 nickel on lever cap good japanning nearly complete a few dings to wood some stain spots on metal and light pitting in a few areas. | Good | CDE1200 | 60 | 120 | | |
| 2017-163 | 2017-163 Lot of five No. 4 size bench planes. Two look like STANLEY bodies for a Defiance and a No. 4 but No. 4 has replacement cutter one has Northern King and other has Sargent Hercules cutter. Defiance has broken lever cap. Most repainted and relacquered some have damage to wood. | Good- and better | PLHK24 | 30 | 60 | | |
| 2017-164 | *2017-164 Lot of 4 jointer planes. One by SANDUSKY with an Auburn cutter one with a mark I cant read with no cutter and chips in tip of tote. Two unmarked one with replaced tote and other has razee style body overall clean. | Good | NHN92 93 299 334 | 25 | 50 | | |
| 2017-165 | *2017-165 Lot of 3 jointers. Two 22 inch one unmarked and other by GENESEE TOOL CO. Unmarked has repaired throat and chipped tote. And unmarked 19 inch with chip in corner of toe. Relacquered. | Good | NHN94 148 149 | 25 | 50 | | |
| 2017-166 | 2017-166 Rosewood razee plane. Unmarked 1- three-fourths inch BUCK BROS. cutter 22 inches long. Laminated handle. A few chips in sole at toe some small spots of paint on body. Attractive. | Good | PLH230X | 50 | 100 | | |
| 2017-167 | 2017-167 Lot of 4 wood planes. Three jack planes one by SANDUSKY -No. 13- and one by NEW YORK TOOL other unmarked and a D. MALLOCH fore plane. Unmarked is razee style with tip of tote missing NY Tool has repaired crack in tote. All have been polished. | Good | NHN36 37 38 198 | 30 | 60 | | |
| 2017-168 | 2017-168 Extra long jointer plane. 48 inches long decoratively carved unmarked 3 inch cutter with chip breaker no wedge. Hole near toe may have originally been for handle tote ok. | Good | DJS | 40 | 80 | | |
| 2017-169 | 2017-169 Lot of 3 tools. A user made vise with completely brass-lined 10 inch wide jaw walnut body well made. A decorative router extremely large iron wingnut and washer holds cutter in place -no cutter included- some wear. And a gentlemans ball brace japanned body some staining to wood thumbscrew chuck. | Good | NHN84 136 191 | 30 | 60 | | |
| 2017-170 | *2017-170 User made panel gauge. 14 inch long with unusually shaped wedge good point. | Good | JRI923 | 15 | 30 | | |
| 2017-171 | *2017-171 European tongue plane. 3 screw arms carved decoration and letter KP on body no cutter or wedge. Couple checks in body. | Good- | JRI1220 | 20 | 40 | | |
| 2017-172 | *2017-172 Coopers howell. Top handle brass sole iron wear inserts spalled cutter. | Good | JRI329 | 20 | 40 | | |
| 2017-173 | 2017-173 CHALLENGE eyelet press No. 1. Good japanning and gold paint mounted on black wooden platform with velvet base. Works smoothly. | Good plus | RBN124 | 30 | 60 | | |
| 2017-174 | 2017-174 Portable SINGER 99K sewing machine. Electric portable version model No. FTJ5-8. Machine has light wear still works well and looks barely used. Serial EM35375 which dates it to 1957. Case has some wear especially on corners | Good plus | DJS436 | 75 | 150 | | |
| 2017-175 | 2017-175 STANLEY electric router 8-B. Likely from the 1960s this one looks barely used and in original box. Still works. | Good plus | RBN50 | 40 | 80 | | |
| 2017-176 | 2017-176 The Indianapolis Kraut Cutter. Patented 4-18-05 wood box holds cabbage head and slides over double blades. Fairly clean and with tuning could still be used today. | Good plus | DJS706 | 40 | 80 | | |
| 2017-177 | *2017-177 Lot of items. Tin drinking cup small oil can STAR clipboard and three handles - one brass and two larger japanned. | Good | NHN39 44 267 325 | 15 | 30 | | |
| 2017-178 | *2017-178 Vegetable slicer. Wood frame with double blades and wingnuts on side to adjust base. Would still work well with a cleaning. | Good | DJS716 | 20 | 40 | | |
| 2017-179 | 2017-179 Grain cradle. 39 inch rusty blade straight handle some staining to wood. | Good | PLH | 30 | 60 | | |
| 2017-180 | 2017-180 Eric Sloane framed print. 30 x 42 frame around Sloanes Nostalgic Autumn reprint. A few spots of damage otherwise ok. | Good | SAN1 | 100 | 200 | | |
| 2017-181 | 2017-181 Grain cradle. 42 inch red blade curved handle. | Good | DCR6 | 35 | 70 | | |
| 2017-182 | 2017-182 Wood chest. 19 x 34 x 20 inches on wheels several sliding drawers inside saw holder on inside lid with a couple saws in it other various tools inside as well. Wood has wear trim painted black. | Good | HMS | 50 | 100 | | |
| 2017-183 | 2017-183 Large wood chest. 23 x 39 x 22 inches on wheels various tools inside including a few chisels trim painted red double panel inner lid one outer side is missing handles. Wear to wood. | Good | HMS | 60 | 120 | | |
| 2017-184 | 2017-184 E.C. MARSH mitre box. Patented 8-6-89 and 1-28-90. Light surface rust but in good working order. Uncommon. Plus a hay stock cutter used to cut hay out of sheaf to feed the stock 32 inch long with V shaped end rusty. | Good | LEE800 934 | 50 | 100 | | |
| 2017-185 | 2017-185 HAWKINS and DODGE mitre machine. Red handle some rust spots but overall clean. | Good | DJS705 | 50 | 100 | | |
| 2017-186 | 2017-186 American Scroll Saw. Manufactured by DELTA SPECIALTY CO. Milwaukee hand cranked gear moves saw frame and blade up and down. Has most of its red and black japanning mounted to board. | Good | DJS579 | 60 | 120 | | |
| 2017-187 | 2017-187 YALE and TOWNE key cutting machine. Patented in 1907 cutter controlled with handle on wheel sits atop original wood box with compartments labeled Genuine Yale Blank. Has most of its original japanning works smoothy. | Good | DJS486 | 60 | 120 | | |
| 2017-188 | 2017-188 REEVES PULLEY CO. industrial wooden split pulley . The Columbus IN company made a variety of pulleys out of small pieces of wood to decrease the weight compared to iron pulleys. This one is 12 inch wide by 9 inch tall some inactive worm and staining but in decent shape. | Good | DJS624 | 50 | 100 | | |
| 2017-189 | 2017-189 Large mitre jack. 24 inch long body out of what looks like beech laminated jaws nice handle and screws have only one or two chips. Some light stain spots. Well made. | Good | DJS700 | 50 | 100 | | |
| 2017-190 | *2017-190 Hay knife. Unmarked removable blade design double handle traces of red paint. | Good | DCR213 | 25 | 50 | | |
| 2017-191 | 2017-191 Lot of two hay knives. One patented by Chapin Brooks in 1888 and marked with dates on handle entire bottom half is removable unusually left handed. And one marked with July 20 1876 patent date for which I cant find the patent solid body. | Good | DCR212 217 | 30 | 60 | | |
| 2017-192 | 2017-192 Massive bung auger. 28 inch wide worn wood handle removable. 32 inch long auger with end tapering from 3- half inch to 1- half inch rust and pitting. | Good | CDE2604 | 30 | 60 | | |
| 2017-193 | 2017-193 Large hay knife. Single t-handle 21 inch long blade and 4- half inch wide stem bent at right angle. Rust. | Good | DCR227 | 30 | 60 | | |
| 2017-194 | 2017-194 Beam drill. Unmarked except for October 18 1881 patent date folding style with spring loaded locking mechanism. No bit, one crank. Rust and some of original japanning wood split at base where body meets. | Good- | SSA303 | 40 | 80 | | |
| 2017-195 | 2017-195 BUCKEYE MFG CO. beam drill. The Boss. Rusty but marked with double head eagle and patent date missing top gear and bit section. Wood has some wear and a couple cracks. Has 4 bits. | Good- | JAR274 | 50 | 100 | | |
| 2017-196 | *2017-196 Beam drill mechanism. No frame or base unmarked but traces of red japanning. | Good- | SSA305 | 15 | 30 | | |
| 2017-197 | 2017-197 GOODELL PRATT drill press. Has both red and green paint some rust large table wood handle highly worn and chipped. With a little tune up would work good. | Good | BCN229 | 75 | 150 | | |
| 2017-198 | 2017-198 LION Universal mitre trimmer. Some slight rust still works smoothly handle included could use a cleaning. Throwing in a 2 inch t-handle auger. | Good | SSA297 304 | 75 | 150 | | |
| 2017-199 | 2017-199 SPECIALTY TOOL asbestos tile cutter. Painted silver and red Model F massive. A few rust spots. | Good | DJS | 40 | 80 | | |
| 2017-200 | 2017-200 FOX MACHINE CO No. 4 . Grand Rapids manufacturer traces of japanning. Needs a handle and some grease but still works ok. | Good | NW1213 | 40 | 80 | | |
| 2017-201 | 2017-201 Lot of two auger drills. Both with solid metal bodies and soldered on spur auger bits 30 inch long one with wood handle and 2 inch wide bit and 36 inch long one with 1 inch bit. | Good | CDE2605 2607 | 30 | 60 | | |
| 2017-202 | 2017-202 Lot of two large wrenches. A 19 inch long double end marked Berylco non-sparking some oxidation spots. And a 38 inch long tractor wrench marked -ACF Type LN- and painted red. | Good | CRT174 177 | 35 | 70 | | |
| 2017-203 | 2017-203 Twybil. Also called Two Bill or mortising ax and is a cross between ax and chisel designed for roughing out mortises. 48 inches long has illegible makers stamp with two hearts. | Good | LBD | 50 | 100 | | |
| 2017-204 | 2017-204 A. W. MILLER patent mortising machine. Per the 1905 patent it can be attached directly to the article to be operated upon and may be arranged to cut mortises of different depths lengths and widths. Rusty one of the clamp wheels missing otherwise ok. | Good- | GFR90 | 40 | 80 | | |
| 2017-205 | 2017-205 Lot of handled tools. 4 large bung augers 2 inch and 1 inch t-handle augers a couple auger gimlets triangle shaped box scraper and a round leather knife. Rust on some wood worn on most | Various | JAR62 176 231 247 289 290 | 40 | 80 | | |
| 2017-206 | 2017-206 Drill press. Looks like a drill press but not sure who made it. Has square chuck two red adjustment wheels. Rust spots | Good | DJS610 | 30 | 60 | | |
| 2017-207 | 2017-207 Giant wood vise. Likely used in carriagemaking 38 inch jaws with 2 inch wide wood screw on one end and 3 inch wide board with peg holes at the other end. Screw end missing tightening bar. Wood has age and staining. | Good | MSV1 | 40 | 80 | | |
| 2017-208 | 2017-208 LITTLE GIANT Holman bench vises. Two 3s two 4s a 7 and 8. 7 is broken off. Plus 5 extra ends. | Good- and better | JAR540 | 40 | 80 | | |
| 2017-209 | 2017-209 Industrial wrench. 17 inches long with 7 inch wide head. 3-10332 cast into head. Heavy with light rust. | Good | ALV | 30 | 60 | | |
| 2017-210 | 2017-210 Lot of 3 bench vises. Red and teal one with half inch jaws a STANLEY No. 741 with sweetheart mark traces of orange japanning and white paint on stem and one marked -02- half Made in USA- with red japanning. | Good | BES1 | 40 | 80 | | |
| 2017-211 | 2017-211 Lot of 4 bench vises. Two with 1- half inch jaws one teal and red unmarked and other PRENTISS VISE CO. No. 153. And two 2- half inch jaws one by BRINK and COTTON with most of its decal and other a STANLEY Handyman H1210 swivel with some paint splotches. | Good | BES2 | 50 | 100 | | |
| 2017-212 | *2017-212 Lot of 5 C clamps. One by CINCINNATI TOOL three by WILLIAMS and one by MAC. 4 inch to 6 inch throats. | Good | JAR201-205 | 25 | 50 | | |
| 2017-213 | 2017-213 Lot of 8 bar clamps. 6 are BESSEY and 2 are JORGENSEN 6 inch size. | Good | JAR550 | 30 | 60 | | |
| 2017-214 | 2017-214 Lot of three 26 inch saws. A DISSTON D-8 and D-23 etches ok wood has light wear hanghole on D-23. And an ATKINS No. 53 etch light decorative handle nice. | Good | RBN65 69 71 | 35 | 70 | | |
| 2017-215 | 2017-215 Lot of four 26 inch saws. DISSTON D-23 with nice handle and good etch and two D-8s one with cracked handle other has wear. And a SIMONDS No. 10 with ok etch and handle. | Good | RBN67 70 72 73 | 40 | 80 | | |
| 2017-216 | 2017-216 Lot of 2 backsaws. A 16 inch with SIMONDS medallion but cant read etch handle has a few chips and some surface rust. And a DISSTON and SONS 22 inch with some pitting and chips on handle. | Good | DJS | 40 | 80 | | |
| 2017-217 | 2017-217 Lot of 2 dovetail saws. An 8 inch by JACKSON with handle stamped School Board 239 and relacquered. And a 12 inch ATKINS No. 2 ok handle. Plus a saw jointer looks like a STEARNS with file. | Good | NHN13 19 71 | 45 | 90 | | |
| 2017-218 | *2017-218 Lot of 2 stair saws. Both with 6 inch clean blade and bodies have a few dings. One has decorative screws other has initials carved in side. | Good | DJS229 442 | 25 | 50 | | |
| 2017-219 | 2017-219 Lot of 3 keyhole saws. One by RICHARDSON BROS other two unmarked. Handles worn some rust blades ok. | Good | DJS683 | 30 | 60 | | |
| 2017-220 | *2017-220 Lot of 2 handled tools. A rawhide mallet by DANCO rusty and hide has a few chips hanghole. And a crosspeen sledgehammer rusty head unmarked 15 inch handle likely replacement. | Good | JAR207 208 | 20 | 40 | | |
| 2017-221 | *2017-221 Lot of 2 hammers. A small sledgehammer marked Meuller with 1- three-fourths inch circular faces on 4- quarter inch long head 8 inch handle. And an unmarked hammer hatchet with replaced handle a few chips in poll. | Good | NHN321 332 | 15 | 30 | | |
| 2017-222 | *2017-222 Lot of 6 hammers. Three tack hammers in various sizes unmarked rusty. Two ball-peens one PROTO with duct tape at top of handle and one marked -Wear Safety Goggles.- Plus a small CRAFTSMAN 5 oz. claw hammer with -Model Maker- on handle. | Good- and better | JAR206 214-17 219 | 20 | 40 | | |
| 2017-223 | *2017-223 Lot of 5 hammers. Three japanese style octagonal double faced hammers with 12 inch handles. Two mallets with fiberglass ends one is a IMPAX 202 7 inch wide with a few cracks in ends and other is smaller and unmarked with several chunks missing from ends. Throwing in a ball-peen hammer head rusty. | Good | JAR177 209 210 212 213 243 | 20 | 40 | | |
| 2017-224 | 2017-224 Lot of 3 combination tools. A HEBBLETHWAITE patented nail puller marked with patent date small chip at top of hammer face. A crate tool with hammer crowbar nail puller and spike marked patent pending. And a 7 inch edge butcher cleaver with combination tool attachment that functions as hammer head meat tenderizer ice chipper bottle opener can opener alligator wrench and probably anything else you can think of. Some rust hang hole and loop on the end of black painted handle. | Good | PLH155X 357 | 60 | 120 | | |
| 2017-225 | *2017-225 Lot of 3 tack hammers. One by A.R. Robinson with electrical tape on handle for grip others unmarked. | Good | NHN324 | 20 | 40 | | |
| 2017-226 | *2017-226 Lot of tools. A nail holding claw hammer with 3 different size nail holders on head rubber grip unmarked. An unmarked drawknife with 10 inch edge a little bit of life left. A STANLEY No. 117 scratch awl wear to handle and No. 918 bit brace with light wear. And a screwdriver in knurled brass case. | Good | PLHK14 | 20 | 40 | | |
| 2017-227 | *2017-227 Lot of 2 handled tools. A turnscrew made out of a file with 6 inch wood handle and a 13 inch long screwdriver with perfect-handle style handle. Both have moderate wear and some surface rust. | Good | BGE5 | 10 | 20 | | |
| 2017-228 | *2017-228 Lot of yardsticks and rulers. Mostly advertising yardsticks made of boxwood and yellow painted ones plus a DIETZGEN drafting straight edge. Varying thicknesses and widths all in good shape. | Good | NHN233 260 | 10 | 20 | | |
| 2017-229 | 2017-229 Lot of 7 squares. Majority try squares and one mitre. Makers include STANLEY and MARPLES about half have wood handles in various condition. | Good- and better | JAR437 441 515-517 528 529 | 40 | 80 | | |
| 2017-230 | 2017-230 Lot of 5 STANLEY No. 20TS squares. All look new and barely used stain or two on a couple overall clean. | Good plus | JAR433-436 440 | 40 | 80 | | |
| 2017-231 | 2017-231 Lot of 2 try squares. Both with rosewood handles a 6 inch STANLEY and 12 inch unmarked with quatrefoil eschutcheon blade slightly pitted. | Good | NHN11 17 | 30 | 60 | | |
| 2017-232 | *2017-232 Lot of tools. STANLEY 6 inch and 8 inch bevels No. 61 marking gauge and No. 107 level. And a LUFKIN steel tape. All gently used or better. | Good | NHN250 254 278 306 308 | 25 | 50 | | |
| 2017-233 | 2017-233 Lot of 7 combination squares. All on 6 inch steel rules 3 by EMPIRE 2 by STANLEY 1 RABONE 1 MILLERS FALLS. All have 2 red paint dots clean and levels intact. | Good | JAR442 443 518-520 532 549 | 30 | 60 | | |
| 2017-234 | *2017-234 Lot of dividers and nippers. 2 spring dividers one marked SARGENT and a small pair of nippers. | Good | NHN69 70 | 10 | 20 | | |
| 2017-235 | 2017-235 Lot of 2 calipers. Figural leg double calipers 5 inches. And outer calipers with scale at top marked with initials. | Good | NHF51 | 40 | 60 | | |
| 2017-236 | 2017-236 Lot of 5 calipers. All but one spring style one wing style. CRAFTSMAN STARRETT GOODELL PRATT ATHOL MACHINE CO. Light rust on a couple. | Good | NHN203 216. 217 | 30 | 60 | | |
| 2017-237 | *2017-237 Lot of two try squares. A brass reproduction of a DISSTON No. 5- half and an 8 inch STANLEY No. 20 try square with light pitting and wear. | Good | NHF342 | 20 | 40 | | |
| 2017-238 | 2017-238 Lot of 4 hollow augers. A.A. WOODS and SONS very clean with usually missing depth stop. G.N. STEARNS marked with 9-8-63 patent. BONNEYS patent with rotating head marked -BSWCo.- has depth stop. and one with a die cutter mounted in it marked -ENDERES.- All clean and rust free. | Good and better | CDE1990 1999 2000 2006 | 100 | 200 | | |
| 2017-239 | 2017-239 Lot of 5 spoke pointers. All unmarked three are based on E.C. STEARNS 1879 patent with fluted design on sides and adjustable stop the other two are non-adjustable all nice and clean. | Good plus | CDE1994 1998 2000 2010 | 50 | 80 | | |
| 2017-240 | 2017-240 Lot of 5 try squares. Four are STANLEY two No. 2 Winterbottoms 4- half inch and 6 inch and two No. 2 plateds 9 inch and 12 inch plus an unmarked with 3 inch unruled blade. All nice and clean with no rust or pitting on the blades and good handles. | Good and better | NHN303 310 311 312 313 | 50 | 100 | | |
| 2017-241 | *2017-241 Mixed lot of 4 tools. A BRIDGEPORT HARDWARE crate opening hammer with perfect handle dinged but intact an unmarked contour gauge and two smith made prybars. | Good | NHN68 258 327 | 25 | 50 | | |
| 2017-242 | 2017-242 Lot of spoke pointer and hollow augers. Very unusual spoke pointer clearly manufactured but unmarked 1- quarter inch at top with original depth stop. Plus two different types of Stearns hollow auger one unmarked but based on the original 1863 patent one clamshell type most japanning gone and a substitute bolt. | Good and better | CDE1989 2003 2009 | 100 | 160 | | |
| 2017-243 | 2017-243 Mixed lot of 6 tools. Two bicycle wrenches a Hercules by WHITMAN AND BARNES and one marked -Merit-. a VAUGHAN AND BUSHNESS combination fencing tool an unmarked STEARNS sawset a set of wire cutting pliers and an unmarked spoke pointer painted silver. | Good | NHN208 209 212 214 249 259 | 40 | 80 | | |
| 2017-244 | *2017-244 Chain drill. Unmarked moderate surface rust works smoothly. | Good | SCK70 | 15 | 25 | | |
| 2017-245 | 2017-245 Lot of 4 STANLEY wooden levels. A 26 inch No. 3 rare Type 2 with the Hand-y groove running into the plumb porthole but in poor shape with replaced level vial and missing screws. plus 24 inch No. 10 varnish worn but undamaged. 18 inch unbound with sweetheart mark. and 12 inch No. 102 with vee mark. | Good- and better | PLHK2 | 60 | 100 | | |
| 2017-246 | 2017-246 Lot of 4 STANLEY levels. 24 inch No. 36 level vial assembly replaced painted gold. 24 inch No. 30 level vial broken. 30 inch No. 3 adjustment screw covers missing. and 24 inch No. 03. | Good- and better | DJS | 40 | 80 | | |
| 2017-247 | 2017-247 Lot of 2 STANLEY wooden levels. 30 inch Stanley No. 1093 brassbound with vee mark and 24 inch No. 0 sweetheart mark and hardware store label. | Good plus | JRI1272 1273 | 50 | 100 | | |
| 2017-248 | 2017-248 Lot of 2 brassbound levels. 24 inch STRATTON BROS. No. 10 two plumb vials rosewood and 24 inch DISSTON mahogany marked only with patent date cracks in body. | Good and better | CDE2263 2264 | 50 | 100 | | |
| 2017-249 | 2017-249 Lot of 4 STANLEY wooden levels. 12 inch No. 104 14 inch No. 102 with hang hole 20 inch No. 00 and a 16 inch model unmarked but looks like Stanley cherry with brass tips near fine. | Good and better | CDE2244 2253 2254 2257 | 60 | 100 | | |
| 2017-250 | 2017-250 Lot of 2 wooden levels. 30 inch STRATTON BROS. No. 1 mahogany version with dual plumb vials stock scratched but undamaged. and 30 inch STANLEY No. 50. | Good | CDE1775 1780 | 50 | 100 | | |
| 2017-251 | 2017-251 Lot of 2 wooden levels. 30 inch STANLEY No. 4 and 30 inch made by DISSTON for MARSHALL-WELLS HARDWARE and clearly marked with the -Zenith- trademark unusual. | Good plus | CDE2245 2250 | 50 | 100 | | |
| 2017-252 | 2017-252 Lot of 3 wooden levels. 26 inch ACME type with rotating side vials 24 inch J.W. ANDREWS with single side vial with eagle mark and 28 inch M.J. DAVISON. All stocks are worn but no damage. | Good | BB32 56 | 60 | 120 | | |
| 2017-253 | 2017-253 Pump drill. Unsigned 11 inch steel shaft cast iron weight painted red beech handle with leather strap three jaw chuck. | Good | DJS357 | 35 | 70 | | |
| 2017-254 | 2017-254 Lot of 2 breast drills. A MOHAWK-SHELBURNE two speed and a YANKEE ratcheting model with some surface rust. Both work smoothly. | Good | DJS680 | 50 | 100 | | |
| 2017-255 | 2017-255 Lot of 2 breast drills. A pre-Stanley YANKEE No. 1555 ratcheting drill original handles japanning nearly complete trace of decal. And a MILLERS FALLS No. 980 japanning about 50 percent. Both work smoothly. | Good and better | NHN140 162 | 65 | 130 | | |
| 2017-256 | 2017-256 GOODELL-PRATT No. 385 breast drill. Advertised as a high-speed drill with 7 to 1 gear ratio enclosed in aluminum casing. Aluminum is dulled and wood handle worn but intact works smoothly. | Good | DJS685 | 35 | 70 | | |
| 2017-257 | 2017-257 Mixed lot of 7 tools. Two tool handles 4 inch by SARGENT and CO. with nine tools -too missing- worn but undamaged and one marked compliments of Dearborn Drug and Chemical Works full set of 11 tools but missing the end cap a GOODELL-PRATT push drill KRAEUTER leather working tool a scratch awl retractable screwdriver handle and a multi-tool set in its original plastic case. | Mixed | NHN32 103 146 147 330 343 | 30 | 60 | | |
| 2017-258 | 2017-258 Lot of 3 hand drills. A MILLERS FALLS No. 77 rare type with enclosed pinion gears a GOODELL-PRATT No. 4- half with rosewood head -no bits in head- and an unmarked small model. All work smoothly. | Good | DJS679 | 50 | 90 | | |
| 2017-259 | 2017-259 Lot of 3 hand drills. A CONSOLIDATED TOOL WORKS No. 15 with bits in handle and two unmarked all are undamaged and work smoothly. | Good | NHN20 138 141 | 35 | 65 | | |
| 2017-260 | 2017-260 Lot of 3 STANLEY planes. Two No. 5s a Type 10 and a later type with kidney lever cap both have good japanning some chips or cracks in wood. And a later type No. 3 japanning ok some rust spots dings to wood but overall ok. | Good | CDE1260 1266 1430 | 40 | 80 | | |
| 2017-261 | 2017-261 Lot of 3 STANLEY planes. A Type 5 No. 3 light pitting in spots but overall ok. A later type No. 5 clean and a Type 11 No. 5- halfC with some surface rust and 85 percent japanning. | Good | CDE1197 1216 1272 | 50 | 100 | | |
| 2017-262 | *2017-262 Lot of 2 STANLEY Defiance planes. A No. 1245 IOB overall clean but has chip in edge of tote box has split seams but label ok. And a No. 1205 looks repainted and relacquered. Some rust on both. | Good- and better | PLHK15 | 25 | 50 | | |
| 2017-263 | 2017-263 Lot of 2 Stanley planes. A 194 fibreboard beveler one cutter some spots of rust and light wear. And a No. 148 match plane nickel plating 80 percent unmarked cutters. | Good | JRI1059 1066 | 35 | 70 | | |
| 2017-264 | *2017-264 Lot of 3 STANLEY rabbet planes. Nos. 78 180 191. No depth stops No. 181 has most japanning No. 78 is body only some rust. | Good- | PLHK23 | 20 | 40 | | |
| 2017-265 | 2017-265 Lot of 2 STANLEY No. 39 dado planes. half inch and three-eighth inch sizes late type. Japanning 90-95 percent complete. | Good plus | NHN5 6 | 50 | 100 | | |
| 2017-266 | 2017-266 Lot of 3 STANLEY No. 39 dado planes. Type 3 in three-fourths inch seven-eighth inch and 1 inch sizes. Two have marked cap screws. Japanning 75-80 percent. | Good | NHN2 3 4 | 60 | 120 | | |
| 2017-267 | 2017-267 Lot of 3 STANLEY planes. A No. 5 later type but with patent cutter and later No. 4 with kidney lever cap both japanning 75 percent-85 percent chips in wood. And a Defiance No. 1203 some rust spots and scuff to knob japanning good. | Good plus | CDE1205 1214 2179 | 40 | 80 | | |
| 2017-268 | 2017-268 Lot of 3 No. 5C size planes. A FULTON a SHAPLEIGH HARDWARE and a BRIDGE TOOL. All have been repainted and relacquered some rust spots. Shapleigh has bakelight handle. | Good | PLHK18 | 40 | 80 | | |
| 2017-269 | 2017-269 Lot of 3 STANLEY planes. A Type 7 No. 3 with replacement later style lever cap crack in knob chips in tote end with replacement screw at base. Chip in mouth. A later type No. 5C with 80 percent japanning some wear. And a No. G5 corrugated chip in tote traces of japanning. | Good- and better | CDE1218 1434 1578 | 50 | 100 | | |
| 2017-270 | 2017-270 Lot of 3 planes. A STANLEY No. 48 and Union No. 12 swinging fence match plane both rusty with wear and tip of tote missing on the No. 48. And a STANLEY No. 78 rabbet with sweetheart cutter and replacement fence thumbscrew wear to japanning. | Good- and better | JAR368 397 | 40 | 80 | | |
| 2017-271 | 2017-271 STANLEY No. 12- half veneer scraper. Type 2 unmarked cutter rust on body wood has slight wear paint spots on handle. | Good- | GAN239 | 40 | 80 | | |
| 2017-272 | *2017-272 CRAFTSMAN No. 3740BL aluminum plane. Four-sided cutter 9 half inch sole some dinging but good overall condition. These gizmos turn up occasionally but are uncommon | Good | DUS49 | 15 | 30 | | |
| 2017-273 | *2017-273 MILLERS FALLS Plane-R-File. Handle reverses for use as a file. Typical Buck Rogers styling some dings to the grey paint but in decent shape. An unusual MF tool. | Good | BB37 | 15 | 30 | | |
| 2017-274 | 2017-274 Lot of 5 bench planes. Three STANLEYs - No. 5 with Lakeside lever cap and rounded over tote tip cracks in wood a No. 3 Type 10 crack in tote otherwise ok and Handyman No. H1204 clean. Plus two No. 4 size one by CHALLENGER some surface rust and an unmarked with no cutter or lever cap. | Good- and better | CDE1866 1198 1202 1206 1209 | 50 | 100 | | |
| 2017-275 | 2017-275 Lot of 4 transitional planes. STANLEY No. 26 late model 36 with patent date cutter and 129 Liberty Bell. And an OHIO No. 037 13 inches long and marked at toe cutter has silver paint. Ohio has cracked tote others ok with some wear. | Good | NHN237-240 | 40 | 80 | | |
| 2017-276 | 2017-276 Lot of 5 transitional planes. STANLEY No. 35 vee cutter and a SARGENT of the same size with a replacement Stanley cutter. Stanley No. 26 vee cutter and two No. 132 Liberty Bell jointers. Jointers have tips of totes missing others ok. | Good | CDE1893 1894 1918 2630 | 48 | 80 | | |
| 2017-277 | *2017-277 Lot of 3 STANLEY transitional planes. Two No. 26 and a No. 22. No. 22 looks like it has replacded cast iron body and knob No. 26s have chipped off tote ends and one looks like relacquered wood. | Good- | PLHK2 | 15 | 30 | | |
| 2017-278 | *2017-278 Lot of 3 planes. Tongue plane by CHAS. ROGERS St. Louis hardware dealer no cutter and a few splits in body. A E.C. SIMMONS -Chipaway- coffin plane good condition with some scratching on sole. And throwing in a seriously beat up coffin plane. | Good- and better | BB93 101 114 | 15 | 30 | | |
| 2017-279 | *2017-279 Lot of 4 planes. User-made wooden jointer plane large hand-forged wingnut for adjustment tote needs to be reglued to base opper reinforcing strip around toe. A. CUMINGS plank match tongue and groove planes worn with rust one has tote top sheared off. Plus INGLIS tongue plane a few areas chewed otherwise ok. | Good- | BB79 85 257 | 20 | 40 | | |
| 2017-280 | 2017-280 Lot of 5 hand saws. Three 26 inch DISSTONs including a D-8 and two with no etch. And two 28 inch ones one has etch that I cant make out. Some surface rust chips in horns but nothing too severe. | Good | DJS675 | 40 | 80 | | |
| 2017-281 | 2017-281 Lot of 5 hand saws. A shortened SCHULTZ HDW CO missing one nut. A 24 inch GEO BISHOP has been sharpened up to etch rust and medallion has groove wheatsheaf handle ok. Two 24 inch DISSTON with one heavy rust on blade 26 inch CRAFTSMAN highly worn. Some chips to horns. | Good | DJS671 | 30 | 60 | | |
| 2017-282 | 2017-282 Lot of 4 hand saws. Two with metal handles of which one is painted gold. A BISHOP 20 inch hack saw with adjustable handle and a 26 inch DISSTON that needs a good cleaning. | Good | DJS676 | 30 | 60 | | |
| 2017-283 | 2017-283 Lot of 3 saws. One with open handle and just short of 20 inches so end may have been altered. And two with split nuts 26 inch with faint stamp looks like GREAVES and SON and other unmarked. A few chips in horns. | Good | DJS672 | 30 | 60 | | |
| 2017-284 | *2017-284 Lot of 3 jewelers saws. One with metal handle one CRAFTSMAN one marked -FPM Reg US Pat Office.- All have ok blades and some spots of rust. | Good | DJS667 | 20 | 40 | | |
| 2017-285 | *2017-285 Lot of 2 jewelers saws. Both have decorative adjusting thumbscrews and frames one with nice wood handle marked Made in Gernmany no blade. Other larger with some rust spots unmarked. | Good | DJS446 | 20 | 40 | | |
| 2017-286 | 2017-286 DISSTON mitre saw. 28 inch with MILLERS FALLS etch handle has a few chips light rust spots. | Good | DJS668 | 30 | 60 | | |
| 2017-287 | 2017-287 Lot of 8 metal braces. Six with ratchets includes STANLEY Victor No 945 and 10 inch No.945B in very clean condition. The rest have surface rust and some silver paint but all are sound workers. | Mixed. | CDE446 447 448 462 689 692 | 50 | 100 | | |
| 2017-288 | 2017-288 Lot of 7 metal braces. One has integral hollow auger others are a mix of various makers both ratcheting and not. Surface rust some silver paint all appear to work. | Mixed | CDE450 453 456 463 464 680 837 | 50 | 100 | | |
| 2017-289 | 2017-289 Lot of 7 metal braces. 8 inch AMIDON 1867 patent 10 inch with PFLEGHAR patent ratchet 8 inch BARTHOLOMEW patent needs thumbscrew 8 inch No. 1008 -name illegible- 12 inch STANLEY No. 921 rusty but works smoothly 10 inch unmarked and smith made with hand forged thumbscrew very rusty. Some silver paint enhancement. | Mixed | CDE455 1659 669 6901984 | 50 | 100 | | |
| 2017-290 | 2017-290 Lot of 3 ratcheting braces. A 10 inch MILLERS FALLS No. 732 near mint with most of its original decal on the grip and two STANLEYs - an 8 inch No. 923 and a 10 inch No. 945 with a little surface rust but otherwise very clean. | Good plus | NHN14 144 145 | 75 | 150 | | |
| 2017-291 | 2017-291 Wooden pod brace. Nicely made 4 inch sweep well carved head single pod held by nail with pewter rings no bit. | Good | NHF167 | 40 | 80 | | |
| 2017-292 | 2017-292 Lot of 3 braces. A 10 inch STANLEY No. 923 in absolutely mint condition a GOODELL BROS. bit brace with integral hollow auger covered in surface rust and a wooden chairmakers brace with spoon bit. | Good and better. | JAR20 502 541 | 75 | 125 | | |
| 2017-293 | 2017-293 Lot of 8 planes. A few tongue and groove planes but no matched set three hollows a round and a fillet. Makers include EVANS COLLINS and ROBBINS L and IJ WHITE C.S. SEE -C3 mark- CHILD PRATT and CO SANDUSKY and J.F. RANSOM. Overall clean but a few have damage to boxing. | Good | NHN59 106 114 118 119 121 126 128 | 60 | 120 | | |
| 2017-294 | 2017-294 Lot of 6 planes. Three large center beads by OHIO TOOL BARTON and SANDUSKY. A groove plane with adjustable fence by BARTON a moving filletster by J. GIBSON and a wide complex molder by BARTON. Some wear but generally clean. | Good | NHN60 105 117 175 183 | 50 | 100 | | |
| 2017-295 | 2017-295 Lot of 9 rabbet planes. Various styles and widths including coachmakers makers include BENSON and CRANNELL E STAFFORD OWASCO TOOL Z. J. MMASTER and BARTON. A couple unmarked. Generally clean. | Good | NHN108 111 112 113 115 125 127 179 180 | 60 | 120 | | |
| 2017-296 | *2017-296 Lot of two planes. A nosing plane by AUBURN with moderate wear and a clean unmarked coffin plane with slightly convex sole and sole in front of cutter has been hammerhead boxed into body German cutter. | Good | PLHK11 | 20 | 40 | | |
| 2017-297 | 2017-297 Lot of 10 planes. Includes bead hollows rounds tongue groove. No matched pairs. Makers include SANDUSKY GREENFIELD M CRANNELL BARTON DENISON. | Good | NHN107 109 110 116 120 122- 124 129 130 | 60 | 120 | | |
| 2017-298 | 2017-298 Lot of 6 STANLEY block planes. Nos. 102 with blue japanning offered in 1962 only 103 with broken lever cap 110 -two one with silver painted lever cap- 118 and 130. All at least as good except as noted. | Good | PLHK10 | 50 | 80 | | |
| 2017-299 | 2017-299 Lot of 7 block planes. STANLEY Nos. 15 102 -2- 110 with incorrect cutter 220 and G12-220 -English near mint-. Plus a UNION MFG. with slip-in lever cap. All at least good. | Good and better | CDE112 1113 1114 1120 1123 1126 1128 | 50 | 100 | | |
| 2017-300 | 2017-300 Lot of 6 block planes. STANLEY No. 102 and two No. 110s -one with nickel plated lever cap- a SHELTON block plane marked with MacAllers patent number although it doesnt use the adjustment mechanism lever adjustment chip in lever cap. Plus a CAPEWELL adjustable and an unmarked sheet metal type. All at least as good except as noted. | Good and better | CDE1121 1122 1123 1125 1130 1131 | 50 | 80 | | |
| 2017-301 | 2017-301 Lot of 4 miniature block planes. Two STANLEY No. 101s one with all black japanning very clean one with red lever cap and serious pitting on sole and NO. 101P sheet metal version super clean. Plus a Japanese miniature wooden version still in original packaging. | Mixed. | PLHK9 | 50 | 100 | | |
| 2017-302 | 2017-302 Lot of 5 block planes. Three STANLEYs - Nos. 9- half -late model- 65 -sweetheart lever cap chip in throat- and late model 220. Plus a MILLERS FALLS No. 75 and a CRAFTSMAN adjustable with screw-on lever cap. All at least good noting the throat chip. | Good and better | CDE1105 1106 1108 1109 1111 | 50 | 80 | | |
| 2017-303 | 2017-303 Lot of six block planes. Five STANLEYs - Nos. 60-half P two 102 118 and 220. And a DUNLAP approved 306-307. Average surface rust and japanning wear but all clean usable. | Good | CDE1115-1119 1127 | 50 | 80 | | |
| 2017-304 | 2017-304 Lot of 4 miniature block planes. Two unmarked cast iron one with tail the other has opened mouth. A Stanley No. 101 with notched rectangle on cutter black japanning 50 percent. And a sheet metal plane marked CM Co. Mfg. cleanest of the lot. | Good | NHF336 366 | 40 | 60 | | |
| 2017-305 | 2017-305 Lot of 3 STANLEY planes. Two No. 75 bullnose plane both US versions one with pitting on rear sole and a No. 101 in nice condition with red lever cap. | Good | NHF | 50 | 80 | | |
| 2017-306 | *2017-306 Lot of 2 pipe wrenches. McKercher patent -2-13-00- made by MCKERCHER WRENCH CO. of Jackson MI spring that holds the jaw is present but not working correctly and some chipped teeth. and a Robert patent -2-21-22- made by HOE CORP. of Poughkeepsie. Both 14 inch dirty with surface corrosion but no deep pitting. | Good- and better | BB32 48 | 15 | 30 | | |
| 2017-307 | 2017-307 Lot of 2 quick-adjusting wrenches. A rare Walden patent manufactured by BAY STATE -Schulz 476- 12 inch covered with surface rust but cleanable and works and a BEMIS and CALL No. 3 pipe wrench based on the Davis patents with replaceable jaws 15 inch with wooden handles. | Good | PLH156X 159X | 80 | 140 | | |
| 2017-308 | 2017-308 Lot of 2 HANDEHAND quick adjusting wrenches. Patented 1921 and manufactured by H and E Wrench Company of New Bedford MA. Sliding jaws closed by sliding collar and internal helical screw. Both 10 inch one nice and clean the other rustier but both work with good jaws. | Good | PLH163X 169X | 50 | 100 | | |
| 2017-309 | 2017-309 OLBO No. 3 pipe wrench. Unusual British-made wrench with adjustable spring-loaded jaws marked with British patent number. 15 inch a little surface rust and grime but intact with good jaws. | Good | PLH162X | 50 | 100 | | |
| 2017-310 | 2017-310 Wrench grab bag. Fourteen open end socket wrenches various sizes and makers most double-ended. Plus an 8 inch HELLER BROS. self-adjusting -Masterench- a STILLSON No. 10 pipe wrench and a 6 inch unmarked bicycle wrench. | Mixed | JAR various | 40 | 80 | | |
| 2017-311 | 2017-311 Lot of 6 wrenches and pliers. Unusual 9 inch self-adjusting pipe wrench marked -ALLEN WRENCH- and patent applied for 8 inch curved handle ROBINSON. Unusual pliers marked SUPER GRIP IOWA STALLINGS -Triple Grip- -Schulz 266 third jaw broken- and a Mead patent -Gripso- manufactured by BASFORD. Plus an unmarked and rusty combination pliers and hammer with unusual third sliding jaw. | Good and better | PLH154X 167X | 80 | 150 | | |
| 2017-312 | 2017-312 Lot of 4 quick-adjust wrenches. A rare 8 inch model by KONE MFG. CO. of Rock Island IL with a unique sliding wedge adjustment marked patent pending. Plus a 10 inch CARLL patent marked -ABC Wrench- a 10 inch EDSTROM patent from Milwaukee and an 8 inch -Speednut- by COCHRAN WRENCH -Schulz 320-. Cochran is pretty rusty rest are good or better. | Good and better | PLH166X | 80 | 150 | | |
| 2017-313 | 2017-313 Lot of 5 wrenches. Two VLCHEK monkey wrenches 11 inch near mint with good mark and 9 inch repainted. Two curve handles 8 inch WESTCOTT and 6 inch BEMIS and CALL. Plus a complete set of five CROWN box end wrenches from quarter inch to three quarter inch held by central screw. | Good and better | NHN15 21 22 23 | 80 | 140 | | |
| 2017-314 | 2017-314 Lot of 6 miniature wrenches and pliers.. Two 4 inch crescent wrenches -CRAFTSMAN and WRIGHT- 6 inch PEERLESS pipe wrench 4 inch double-ended curved box wrench No. 424 CHANNELOCK piers. Plus a YANKEE No. 3400 ratchet angle screwdriver. | Good plus | NHF | 50 | 80 | | |
| 2017-315 | 2017-315 Lot of miniature tools.. 4 inch combination square and outside calipers by STARRETT two block clamps and one C clamp two spokeshaves tongs pricking wheel and gimlet. | Good and better | NHF323 329 345 | 50 | 80 | | |
| 2017-316 | 2017-316 Lot of 4 specialty pliers.. Possibly for leather working or sheet metal. One appears to be marked -Pennan W and S Corp.- Some nickel flaking all work pretty smoothly. | Good | PLH176X | 30 | 50 | | |
| 2017-317 | 2017-317 Lot of 4 wrenches. 12 inch Coes-style nut wrench marked WINCHESTER No. 1004 wood handle and good jaws. Plus three 8 inch adjustable pipe wrenches PEXTO No. 8 H.D. SMITH -Perfect Handle- and F.E. WELLS of Greenfield MA. | Good and better | NHN24 26 30 87 | 80 | 150 | | |
| 2017-318 | 2017-318 Grandfather clock. About 75 inches tall and 14 inches wide likely craftsman made as there are no markings. Open body design. Has decorative 5 inch brass pendulum with only small top and bottom parts of wooden hanger remaining plus some chains. No wooden pendulum hanger. Cant guarantee it works but looks like it should. | Good | PLHK39 | 100 | 200 | | |
| 2017-319 | 2017-319 Tinsmith tools. Two wood break boards 29 inch and 30 inch painted black and one more worn than the other hinged in the middle and intended to fold down to allow tin to be broken off or snipped. And 34 inch long tinsmith shears. | Good | PLHK75 | 60 | 120 | | |
| 2017-320 | 2017-320 Cast iron bench ends. 4 ends two are a little rustier than the others just need wood and you can make a bench. | Good- and better | PLHK76 | 60 | 120 | | |
| 2017-321 | 2017-321 Lot of two cast iron grates. One for Boston Harbor drainage grate some rust. Other is a furnace grate marked Milford NH with heavy rust. | Good- and better | PLHK77 | 30 | 60 | | |
| 2017-322 | 2017-322 Lot of two pulleys. Cast iron painted white rusty intended to be mounted with three bolts at top. | Good | PLHK78 | 40 | 80 | | |
| 2017-323 | 2017-323 CLOVERLEAF Unloader hay trolley. Traces of silver paint some rust 4 wheels. | Good | PLHK79 | 60 | 120 | | |
| 2017-324 | 2017-324 LOUDEN SENIOR hay trolley. Rusty missing one lower wheel. | Good- | PLHK80 | 40 | 80 | | |
| 2017-325 | 2017-325 Pedal operated vise. 26 inch tall wooden stand cast iron pedal mechanism and vise with 5 inch wide jaws. Unmarked. | Good | PLHK81 | 60 | 120 | | |
| 2017-326 | *2017-326 Street sign. Slow Children Playing yellow and black some light wear. | Good | PLHK82 | 20 | 40 | | |
| 2017-327 | 2017-327 STANDARD OIL oil can. 18 inches tall 5 gallon can brass medallion on front for Standard Oil some oxidation. | Good | PLHK83 | 60 | 120 | | |
| 2017-328 | 2017-328 DAVIS WELDING and MFG CO oil can. 24 inches tall 5 gallon rusty. | Good- | PLHK84 | 40 | 80 | | |
| 2017-329 | 2017-329 COLUMBIA RECORDS record frame. 42 x 15 inch glass front frame with Columbia Records logo at top paper backing faded and a few rivets for mounting records. Some wear to edges of frame. | Good | PLHK85 | 50 | 100 | | |
| 2017-330 | 2017-330 NEW ROGERS foot treadle jig saw. 34 inches tall looks repainted at some point long ago wood ok blade a little bent but intact replacement rubber belt one of the stability crossbars a little bent. Works but needs a little tinkering and elbow grease. | Good | PLHK86 | 125 | 250 | | |
| 2017-331 | 2017-331 Patented letter copy press. Patented by Leonard Bailey designed to copy letters by pressing them against another sheet of paper. Does not have the wringer at the top that some had.19 x 12 x 11 inch extremely heavy. Some rust. | Good- | PLHK87 | 50 | 100 | | |
| 2017-332 | 2017-332 SPEER Bicentennial bullet display. Impressive bullet board from Speer commemorating the United States Bicentennial. 19 x 8 inches displays 100 different Speer bullets attached. One 38 caliber bullet missing - someone must have needed it in a pinch. | Good | PLHK88 | 60 | 120 | | |
| 2017-333 | *2017-333 Lot of 2 signs. One for MYERS hay tools rusty. And orange and black one for CLINTON BEVERAGES in Clinton MA. | Good | PLHK34 | 25 | 50 | | |
| 2017-334 | 2017-334 Lot of gavels and mallets. 11 gavels and mallets inside brass vase. One has brass engraved plaque in center. | Good | PLKH33 | 40 | 80 | | |
| 2017-335 | *2017-335 Lot of telephones. Two by WESTERN ELECTRIC plus extra receiever. One has replaced cord. Two wall mounts one handmade and other with bells. | Good- | PLHK35 | 25 | 50 | | |
| 2017-336 | 2017-336 Lot of household itesm. Wicker rug beater nice condition. And three wooden hangers one with wood worn and thin rope other two have metal and wood good including one for Hotel Draper in Northampton MA. | Good | PLHK36 | 40 | 80 | | |
| 2017-337 | *2017-337 Santa Claus folk art doll. Handsewn of red vinyl. 14 inch long light wear. | Good- | PLHK31 | 20 | 40 | | |
| 2017-338 | *2017-338 Set of silverware molds. Two heavy steel molds for making the patterns in silverwear handles one exterior and one interior. 4 x 2 inch. | Good | PLHK28 | 20 | 40 | | |
| 2017-339 | *2017-339 POOL Signal Service Barometer. Combination thermometer and barometer 9 x 3 inch with detailed instructions on the back for predicting storms. The liquid in the barometer has a cloudy look and we dont know if it still works but the thermometer is good. | Good | PLHK29 | 20 | 40 | | |
| 2017-340 | 2017-340 Ice axe. 27 inches long not marked by maker. Has a great green gold and red cloth penant with a red cross. Head may have been repainted. | Good | PLHK27 | 80 | 150 | | |
| 2017-341 | 2017-341 JOHN WILSON MARSDEN BROS ice skates No. 43 IOB. Size 11-half skates look never used with intact nickel plating and a few spots of rust. Box has a split seam but good labels on top. Sharpen them up and youre good to go. | Good plus | PLHK37 | 50 | 100 | | |
| 2017-342 | *2017-342 Desk tray. Three compartments with metal lid stamped with the name of the UGI Contracting Co. of Philadelphia on a wood bsae 3-three fourths x 6-half inch. Tarnished but complete. | Good | PLHK30 | 20 | 40 | | |
| 2017-343 | 2017-343 LEAVENWORTH prison ball and chain. Cast with prison name on ball chain and two ankle cuffs. Rusty but in good shape should you ever need it. | Good | PLHK38 | 50 | 100 | | |
| 2017-344 | 2017-344 BATTLE BRAND solid copper saucepan. 14 inch diameter and 4 inch deep not including the brass handles by the Birmingham England maker. Probably too pretty to cook but would look great on your kitchen wall. | Good+ | PLHK32 | 80 | 150 | | |
| 2017-345 | 2017-345 Lot of 2 books. A 1959 MARPLES Shamrock Brand catalog hardbound 449 pages with price list in back some yellowing of inside cover but pages are clean light wear to cover. And a hardcover of Nicholsons Five Orders of Architecture no publication date but inscription dated 1868. Yellowing of pages but overall good for age cover worn. | Good | PLH122 | 30 | 60 | | |
| 2017-346 | *2017-346 Popular Mechanics Do-It-Yourself Volumes 2 and 10. 1955 wear to covers someone drew with red crayon on first few pages of Vol. 2 otherwise ok. | Good | NHN348 | 10 | 20 | | |
| 2017-347 | *2017-347 Lot of books. A hardcover copy of Practical Uses of the Steel Square Volume I 1908 publication spine loose and pages yellowed but not damaged. Plus Units in Woodworking paperback cover a little bent but overall ok a copy of 1984 Woodworkers Supply stuck inside. | Good | NHN187 349 | 20 | 40 | | |
| 2017-348 | *2017-348 Lot of 2 woodworking books. Both paperback How to Work with Tools and Wood 1973 and Tools and How to Use Them 1978. Light wear. | Good | NHN353 | 10 | 20 | | |
| 2017-349 | *2017-349 Lot of books. Four hardcover including topics like Woodturning Cabinetmaking Furniture Refinishing Home Workshops all gently used and paperback Tools and How to Use Them 1978. Plus a few How-To handbooks from Craftsman and Deltacraft on drill press the joiner shaper and belt sander and one missing cover that looks like starter woodworking. | Good- and better | NHN352 358 | 25 | 50 | | |
| 2017-350 | *2017-350 Lot of 4 BUCKEYE mowers brochures. Two styles of brochures full of photos of horse-drawn mowers tedders and other farm equipment. Buckeye was a trade name of Richardson Manufacturing of Worcester MA and these come from their New Hampshire agent. Some wear especially on spines. | Good | PLH | 25 | 50 | | |
| 2017-351 | *2017-351 Lot of books. AUDELS Guide 1-4 1923 edition good. Plus International Library Geometry and Trigonometry -237- and Elements of Algebra -291-. And Scientific American Handy Book from 1921 spine slightly detached. | Good | NHN344 345 | 20 | 40 | | |
| 2017-352 | *2017-352 Lot of books. Mechanical Drawing -1962- Modern Shop Practice Vol. V -1919- Practical Woodworking -1965- The Complete Woodworking Handbook -1972- and Illustrated Encyclopedia of Carpentry and Woodworking -1973-. Gentle to moderately used. | Good | NHN354 356 | 25 | 50 | | |
| 2017-353 | 2017-353 Lot of magazines. Craftsman Leichtung Workshops Workbench Woodworkers Store Fine Tool Shops Old World Benches and Garrett Wade Co. most from 80s and 90s. Plus Woodworking Tricks of the Trade paperback Wood Colors and Kinds handbook and Woodworking for Everybody hardcover -1970-. | Good | NHN | 30 | 60 | | |
| 2017-354 | *2017-354 Lot of 4 carpentry books. 1953 - 1969 publications two hardcover and two paperback. | Good | NHN347 | 10 | 20 | | |
| 2017-355 | *2017-355 Lot of 7 manuals. Two by CRAFTSMAN two by DISSTON one from Better Homes and Gardens thats tattered and a STANLEY repair parts catalog from 1975. One of the Disston has tape on spine. | Good | NHN350 | 25 | 50 | | |
| 2017-356 | *2017-356 Lot of 2 books. Old Mr. Boston Official Bartenders Guide 1936 edition and Gardening with Herbs 1970 edition. Both have light wear. | Good | NHN351 | 10 | 20 | | |
| 2017-357 | *2017-357 Lot of 4 paperbacks. Planecraft -1972- A Museum of Early American Tools -1974- Stanley Combination Planes reprint and Antique Tools Our American Heritage -1979-. Gently used. | Good | NHN185 186 | 20 | 40 | | |
| 2017-358 | 2017-358 Dealers lot of 9 wooden clamps. Various sizes most clean. | Good | NHN268-270 339 | 30 | 60 | | |
| 2017-359 | 2017-359 Dealers lot of wooden boxes. Nearly 20 or so boxes in varying sizes some cigar boxes some look handmade. | Good | NHNVarious | 30 | 60 | | |
| 2017-360 | 2017-360 Dealers lot of wood planes. 14 hollows and rounds different makers including 4 by SANDUSKY 5 by 3 star maker T.C. CAIN including No. 18 matched pair P. CHAPIN C. PATERSON matched pair of what looks like table hollow and round and E.T. BURROWS. Several have stains and gunk on them rest fairly clean. | Good- and better | MMY44 | 50 | 100 | | |
| 2017-361 | 2017-361 Dealers lot of rasps and files. About 20 of all sizes some round some with wood or plastic handles. Most either lightly used or unused. | Good | JARVarious | 50 | 100 | | |
| 2017-362 | 2017-362 Dealers lot of wrenches. 16 total in various sizes from 12 inch to 6 inch most are adjustable monkey and pipe makers include COES BEMIS and CALL STILLSON FORD ERIE TOOL WORKS. Some are dirty and rusty wood ok on most. | Good | SANVarious | 60 | 120 | | |
| 2017-363 | 2017-363 Dealers lot of chisels and other tools. Mortise chisels bevel chisels gouges scratch awls lathe tools. Some have no handles some handles stained some spots of rust. Some makers are BUCK POTTS and CO NEWBOULD MARPLES. | Good- and better | JARVarious | 60 | 120 | | |
| 2017-364 | 2017-364 Dealers lot of bench planes. 11 total. Makers include CORSAIR MOHAWK SHELBURNE SEARS TRUE VALUE CHALLENGER PARPLUS PRITZLAFF LAKESIDE. Most have been repainted and had wood painted or relacquered. Most equivalent to Stanley No. 4 size. | Good | PLH | 40 | 80 | | |
| 2017-365 | 2017-365 Dealers lot of miscellaneous items. Drawing and calligraphy items including ink pens pencils cleaning powder. Household hardware including brads tacks nails hinges. Most new old stock in original boxes. Plus a LUFKIN steel refill tape in original box. | Good | NHN256 263 | 40 | 80 | | |