Auction Archive 6402 - December 14, 2014
Auction ended December 14th, 2014.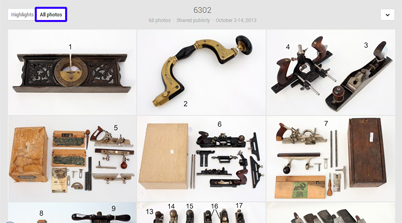 Please select "All Photos" (indicated in blue box in our example photo) to view entire album. Clicking on individual photos reveals full description and the ability to zoom in. If you would like to bid on a paper bid sheet, blank bid sheets can be printed out here. Mail, fax or email your bids to the address provided on the form. You may also bid on the auction and submit an electronic bid sheet using the online auction listing below.
To view all auction items in our Web Albums, click here. To see all photos in order, select All Photos (in blue in the image above)
Thanks for bidding!
LOT
DESCRIPTION
CONDITION
SOURCE
LOW
HIGH
PHOTO
(click to enlarge)
6402-001
6402-001 STANLEY prelateral No. 33 transitional jointer. Type 6. Last prelateral with eagle mark on toe and semi circular mark on blade. A couple of stains and one tight crack on body.

some roughness to edge of tote. Metal good. A very nice example of the prelateral transitional plane.
Good plus
CGD146
70
140
6402-002
6402-002 OHIO TOOL CO. No. 101 screw arm plow plane. Beech with boxwood arms and nuts and boxed fence. Chip out of the end of one arm and few small chips on threads but overall very nice condition.
Good plus
CDE1505
300
600
6402-003
6402-003 Dead mint BLUM No. 5 jack plane. Quartersawn maple with cherry sole incorporating Blums unique bench plane design. Comes with sharpening jig and an entra frog and appears to have never been used. These will run you 250 dollars new - heres a chance to try it out for a fraction of that.
Mint
KGM56
125
200
6402-004
6402-004 Coffin shaped smoother. Unusual design with an iron plate in the sole in front of the throat. Cutter cap is marked COULQUHON and CADMAN. Cutter itself is a

Governor Brand

by ONIONS and CO. Plane is in very clean condition. Owner mark on wedge.
Good plus
RYP19
60
120
6402-005
6402-005 Dead mint RECORD 05 jack plane. Equivalent to a Stanley No 5

first produced in 1931. Blue enamel is absolutely perfect- I cant see a scratch or trace of rust on it.
Mint
KGM51
60
120
6402-006
6402-006 STANLEY No. 20 circular plane. Cutter has the 1892 patent mark.

About 50 percent nickel loss otherwise nice and clean.
Good
CGD117
100
200
6402-007
6402-007 STANLEY No. 289 filletster and rabbet plane. Type 1 with patent dates cast into body but with a sweetheart cutter. The original heavy duty fence has been replaced but the original large diameter fence rod is included so its ready for a proper fence. Apart from that plane is in very good condition possibly repainted.
Good plus
MAX343
100
200
6402-008
6402-008 STANLEY No. 225 double bladed bevel. Made only from 1927

to 29 with 12 inches and 7 inch blades. The lacquer has almost completely worn off the boxwood handle but blades are nice and clean with sweetheart mark.
Good minus
MAX356
75
150
6402-009
6402-009 Lot of three SARGENT rabbet planes. Two No. 196s -one missing depth stop and one with unmarked cutter-

and one No. 198.

Good clean condition except as noted.
Good and better
BFS95 96 98
90
150
6402-010
6402-010 Lot of three STANLEY No. 192 rabbet planes.

A Type 1 -one with second sweetheart cutter and scrollwork on tote and one with third sweetheart and fishscale tote.

All depth stops and nickers present and japanning good. The Type 1 may have been repainted.
Good plus
MAX397B
75
150
6402-011
6402-011 Lot of two STANLEY No. 190 rabbet planes.

A Type 1

and one with fishscale tote and third sweetheart on cutter.

Both depth stops and nickers present in good clean condition.
Good plus
MAX397
75
150
6402-012
6402-012 Lot of two STANLEY rabbet planes.

A No. 190 and

Enhanced

190W. The No. 190 is in nice clean condition with third sweetheart mark on cutter and japanning almost complete.

The

190W

has a first sweetheart cutter and may be repainted.

It has the steel plate on the sole but Im suspicious of it as it has only two screws and I think it is an after-market addition -but well done-.
Good
MAX397A
60
120
6402-013
6402-013 Lot of two STANLEY No. 39 dado planes. A five eighths inch plane with lever cap and cutter missing and a seven eighths inch sweetheart with nickel flaking on caps but otherwise good.
Good and better
LBD436 438
200
400
6402-014
6402-014 STANLEY No. 182 rabbet plane.

Semi circular 1874 87 mark on cutter. Bottom horn of tote broken but otherwise in fine condition.
Good
MAX263
40
80
6402-015
6402-015 STANLEY No. 191 rabbet plane. Late model with notched rectangle mark on cutter.

Immaculate condition with guide and nicker and depth stop.
Fine
MAX278
75
150
6402-016
6402-016 STANLEY No. 48 swinging fence match plane. Nickel plated version with slight loss of nickel at tip of tote but otherwise nice and clean.

Proper cutters.
Good plus
BFS97
75
150
6402-017
6402-017 STANLEY No. 146 match plane. Some nickel flaking on the caps but otherwise nice and clean with original cutters.
Good plus
LBD437
120
220
6402-018
6402-018 STANLEY No. 49 tongue and groove plane.

Nickel plate worn but with scroll pattern on tote and patent number cast into body. Cutters have been replaced from a 45 -and are the wrong size-

and one of the cutter clamps is an obvious replacement.

For parts or restoration.
Fair
MAX317
50
100
6402-019
6402-019 STANLEY No. 193 fiber board plane. Includes the main body and all attachments except No. 5.

One cutter.

Unlike some

this one looks like it was actually used with some wear to the japanning but still good overall shape.
Good
DST255
50
100
6402-020
6402-020 MILLERS FALLS No. 4 bullnose rabbet plane IOB. Plane is very good with some minor surface rust. Japanning 95 percent. Box ragged and missing two sides but label is intact.
Good plus
DCS2
30
60
6402-021
6402-021 STANLEY No. 79 side rabbet plane IOB. Early unfenced type. Second sweetheart mark on cutters. Some nickel loss

primarily on back. Box has one loose side.

Intact label.
Good plus
RYP2A
60
120
6402-022
6402-022 Set of two ALUMO rabbet planes. Nos. 2B -half inch- and 3B -three fourths inch-. The 2B has a metal fence held directly to the side with wingnuts. Looks original. The larger one is tapped for the same screws. Solid aluminum bodies. Expected wear to throats otherwise decent condition.
Good
CRT72
30
50
6402-023
6402-023 STANLEY No. 48 swing fence match plane. Nickel plating worn and some surface corrosion.
Good
DCS1
30
60
6402-024
6402-024 Compassed Coachmakers rabbet.

Brass body with grooving. Rosewood wedge.

1 five eighths inch wide compassed sole.

Unsigned.
Good plus
LBD182
125
200
6402-025
6402-025 Lot of two STANLEY planes.

A No. 39 three eighths dado plane with japanning 75 percent and 1907

to 09 mark on cap. Very clean.

And a No. 248 weatherstripping plane

one eighth inch cutter with rectangle mark and japanning close to 100 percent.

Clean and complete.
Good and better.
GNM296

316
50
100
6402-026
6402-026 LIE NIELSEN shoulder plane. Largest size.

8 inches long and 1

fourth inch wide. In immaculate condition. A new one will run you 175 dollars and this one is like new.
Fine
THF333
75
150
6402-027
6402-027 LIE NIELSEN shoulder plane. Based on the Record 073.

8 fourth inch long with a 1

fourth inch cutter.

Some minor tarnish to show it was used but in very clean condition.

250 dollars new.
Good plus
SSA36
100
200
6402-028
6402-028 E. PRESTON and SONS cast iron spill plane.

Prestons No. 1530

patented spiral spill machine.

A rare variation on the spill plane used to produce curled shavings used for lighting pipes.

Japanning about 70 percent and some surface rust but complete with good cutter.
Good
GAN323
65
130
6402-029
6402-029 STANLEY No. 194 fibre board beveller. One cutter and in good clean condition with some scratching on tote.
Good plus
JRI1066
40
80
6402-030
6402-030 STANLEY No. 46 dado plane. The good news - it has both the wraparound depth stop and the auxiliary sliding section.

The bad news - no cutters

and the threads on the cutter clamp appear to be buggered up.

Looks like a type 3.

Good japanning and tote.
Good
BFS99
100
200
6402-031
6402-031 STANLEY No. 55 universal plane. Parts are in a cardboard box including cutters in a smaller box. Looks like they are all there but I cant swear to it. Nickel plating well worn. A utilitarian 55.
Good
HBE7
90
180
6402-032
6402-032 Set of STANLEY No. 45 cutters. A total of 18 cutters but with some differences from the first set.

Has the beading and plowing cutters. One tongue cutter and one fluting.

In original wooden box with decal faded to illegibility.
Good
DBR53
40
80
6402-033
*6402-033 Cutters for STANLEY multiplanes. Mixed lot of cutters for No. 45 and No. 55 in two wooden boxes without decals. All are sharp and fairly rust

free.
Good
FNK587 588
15
30
6402-034
6402-034 STANLEY No. 45 combination plane. Type 14 with third sweetheart mark.

Has two original cutter boxes but missing a few cutters.

Also missing cam rest- beading stop-

short depth stop-

and short rods.

Nickel has a few rough spots but no major flaking

wood good.
Good
SSA94
200
400
6402-035
6402-035 STANLEY No. 40 scrub plane. Third sweetheart mark.

Some dinging to tote and japanning worn off lever cap.
Good
BFS93
60
120
6402-036
6402-036 SHELTON patent smoothing plane. No. 3 sized plane based on MacAllers 1932 patent for the cutter adjustment.

Some wear to japanning and minor dings to tote but nice example of an uncommon patent.
Good
SSA38
40
80
6402-037
6402-037 SARGENT No. 29 carriagemakers rabbet plane. Tote has been well reglued

and some dings to edge of cheeks

otherwise good example of a rare Sargent plane.
Good
BFS91
95
190
6402-038
6402-038 UNION TOOL circular plane. Unions version of the Stanley No. 113

decent overall condition with some surface rust- japanning about 50 percent
Good
JRI1062
80
160
6402-039
6402-039 Cabinet scrapers plane. Unmarked. Could be a SARGENT No. 57. Has a Stanley cutter for whatever thats worth.

In nice clean condition.
Good plus
BFS38
80
160
6402-040
6402-040 SARGENT No. 160 roughing plane. Japanning worn

particularly on tote and knob

but otherwise good.

Good clean cutter with Sargent mark.
Good
BFS33
80
160
6402-041
6402-041 Lot of two STANLEY bench planes. No. 5

fourth junior jack with sweetheart mark.

Reglued tote

and No. 3 with notched rectangle and some scratches to tote.
Good
SSA44 45
60
120
6402-042
6402-042 Modified Bed Rock No. 606 jointer plane. It has a Bed Rock frog and cutter mechanism

but mounted on a cast brass body.

Moreover

the frog is secured not with screws but with bolts brazed through the sole so that it is loose and there doesnt seem to be any way to tighten it.

Why someone would have gone to this much trouble to make a brass imitation Bed Rock is beyond me.

A curiosity.
Good minus
VTD74
60
120
6402-043
6402-043 EDWIN HAHN No. 6 jack plane. Hahn worked in Wilkes-Barre and may have had a connection with Siegley.

This one has a corrugated 15 inch sole and Hahns distinctive lateral adjustment.

Edge of tote worn. otherwise good.

A rare plane.
Good plus
LBD433
100
200
6402-044
6402-044 STANLEY

Bailey

No. 5 jack plane. With the dark brown japanning and yellow notched rectangle on lever cap.

Very nice clean condition.
Good plus
LBD432
40
80
6402-045
6402-045 STANLEY No. 10 carriagemakers plane. English version.

A few rust spots but nice and clean

good wood on tote and knob.
Good plus
SSA43
60
120
6402-046
6402-046 STEERS No. 304 patented bench plane.

9 inch version of Steers patent with rosewood inserts in the sole.

The tip of the tote is missing and would need fixing

but the rest of the plane is in immaculate condition

including the rosewood strips that are often worn or missing.

Fix the tote and youve got a top shelf example of a very rare plane.
Good minus
MAX398
250
500
6402-047
6402-047 STANLEY No. 10

half bench rabbet plane.

Orange notched rectangle in lever cap.

Japanning 95 percent

good tote and knob.
Good plus
LBD429
150
300
6402-048
6402-048 SARGENT No. 29 carriage makers rabbet plane. Super nice clean example of a rare Sargent plane.
Good plus
BFS94
250
500
6402-049
6402-049 SARGENT No. 422 jointer plane. Type 2 with horseshoe style lateral adjustment and no name in lever cap.

Plane is in good clean condition but the cutter has a Stanley sweetheart mark.
Good
BFS59
80
160
6402-050
6402-050 STANLEY No. 6C corrugated fore plane. Good body but the end of the tote is missing and incorrect lever cap. For parts or restoration.
Fair
CDE1446
30
60
6402-051
6402-051 Lot of two metal planes.

A CRAFTSMAN four sided cutter plane

aluminum with four sided cutter.

9 half inch sole

paint about 50 percent worn off. Plus Parplus jack plane. Equivalent to a No. 5 with the Metal Products mark and PARPLUS in a diamond on the cutter.

Unusual mark listed in PTAMPIA I as having been sold circa 1925.

Surface discoloration on the metal but overall good clean condition.
Good
CDE1545

1806
40
80
6402-052
6402-052 Lot of three metal planes.

A MILLERS FALLS No. 9 smoothing plane - the equivalent of the Stanley No. 4 this one is super clean and almost unused. Varnished hardwood tote and knob rather than the top of the line rosewood. Plus a FULTON bench plane with a 9 inch sole and varnish on the tote is worn but otherwise nice and clean. Plus a CRAFTSMAN smoothing plane

similar to the No. 4.

Nice and clean with the blue Craftsman oval logo on the lever cap and just a trace of decal on the tote.
Good and better.
CDE1475

1477

1480
60
120
6402-053
6402-053 Lot of two planes.

SHELTON No. 4 smoothing plane patented in 1933 by Cornelius McAller and manufactured by Shelton Plane Co. of Shelton

CT. 9 inch in overall good condition except some surface corrosion and a few paint splatters. Plus unmarked bench plane with lever cap and adjusting knob are made of sheet steel rather than cast.

Rusty and dirty but all there.
Good
DT14 15
60
120
6402-054
6402-054 STANLEY No. 7C corrugated jointer. Later version with orange rectangle mark on lever cap. Metal good and japanning 80 percent and small chip from end of tote.
Good
CDE1253
50
100
6402-055
6402-055 STANLEY No. 8 jointer. Type 6 or 6A with 1892 patent date on iron. Japanning about 70 percent and knob and tote dinged but undamaged. A decent early No. 8.
Good plus
CDE1249
75
150
6402-056
6402-056 SARGENT No. 408C smoothing plane. Later type. Super clean noting a few minor dings in the tote.
Good plus
BFS89
40
80
6402-057
6402-057 STANLEY No. 5 jack plane. Later model with notched rectangle on lever cap and cutter.

Good clean condition with one small chip out of the tote edge and possibly repainted.

Perfect user.
Good
VTD75
40
80
6402-058
6402-058 SARGENT No. 410 smoothing plane. Type 3 or thereabouts. Very clean with japanning 98 percent and good tote and knob.
Fine
BFS34
100
200
6402-059
6402-059 STANLEY FOURSQUARE jack plane.

The Foursquare version of the No. 5 half.

Type 3

tote decal is about 50 percent otherwise near fine.
Good plus
MAX400
60
120
6402-060
6402-060 EDWIN HAHN No. 2 smoothing plane. Hahn worked in Wilkes Barre and may have had a connection with Siegley.

This one has a corrugated 9 inch sole and Hahns distinctive lateral adjustment.

Some serious pitting at the top of the left cheek and miscellaneous surface corrosion otherwise good.

Clean sole.

A rare plane.
Good
LBD434
75
150
6402-061
6402-061 Lot of three smoothing planes. VAUGHN and BUSHNELL No. 903 - CRAFTSMAN No. 3

and MILLERS FALLS No. 8.

All in decent user condition with some surface rust and minor dinging. Good throats and cutters.
Good
SSA41 49 53
120
200
6402-062
6402-062 EDWIN HAHN No. 8 jointer plane. Hahn worked in Wilkes Barre and may have had a connection with Siegley.

This one has a corrugated 18 inch sole and Hahns distinctive lateral adjustment.

There is a hole in the sole underneath the tote

otherwise good.

A rare plane.
Good
LBD431
100
200
6402-063
6402-063 STANLEY No 5 half C corrugated fore plane. Last pre sweetheart model with low knob and vee mark. Good clean condition with very minor roughness to edge of tote.
Good plus
CDE1923
75
150
6402-064
6402-064 KEEN KUTTER No. K5 jack plane. Nice clean example.

Rosewood tote and knob and japanning almost complete.
Good plus
CRT139
45
90
6402-065
6402-065 SIEGLEY No. 5C corrugated fore plane. Has the STS mark on cutter.

Roughness to edge of tote but otherwise good shape.
Good plus
CDE1426
50
100
6402-066
6402-066 Lot of two planes.

ESTE German made bench plane with 8 half sole and red painted knob and tote. ESTE mark cast in lever cap and good SandT decal on top of tote. Plus STANLEY Victor

jack plane

part of the Victor line manufactured by Stanley in the 1940s in good clean condition with a little surface rust.
Good and better
CRT146

148
50
100
6402-067
6402-067 STANLEY No. 4C bench plane IOB. Type 11.

Last of the pre sweetheart low knob types. Vee mark on cutter. Plane is near mint with a trace of surface rust on cutter and box is tattered and end with the label is detached but present.
Fine
THF353
60
120
6402-068
6402-068 SARGENT No. 408 smoothing plane. Type 3 mark on lever cap but newer lateral.

Tall knob.

Metal okay with couple of dings in tote.
Good
BFS92
40
80
6402-069
6402-069 Set of three FREUD bench planes. No. 4 size smoothing plane -

No. 5 size jack plane

and No. 7 jointer. The metal on these planes is in almost perfect like new condition. The totes and knobs have some dings and paint spatters. Freud now known for their router bits and saw blades

used to make a complete line of hand tools including Bailey style bench planes

and you can get a set of almost new bench planes for a fraction of the cost of collectible Stanleys or contemporary boutique plane makers.
Good plus
KGM48 49 50
150
300
6402-070
6402-070 Lot of STANLEY block planes. A Type 1

No. 19 but missing lateral lever.

A big chip from the side and chipped throat. And No. 120- 220-

9 half.

A couple of English planes and a low angle block. All with issues-rust-chipped throats-etc. For parts.
Fair
SSA1 3 5 7 8 12 13
50
100
6402-071
6402-071 Lot of 6 block planes.

STANLEY No. 110 with no mark on cutter and japanning worn

slight pitting. TWIX block plane

7 inch sole pressed steel body throat has been widened and unusual maker. AMERICAN BOY

adjustable 6 half

inch sole

wide flat knob with unusual maker. MILLERS FALLS No. 87 with some loss of japanning on knuckle cap but otherwise clean with good cutter and very clear mark. And two unmarked with one resembling a Stanley 102 but no mark other than ÒMade in USAÓ and other having 6 inch sole with adjustable throat

and only mark is an anvil trademark on cutter.
Good and better
CDE1289

1294

1296

1297

1302

1325
80
120
6402-072
6402-072 BIRMINGHAM PLANE CO block plane.

Nonadjustable version of the Birmingham block

with 7 inch coffin shaped sole and slip in lever cap.

A paint splash on front knob and japanning about 75 percent.

Good
LBD1004
175
350
6402-073
6402-073 Lot of two STANLEY No. 103 block planes. A type 2 with semi circular mark on cutter and a later model with notched rectangle.

Both nice and clean with minimal wear to japanning. Some pitting on the later model cutter.
Good plus
MAX394
40
75
6402-074
6402-074 STANLEY 103 Type 1B adjustable block plane.

Applewood knob.

No mark on cutter.

Japanning very good.
Good plus
MAX390
80
160
6402-075
6402-075 Lot of two STANLEY No. 102 block planes.

A type 2 with chips at the sides of throat -but not broken through- and an early type with semi circular mark on cutter in very clean condition.
Good and better
MAX393
50
100
6402-076
6402-076 Near mint STANLEY G12 247 block plane. Nonadjustable English successor to the No. 102

with immaculate original blue and red paint job and perfect yellow decal.
Fine
KGM24
40
80
6402-077
6402-077 Lot of three STANLEY block planes. A No. 65 with sweetheart mark.

Japanning worn on knuckle cap but otherwise good. A 9 half with the dark blue japanning in immaculate condition

top of original box. And a 118P

100 plus

pressed steel plane in original box. Surface rust and decal has come loose.
Good and better
THF335 336 352
50
100
6402-078
6402-078 VERITAS low angle block plane with ball tail. Has the optional ball tail and tall front knob installed

with the original brass front knob also included.

Some tarnish along both cheeks but wood and japanning are immaculate.

A 200 dollar plane new.
Good plus
SSA11
75
150
6402-079
6402-079 Lot of five block planes.

A UNION TOOL No. 227 good condition.

A SHELTON unnumbered 7 inch model in good condition.

A STANLEY Handyman No. H102 in good condition.

A SARGENT adjustable mouth plane similar to No. 307 marked EDGERITE.

Plus a SARGENT No. 107 but the bed has 110 cast into it.
Good and better
CDE1019

1020

1021

1029

1038
80
120
6402-080
6402-080 Lot of four block planes. Two STANLEYs.

A No. 110 and No. 118 both with notched rectangle marks on cutters in very clean condition.

A UNION MFG. CO. 6 inch sole adjustable throat lateral and blade adjustments and a MILLER FALLS No. 75 01 IOB

later model with grey japanning

in near mint condition with corrugated box. Dirty but complete. Good and better.
Good and better
CDE1025

1279

1031

2180
60
120
6402-081
6402-081 STANLEY No. 90 bullnose rabbet plane.

Notched rectangle mark on cutter and hand ee grip on side.

No plug in nose.

Plating is fine.
Good plus
LBD187
65
130
6402-082
6402-082 WINCHESTER No. W103 block plane. Very clean condition.

Japanning worn on knuckle cap.

An unusual Winchester plane.
Good plus
CDE1024
40
60
6402-083
6402-083 RECORD No. 077 bullnose plane. Super clean condition with only minor tarnish to nickel.

Good sharp cutter.

Made 1933

to 43.
Good plus
SSA21
60
120
6402-084
6402-084 MARX toy bench plane.

3 inch long model of a bench plane by toymaker Louis Marx and Co. Metal and plastic

with some minor flaking.
Good
LBD213
30
60
6402-085
6402-085 STANLEY No. 120 Type 2A block plane.

Six pointed star with hole in lever cap.

Good overall condition with some wear to japanning

hole drilled in sole near heel.
Good
LBD1001
75
150
6402-086
6402-086 SARGENT No. 206 block plane. Rare type 2 with the

gull wing

nut to secure the lever cap.

Some light pitting on the cheeks

otherwise very clean.

Mark on cutter about half obscured but cutter is clean and sharp.
Good
CDE1036
40
80
6402-087
*6402-087 STANLEY No. 102 block plane.

Japanning worn on lever cap but otherwise good

notched rectangle mark on cutter and solid user.
Good
LBD1006
25
50
6402-088
6402-088 BAILEY Victor No. 12 pocket block plane.

Well used with japanning at 50 percent and trademark on adjusting knob worn but still prominent.
Good
LBD210
125
250
6402-089
6402-089 Near mint RECORD 09 half block plane. Equivalent to a Stanley 9 half adjustable mouth block plane

first produced in 1934. Blue enamel is absolutely immaculate

as are all metal parts. Almost too pretty to use.
Fine
KGM24A
60
110
6402-090
6402-090 Lot of four block planes.

A MILLERS FALLS No. 75B and a WORTH non-adjustable model and both are very clean with almost no rust but japanning worn on knuckle caps. Plus a STANLEY No. 110 later type with notched rectangle on cutter in super clean condition

perfect user. Plus English STANLEY block plane similar to a No. 110 but marked G12

247 on the side-

good clean blue and red japanning and almost complete decal.
Good and better
CDE1026

1028

1286

1332
60
120
6402-091
6402-091 Brass infill bullnose plane. Unsigned. 3 half inches long with a 1 inch cutter.

Infill looks like mahogany.

Dinged on the heel.
Good
SSA18
50
100
6402-092
6402-092 STANLEY No. 18 block plane.

Type 2 but with later notched rectangle cutter.

Nickel slightly worn on lever cap

otherwise fine.
Good plus
MAX168
50
100
6402-093
6402-093 Lot of two wooden planes.

One is a standing filletster plane with body unmarked

but iron is marked ÒDwight S.***Ó with a 1 three fourths inch cutter. Chip out of throat - razee body - tote is not fitted perfectly and may be a replacement

but solid. Plus a D. R. BARTON tongue cutting plane. Cuts three eighths inch tongue with a fixed fence three eighths inch from the edge of the plank

14 inches overall length with tote so used for bigger jobs. Tote

wedge

and body are clean with some water staining.

Cutter is rusty but sharp and seems too long so may be a later replacement.
Good
JRI492

1121
40
80
6402-094
6402-094 Lot of two coffin smoothing planes. J. SAWYER razee style body with 9 inch sole. Chip off the end of the tote and a screw has been inserted through the sole to hold the tote in place otherwise good body and wedge. New York maker with two stars in AWP. Plus one with 8 inch sole and Moulson Bros. iron- iron strike button- old repair to throat.
Good minus
DWH31

32
50
100
6402-095
6402-095 Coachmakers rabbet plane with bone sole.

Unmarked but probably European based on wedge shape and Weiss and Sohn cutter.

Wood looks beech with

unusual bone plate on sole with brass screws.
Good plus
LBD185
75
150
6402-096
6402-096 STANLEY No. 30 transitional jointer. 1892 patent type. S foundry mark. One chip from tote

otherwise nice clean condition and japanning 85 percent.
Good plus
CDE1495
40
70
6402-097
6402-097 User made beading plane. Fourth inch bead

unusually shaped body and wedge with some decorative carving on the side.

The brass disk on the side looks modern.
Good
NW1746
35
70
6402-098
6402-098 SARGENT No. 3428 jointer. Wood has a number of stains and a few paint splotches but no major damage. Good tote and knob.

Japanning 90 percent and cutter rusty.
Good
CDE2628
50
100
6402-099
6402-099 CAYUGA jack plane. The Cayuga

NY mark has three stars for rarity in AWP and could be an imprint of Auburn Tool Co.

16 inches long. Immaculate body and wedge noting some hammer marks on heel and toe -apparently owner didnÕt know what the strike button was for because its unmarked-.

Good Owasco Tool Co. cutter.

Extra nice and rare.
Good plus
JRI1105
80
160
6402-100
6402-100 SANDUSKY No. 19 skew rabbet plane. 15 inch sole. 2 inch wide cutter. Overall dirty and toolbox dinging. Edge of tote rough but no major damage.
Good
JRI1221
40
80
6402-101
6402-101 OGONTZ TOOL CO. No. 13 jack plane. Very clean body and strike button with a couple of small chips from tote.

Good Sandusky cutter.
Good plus
JRI1100
60
120
6402-102
6402-102 Pump log plane. Unusual type of plane used to cut grooves in planks that were fitting together to form a pipe.

See Whelan

p. 159.

Unsigned and good overall condition with minor dinging. Good tote and wedge. James Howarth cutter.

Rare.
Good plus
JRI1104
80
160
6402-103
6402-103 HOWLAND and CO. skew iron rabbet plane. 16 inches long. 1 three eighths inch sole. Offset tote.

Very nice clean condition with almost no dinging.
Good plus
JRI1107
60
120
6402-104
6402-104 Complex molder. Fillet- lying ogee- beak and lying reverse ogee.

Unsigned- wood- tote and wedge all immaculate. Some pitting on cutter.

Small brass plate in toe.
Fine
JRI1246
80
160
6402-105
6402-105 Lot of two jack planes.

21 inch rounded to cut a 3 fourth inch gutter.

Body is dirty and has some dinging but has good wedge. Has a missing cutter and the tote has a chip out of the top and crack at the base is reinforced with iron brace that looks original. Unsigned and very unusual design. Plus OGONTZ TOOL CO. No. 13 with tote missing and replaced by dowel

chipping at end of wedge with rusty cutter.
Fair and Good minus
JRI1101

1215
30
60
6402-106
6402-106 Lot of two planes.

J.A. NEWBOULD groove cutter.

Half of a matched tongue and groove set. Wood is dirty with some dinging but wedge and tote both good.

Hole through body for handle

iron skate and cutter both rusty. Rare maker

AWP lists a J.A. and F.W. NEWBOULD in Buffalo but this is just J.A. who is not listed as working by himself. Plus a CASEY KITCHEL and CO. tongue cutting plane

wood tote and wedge all good with some green paint but has been relacquered.

Moving wood fence.

Hole drilled in toe with no apparent purpose.
Good Ð
JRI1047

1095
40
80
6402-107
6402-107 D.R. BARTON jointer plane. 22 inches. Razee style body.

Large oval mark. Some dinging but overall decent condition.
Good
SSA251
30
60
6402-108
6402-108 Lot of two razee body jointer planes. One by J.R. TOLMAN of Hanover- Massachusetts with old throat repair and loss of wood behind toe. The other unmarked with old damage to tote.
Good minus
SSA245 246
35
70
6402-109
6402-109 STANLEY Liberty Bell No. 127 wood bottom jack plane.

Type 2.

End of tote is smoothed over

wood otherwise decent with some original lacquer. Metal and japanning good.
Good
MAX208
50
100
6402-110
6402-110 STANLEY No. 26 transitional plane. Type 14 with

vee

style trademark on cutter. Slight loss of japanning and small chip from edge of tote.
Good
JW120
30
60
6402-111
6402-111 STANLEY No. 37 wood bottom jenny plane.

Second sweetheart mark on cutter.

Metal and japanning are good

wood only fair with some serious scratches on the sole and one big chip on the side.

Tote has some roughness but its all there.
Good
MAX352
75
150
6402-112
6402-112 Lot of two wood bottom planes. Stanley No. 25 block plane.

Rarest of the transitionals.

Proper lever cap and sweetheart mark but no trademark on toe. And a Type 12 No. 23 smoothing plane.

Wood okay. Good japanning on both.
Good
MAX351 367
50
90
6402-113
6402-113 Lot of two wood bottom jack planes.

No. 26 Type 8.

Wood okay except end of tote neatly cut off.

Metal good

and another one thats the right size for a 26 but looks like a replacement wooden body with no trademark on toe.

Tote missing end and reglued.
Good minus
MAX180

196
50
80
6402-114
6402-114 STANLEY Liberty Bell No. 122 wood bottom bench plane.

Type 3. Wood is decent with lacquer worn but no major damage. Metal fine.
Good plus
MAX350
40
80
6402-115
6402-115 WINCHESTER No. 3040 wood bottom bench plane.

Winchester equivalent of the Stanley 23.

Wood good noting one large scratch on left side. Metal fine with japanning 95 percent.
Good plus
MAX360
150
250
6402-116
6402-116 STANLEY No. 25 wood bottom block plane.

Rarest of the Stanley transitionals.

Type 10 or so.

Cutter has the April 1892 patent date but it is on the wrong side for bedding bevel side up so may be from another plane.

Has the correct plate instead of cap iron.

Wood and metal are fine and japanning 85 percent.

A nice example of a rare plane.
Good plus
MAX368
125
250
6402-117
6402-117 Horn smoothing plane.

Solid rosewood. 10 inch sole.

2 one eighth inch cutter.

Wood is good overall with some scratches on sole

Ohio Tool Co. cutter.

Decorative fluting on wedge.
Good plus
BCS4
60
120
6402-118
6402-118 J. R. TOLMAN ship round plane.

1 three fourths inch cutter and sole

Moulson Bros. cutter.

Wood is good throughout with some paint splatters.

Tolmans Type D mark

two stars in AWP.

A rare plane by an uncommon maker.
Good plus
BCS7
90
180
6402-119
6402-119 DOSCHER horn smoothing plane.

8 fourth inch sole - 1 seven eighths inch cutter.

Wood good overall

Baldwin Tool Co. cutter with some pitting.

Doscher Plane and Tool Co. mark.

Horned US planes are unusual.
Good
BCS5
60
120
6402-120
6402-120 European style horned plane. Nice beech body.

Cuts a 1 three eighths inch lying ogee.

Old repair to throat.

Sorby cutter. Missing Wedge.
Good
NW1754
50
100
6402-121
6402-121 Lot of two European style bench planes. Both have 9 inch soles and 1 three fourths inch cutters. Looks like rosewood.

Both have L and IJ White cutters.

Clearly part of a set

both have the owners name

E. Foelsch

which with the horn shaped knobs indicates a German origin.

Both have old throat repairs but a very attractive set.

The horns are twisted in the opposite direction.

Overall dinging.
Good plus
NW1752 1753
90
180
6402-122
*6402-122 SANDUSKY TOOL CO. coffin shaped smoother. Major split in body with old repair. Significant overall dinging.
Fair
FNK100
10
20
6402-123
6402-123 Small panel raising plane. 8 inch sole and 1 three fourths inch cutter with fixed fence.

Ohio Tool Co.

Thistle

blade.

Ridge at the head of the wedge is partly chipped away

otherwise good overall condition.
Good
NW1749
30
60
6402-124
6402-124 Coffin shaped scraping plane. Bedded at a nearly vertical angle like a toothing plane but the ROBT SORBY cutter isnt toothed so probably used as a scraper.

Decent overall condition with a closed crack in the wedge and mild dinging. 7 inches long.
Good
NW1747
30
60
6402-125
*6402-125 Small coffin shaped smoothing plane. 6 inches long. Rusty cutter with a name I cant read

overall dinging and a small paint smear.
Good minus
NW1748
20
40
6402-126
6402-126 Low angle wooden block plane. 7.75 inches long and very dense heavy reddish wood. Some staining. Ohio Tool Co. cutter bedded at low angle.
Good plus
NW1524
50
100
6402-127
6402-127 Patternmakers interchangeable sole plane. Plane with five interchangeable round soles of different diameters and cutters to match.

The catch is that the sole that is on there now is stuck so tight I cant swear the others were part of the same set although they look like it.

It may have been glued on or simply welded over the years.

Plane is marked J. Hoppe which looks like user. Cutters have names of different English makers.
Good
NW1750
50
100
6402-128
6402-128 OHIO TOOL CO. lying ogee. 1 fourth inch wide. Good clean condition.
Good plus
NW1742
40
80
6402-129
6402-129 HUNT and WISEMEN ogee. 1 fourth inch ogee profile. Boxed.

Wedge kind of chewed up otherwise good example of plane by this St. Louis firm.
Good
NW1741
30
60
6402-130
6402-130 Unsigned lying ogee. Cutter is seven eighths inch wide.

No sign of maker but looks manufactured.

Some staining or charring at heel otherwise good.
Good
NW1743
30
690
6402-131
6402-131 Lot of four AUBURN TOOL CO. molding planes. Five eighths inch quirked ogee- No. 106 half inch side bead and No. 108 half inch center bead.

The beads are boxed

and the center bead has holes through the body for push handles.

And a fourth inch hollow.

All with the same

ACW

owner mark

all in good clean condition noting some staining and light charring on ogee and one point chipped off hollow cutter.
Good and better
NW1737 1738 1739 1745
55
110
6402-132
6402-132 OHIO TOOL CO. standing filletster. No. 47

cuts a three eighths inch groove.

Double

horned nicker blade and integral brass depth stop.
Good plus
NW1734
50
100
6402-133
6402-133 AUBURN TOOL CO. standing filletster. No. 176

cuts a seven eighths inch groove.

Double

horned nicker blade and integral depth stop.
Good plus
NW1735
50
100
6402-134
6402-134 Reversible tongue and groove plane. Cuts three sixteenths inch tongue and groove in opposite directions.

Clearly manufactured but if theres a mark it is too worn to read.

Split in sole and some dinging

otherwise good.
Good
NW1729
35
70
6402-135
6402-135 AUBURN TOOL CO. No. 126 panel raiser. Nice example of a fixed fence curved profile panel raiser.

A few chips and miscellaneous dings and a tight crack in the body but otherwise nice and clean.

9 half inches long

and 2 inch wide sole.
Good
NW1740
30
60
6402-136
6402-136 I.C. TITCOMB double iron sash plane. Ovolo profile.

Has the A mark

three stars in AWP.

Body in immaculate condition. Some roughness to wedges.
Good plus
GAN20G
100
200
6402-137
6402-137 Lot of two standing filletsters. Half inch by M and A COPELAND -A mark- and seven eighths inch by WING H. TABER -A mark-.

Both in nice clean condition.
Good and better
GAN13G 15G
70
130
6402-138
6402-138 Lot of three boxed side bead planes. A half inch side boxed by H. Wetherell with 18th century chamfers and the A

Chatham

mark

three stars in AWP.

Plus two fully boxed

a five eighths inch by M. Copeland three fourths inch by Montgomery with the A mark -also three stars-.

The Wetherell has some wear but the other two are nice and clean.
Good and better
GAN7G 12G 18G
100
180
6402-139
6402-139 Lot of three fully boxed side bead planes. Five eighths inch -C. Fuller B mark-

three fourths inch -J. Denison E mark- and 1 inch -Joel Fenn-.

All two star marks in AWP.

Super clean and sharp.
Fine
GAN3G 4G 6G
100
180
6402-140
6402-140 SIMS of London boxed molder. Complex molder with scotia-quirk-bead and bevel.

Total profile is 1 inch and fully boxed.

Immaculate condition.
Fine
GAN5G
60
110
6402-141
6402-141 M. READ double iron sash plane. Ovolo is fully boxed.

Rabbet has shoulder boxing.

Two owner marks on toe and a couple of tight cracks otherwise very clean.
Good plus
GAN16G
80
160
6402-142
6402-142 WM. MARPLES moving filletster plane. Super clean example with banner mark on toe.

A couple of very tight cracks but otherwise immaculate.
Fine
GAN2G
80
160
6402-143
6402-143 J. DENISON dado plane.

Type E mark. Cuts a seven eighths inch dado.

Unusual type plane in immaculate condition.
Fine
GAN10G
75
150
6402-144
6402-144 Lot of two fully boxed side bead planes. Three fourths inch -Winsted Plane Co. A mark- and 1 inch -J. Kellogg B mark with nice user mark-.

Both nice and clean.
Good plus
GAN8G 14G
60
110
6402-145
6402-145 I. BARNES dado plane. The plane has an early look to it

and AWP reports I. Barnes as having worked around 1820 but has no further information

however dado planes were thought to have developed later.

In very nice condition

and cuts a three sixteenths inch dado.

Unusual.
Good plus
GAN9G
60
120
6402-146
6402-146 JOHN LEWIS lying ogee. Lying ogee with quirk and bevel.

Quirk is boxed.

2 and fourth inch total profile.

Super clean example of a complex molder by this Leeds

England

maker.
Fine
GAN19G
60
110
6402-147
6402-147 C. FULLER rabbet plane. 1 three fourths inch sole.

C mark -Waltham St.-.

Immaculate condition.
Fine
GAN11G
60
120
6402-148
6402-148 TUCKER and APPLETON moving filletster plane. Nice clean example of a moving filletster from this Boston hardware dealer.

A1 mark -two stars-.

Super clean with good nicker and brass depth stop.

Fine
GAN17G
90
160
6402-149
6402-149 R. EASTBURN sash plane. An adjustable sash plane by New Jerseys earliest recorded planemaker

who worked in New Brunswick as early as 1795.

C mark.

Super clean condition.
Fine
GAN1G
80
160
6402-150
6402-150 E.W. CARPENTER adjustable sash plane. Very nice example of a screw thread adjustable sash by this desirable Lancaster - Pennsylvania maker.

Body very clean with a couple of very small chips out of the screw threads and one nut.

Wedges are almost too perfect and may be replacements.

Only apology is that someone has applied a shiny coat of varnish.

Good
BB247
60
120
6402-151
6402-151 Lot of four molding planes. N. SPALDING 1 half inch round. R. WELLS 1 fourth inch hollow.

D.R. BARTON tongue cutter and SARGENT fenced casing molding.

All in typical as

found condition.
Good
BB71 91 102 148
35
70
6402-152
6402-152 Opportunity lot of six molding planes. Various makers and styles

all pretty worn.
Various
BB75 81 87 96 163 170
30
60
6402-153
6402-153 GRIFFITH quirked ogee molder. 1 half inch profile

made of a lovely piece of English red beech

minimal dinging on body.

Good cutter with minimal rust. Very attractive plane. Griffith Norwich stamp partially overstamped by owner.
Good plus
BB147
35
70
6402-154
6402-154 European style moving filletster plane. Beech.

Good boxwood arms and nuts.

Iron depth stop with brass locking screw.

AGFS

stamped twice on body.

A couple of small flecks of paint.
Good plus
NW1727
80
160
6402-155
6402-155 AUBURN TOOL CO. hollow and round. Matched set marked No. 10

three fourths inch diameter.

ACW

owner mark. Round has large crack in sole.
Good minus
NW1730
30
60
6402-156
6402-156 AUBURN TOOL CO. hollow and round. Matched set marked No. 14

1 inch diameter.

ACW

owner mark.
Good plus
NW1726
50
100
6402-157
6402-157 AUBURN TOOL CO. hollow and round. Matched set marked No. 18

1.5 inch diameter.

ACW

owner mark.
Good plus
NW1731
50
100
6402-158
6402-158 AUBURN TOOL CO. side hollow. Side hollows were unusual and typically made by a user by cutting one side off of a standard hollow or bead

which is what was probably done otherwise the boxing strip makes no sense.

An unusual converted form.

three fourths inch diameter.
Good
NW1736
50
100
6402-159
6402-159 Lot of two AUBURN TOOL CO. rounds. No. 12 -seven eighths inch- and No. 16 -1 fourth inch-.

Both with same ACW owner mark

both in good clean condition.
Good plus
NW1732 1733
40
80
6402-160
6402-160 AUBURN TOOL CO. nosing plane. Cuts a full half circle 1 fourth inch in diameter for the nose of stair treads

using two cutters. Wood has a deep patina and wedges a little chewed but otherwise good.
Good
NW1744
40
80
6402-161
6402-161 AUBURN TOOL CO. rabbet. 1 fourth inch skewed rabbet blade.

Wood well worn and wedge somewhat chewed but no major damage.
Good
NW1728
30
60
6402-162
6402-162 T. TILESTON sash plane.

Double iron nonadjustable type.

Super clean condition with a handle hole near the toe and a couple of tight checks.

2 three eighths inch total width.

The rare type F2 mark

three stars in AWP.

A rare plane with a rare mark.
Good plus
BCS8
125
250
6402-163
6402-163 E. DANBERRY complex molding plane.

Lying ogee with quirk with 1 inch profile.

Quirk is boxed.

Wood and cutter both immaculate

very clear mark.

Danberry was a New Brunswick NJ maker.

Two stars in AWP.
Fine
BCS1
75
150
6402-164
6402-164 S. POMEROY narrow round.

fourth inch round.

Wood very good with some dings. Pomery was an 18th century planemaker who was at Lexington in the Revolution.

Two stars in AWP.
Good plus
BCS2
45
90
6402-165
6402-165 COLLINS -UTICA- complex molding plane.

Quirk ovolo and bevel

1 half inch profile

quirk is boxed.

Wood very good with closed split at throat and wedge has some dings.

Two stars in AWP.
Good plus
BCS3
60
120
6402-166
6402-166 Tongue and groove plane.

Grooving plane is marked

Missouri Premium H C and T

which AWP refers to as a

mystery mark.

Tongue cutter is marked Ohio Tool Co.

They look like a pair so maybe Missouri Premium was a hardware store that also sold planes by Ohio Tool.

Fourth inch profile and in good overall shape with one big chip on the fence of the tongue cutter that doesnt affect use.

Good rust free steel fence on grooving plane.
Good
BCS9
100
175
6402-167
6402-167 Fixed fence plow plane. Cuts half inch groove three fourths inch from edge.

Unmarked and probably user made.

Deeply patinated wood and chamfers mark it as early.

Nice condition.
Good plus
VIN1002
35
55
6402-168
6402-168 R. AUBIN round. 1 inch round stamped

R. AUBIN SALOP.

Aubin worked in Shrewsbury in the mid 1700s.

Salop

is an alternate name for Shropshire of which Shrewbury is the principal town.

Chamfered edges

deeply patinated wood.

A small crack but in remarkable condition for being 250 years old

and a very rare maker.
Good
VIN220A
120
240
6402-169
6402-169 Old car beading plane. Cuts a triangular bead but no fence or stop.

Old with chamfered sides and probably user made.

Old deeply patinated wood. Brass triangles enforcing both ends.

Different.
Good plus
VIN220
35
55
6402-170
6402-170 OHIO TOOL CO. adjustable sash plane. Wood worn but no damage. Very good overall condition. Good nuts and threads.
Good plus
JRI567
45
90
6402-171
6402-171 Lot of two measuring tools. One appears designed for use on horse collars

its marked

Friend of the Horse

and is manufactured by HESS and HOPKINS LEATHER CO. of Rockford- IL.

Marked patent pending and in decent shape with the metal rim separating from the wood in places.

The other is a 15 inch square with rosewood handle and unsigned with tab intact.
Good
VTD69 72
50
100
6402-172
6402-172 Lot of three STANLEY No. 21 combination squares. 6 inch- 7 inch- and 12 inch sizes.

The 6 inch has a common nut replacing the knurled locking nut and a vee mark and the other two are sweethearts.

Nickel is good with some traces of surface rust.
Good and better
GNM80 82
30
60
6402-173
6402-173 User made bevel and square. Folding blade with brace to lock it in a 45 or 90 degree angle.

Well made and very ingenious.

Marked

V.R.

Dark wood. 15 inches long.
Good
MKJ333
60
120
6402-174
6402-174 Center finding square. Its on a nice STARRETT No. 4 - 24 inch rule but Im not sure if these were made by Starrett.

The head is 6 inches x 4 inches.

Japanning about 60 percent.
Good
VTD77
40
80
6402-175
6402-175 Lot of three rosewood handled bevels. 6 inch and 7 inch. Unmarked.

Wear to handles and some surface rust on blades.
Good
THF376
30
60
6402-176
6402-176 User made square. All wood construction. Handle held by pegs which are a little loose.

Blade is fixed at an unusual angle

so clearly made for a specific purpose.

Nice clean condition.
Good
NW1389
40
80
6402-177
6402-177 Lot of five STANLEY bevels.

Three No. 25 locking bevels.

Two are modern 8Ó models plus a 6Ó with a sweetheart mark and bent lever

but all good users. Plus a No. 25 with a 10Ó blade and sweetheart mark

and an immaculately clean 8Ó No. 18 butt locking bevel.
Good and better
FNK470

471

472

473

479
40
80
6402-178
*6402-178 Lot of two STANLEY try squares. 4 inch No. 12

earliest type with lead fill around rivets

and a late model 10 inches No. 20 with blued blade and good rosewood handle.
Good and better
GNM71 76
20
40
6402-179
6402-179 Lot of two small LUFKIN layout tools. No. 166 3 inch all steel try square and combination square with ends cut for octagon and hexagons.

Both in near mint condition with a few tiny spots of rust.
Fine
FNK27 28
50
100
6402-180
6402-180 Lot of three measuring tools. KEUFFEL and ESSER dividers

dead mint in original box which is taped and worn

and a 10 inches STANLEY No. 20 try square with blued blade with slight corrosion.

Plus a nicely carved walnut scoop of unknown purpose.
Good and better
ALV178 203

209
30
60
6402-181
6402-181 Shoemakers rule. Varnum Patent. Patented 4-13-80 by William Varnum of Cambridge and manufactured by Frank Whicher Co. of Boston.

Clearly marked and very clean.
Good plus
THF327
75
150
6402-182
6402-182 Log Rule. Unusually short 18 inch version. Six scales.

Split in body that doesnt affect use.
Good
THF329
80
1660
6402-183
6402-183 Lot of two measuring tools. Trammel set.

User made. Brass bodies 4 inches long with iron points and locking screws made of old nuts. Round iron keeper is 11 inches long with some rust and may have been broken off.

Plus a shoemakers rule that is unsigned and has a boxwood with locking spring with some light staining.
Good
WOL268 279
110
200
6402-184
*6402-184 Lot of measuring tools. Stanley No. 30 shrinkage rule and later model line level.

Plus a souvenir key fob from the 1999 MWTCA national meet in Camp Hill- PA

with a level vial embedded in plastic.
Good
LBD1010
25
50
6402-185
6402-185 Lot of four LUFKIN rules. Three 4fold- 2 foot types -- a No. 771 brassbound - No. 751 - and No. 651B.

Plus a No. 372 2 fold 1 foot caliper.

All with moderate wear but no major damage.
Good
JRI827 828 835 861
60
120
6402-186
6402-186 Lot of four UPSON NUT CO. folding rules. Nos.

62 - 68 - 76 - and 84.

All are 4 fold-2 foot

all brassbound except for the No. 68.

All with moderate wear but no major damage.
Good and better
JRI824 829 834 839
60
120
6402-187
6402-187 Lot of two STANLEY boxwood rules. Both two foot-two folds.

A No. 27 brass slide

one of Stanleys rarer rules but in only okay condition with wear to markings and chipping around pin.

And a No. 5 with sweetheart mark with some flaking on one side.
Good
VTD179 183
80
160
6402-188
6402-188 Lot of five STANLEY caliper rules. Two No 36s.

One nice and clean and the other with significant wear.

A No. 32 half is very clean and No. 32 is

worn and missing pins.

Plus one unmarked and worn and with a chip near the hinge.
Good and better
LBD9 10 21 23 24
50
100
6402-189
6402-189 Lot of two STANLEY narrow rules. No. 63 and No. 65 half brass bound.

Both 1 foot-4 fold in super clean condition.
Good plus
LBD15 26
40
80
6402-190
6402-190 Lot of three shoe sizing rules. Two by BELCHER BROS. of New York. One with an ingenious design for folding flat

one with an English patent number that looks like it is used to measure width.

Marked in

-Mens-

-Ladies-

and

-Boys and Girls-

sizes. All boxwood in nice clean condition.
Good and better
VTD93 108 109
50
100
6402-191
6402-191 Lot of five STANLEY carpenter rules. Two No. 68 -one with vertical numbers-

No. 36 half and No. 136 half.

All with notched rectangle marks but all in super clean crisp condition.

Plus an unmarked No. 69 narrow rule.
Good plus
VTD125 140 159 193 204
60
120
6402-192
*6402-192 LUFKIN No. 651 folding rule. 4 fold-2 foot.

Made in England.

Slightly sprung

otherwise near mint condition.
Fine
JRI837
25
50
6402-193
6402-193 LITTLE GIANT traveler. Manufactured in Springfield- MA.

8 inch diameter and works smoothly with minimal rust.
Good plus
FNK567
60
120
6402-194
6402-194 Lot of five STANLEY boxwood rules. No 32 half - No. 36 half - two No. 68s - and No. 84.

All have moderate to severe staining.

The No. 84 and one of the 68s are the best.

The two calipers are the worst.
Good minus
JRI832 848 852 853 858
30
60
6402-195
6402-195 Lot of two boxwood rules. LUFKIN No. 781G 4 fold-2 foot brass bound caliper rule

and an H. CHAPIN 4 fold-2 foot narrow carpenters rule.

Both with wear to exterior but clean inside.

The LUFKIN is missing pins.
Good and better
LBD32 47
40
80
6402-196
6402-196 STANLEY No. 79 carpenters broad rule. 4 fold-2 foot rule including board foot tables.

One of Stanleys rarer rules.

A little sprung and missing one pin.
Good
JRI831
60
120
6402-197
6402-197 STANLEY No. 62C caliper rule. One of Stanleys rarer rules - two foot-two fold with brass edging and caliper.

Nice and clean with minimal staining.

Sweetheart mark.
Good plus
VTD126
75
150
6402-198
6402-198 E.M. CHAPIN bone carpenters rule. No. 59. Fourfold-two foot.

German silver and bone.

Decimal markings along the edges.

Bone is yellow and worn but readable on outside- cleaner on inside but no major damage.

One pin missing. An uncommon rule.
Good minus
LBD106
100
175
6402-199
6402-199 LUFKIN No. 3851 folding rule. 4 fold-3 foot.

Also marked 66 half.

Super clean

near mint condition.
Fine
JRI869
30
60
6402-200
*6402-200 Lot of two brass bodied caliper rules. One is 8 inches long with iron jaws - one side is ruled in inches and the other is ruled in divisions that are about 1 one eighth.

Dont know what that was used for. Marked

Baviere

and probably French - very well made. Plus one that is 4 three fourths inch long - ruled in centimeters and solid brass with some dinging.
Good and better
VTD112 120
25
70
6402-201
6402-201 Sliding caliper rule. 4 inch long solid brass head with sliding center scale and marked

British Ropes Limited.

A specialized rule of some type possibly for use by a ropemaker.

Different.
Good
JRI871
30
60
6402-202
6402-202 Lot of two unmarked caliper rules. Both 4 fourth inch long. Boxwood

one has bone sliding section and looks almost unused and the other looks older and has a tight crack in the head.
Good and better
VTD83 123
30
60
6402-203
6402-203 STANLEY No. 78 half carpenters rule. One of Stanleys rarer rules

two foot-two fold with brass edging

marked - N.Y. City App. Type 352 Serial F2-.

Very clean with minimal tarnish to brass and owners name scratched in face.
Good plus
VTD135
75
150
6402-204
6402-204 Unmarked bone and German silver caliper rule.

Narrow one foot-four fold. Numbers largely worn off.
Fair
JRI266
75
150
6402-205
6402-205 STANLEY No. 3 Caliper rule. 1 foot-2 fold brass bound boxwood rule.

One of Stanleys rarer rules manufactured from 1900 to 1917.

Very clean example.
Good plus
LBD36
55
110
6402-206
6402-206 Lot of two STANLEY narrow rules. No. 65 -unmarked- and No. 65 half brass bound.

Both 1 foot-4 fold in

clean condition.

Both missing one pin and some minor scratches on the 65 half.
Good and better
LBD17 28
40
80
6402-207
6402-207 WINCHESTER No. 9584 boxwood rule. 2 foot-4 fold

brassbound.

Outside a little worn and inside clean but

missing pins.
Good
LBD37
50
100
6402-208
6402-208 LUFKIN No. 8631 folding rule and inclinometer. Outside a little worn but inside clean with good brass and level vial.

Lacquer is very shiny and maybe redone at some time.
Good
LBD18
40
80
6402-209
*6402-209 Four fold 24 inch rule. Unsigned large numerals that could be handmarked.

Hinges loose and some scarring to outside.
Good minus
DUP231
15
30
6402-210
6402-210 Lot of two STRATTON BROS. levels. 30 inch example of No. 1 brass bound. Dark heavy piece of rosewood with some paint splatters. Corners of one brass tip dented in. And a 28 inch No. 2

mahogany with brass tips only with minimal dinging to wood.
Good and better
RSH36 40
80
160
6402-211
6402-211 L.L. DAVIS carpenters level. 30 inches No. 10 mahogany adjustable level. Nice condition with good brass and wood has minor dinging and rounded edges. Owners initials stamped neatly in several locations.
Good plus
RSH39
50
100
6402-212
6402-212 Lot of two STANLEY levels. 28 inch No. 30 with adjustable vials

and a 30 inch No. 10 with laminated stock and unreadable label. Both in nice clean condition noting some scratches on the non label side of the No. 10.
Good
RSH37 38
50
90
6402-213
6402-213 CHAPIN STEPHENS CO. No. 506 inclinometer level. 28 inch cherry body with boxwood inclinometer dial. Very clean with some staining along one edg. Owners name stamped neatly on both faces. Missing one screw in top plate.
Good plus
RSH34
80
160
6402-214
6402-214 Lot of two STANLEY mahogany levels. A 24 inch No. 90 and a 26 inch No. 9. Both have some dinging.

The No. 90 worse than the No. 9

but no serious damage. Good brass trim and vials.
Good
RSH32 33
50
90
6402-215
6402-215 STRATTON BROS. No. 1 rosewood level. Strattons top of the line full sized brass bound level. 28 inch. Attractive piece of light figured mahogany with some minor scratching and dinging. Brass is very good.
Good plus
RSH35
75
150
6402-216
6402-216 STRATTON BROS. No. 1 brassbound rosewood level. One of the most attractive levels ever made.

This one is 30 inches.

Some toolbox dinging and scratches to both wood and brass but good overall condition. Both vials wet

Strattons patent vial markers.
Good
JRI1148
50
100
6402-217
6402-217 Lot of three levels.

Two STANLEY wooden levels.

A No. 0 with a sweetheart mark and some tight cracks in stock and chips from edges

and a No. 3 that has both vial adjustment covers intact which is rare. Plus a RABONE level vial assembly IOB.

The box says it is a No. 1070 but it is just the vial assembly intended to be inserted into a level stock

the tool is mint but box is pretty tattered.
Fair and Good minus
GNM32

33

124
60
120
6402-218
6402-218 Adjustable vial inclinometer. These levels were typically marked by Diamond Edge or Shapleigh.

This one is unmarked which is unusual.

Center vial is dry and wood has one chip from edge and additional wear.
Good minus
BB56
30
60
6402-219
6402-219 DREIER BROS. pitch level. These levels were made for use by plumbers were of soft wood and are typically found in pretty beat up shape.

This one isnt bad but with minor dinging and an almost complete decal.

Every collection needs one.
Good
VTD70
30
60
6402-220
*6402-220 STANLEY No. 36 machinists level 24 inch version with solid cast iron web and scalloped ends. No vial protectors. Missing one plumb vial. Metal chip free.
Good
FNK244
25
50
6402-221
6402-221 DISSTON and SONS No. 65 brass bound level.

24 inch narrow stock cherry level with single plumb and ridged grip. Based on William Disstons 1912 design patent.

One of Disstons higher end levels.

Wood has some wear but no major damage with some dings to brass.
Good plus
MAX355
65
130
6402-222
6402-222 Lot of two STANLEY

levels. A 14 inch No. 104 cherry. Nice clean example of one of Stanleys less exciting levels with edges crisp. Wood and brass clean. And a 4 inch 34V machinists level with some minor loss of nickel.

All vials wet.
Good and better
GNM126 128
35
70
6402-223
*6402-223 RABONE English level. 14 inch oak body and decorative brass top plate.

Dings and scratches.

Good vial.
Good
WOL331
25
50
6402-224
6402-224 Lot of two British levels RABONE Hockley Abbey torpedo level with worn label.

Good green cats eye vial. And a MATHIESON No. 3C with raised vial compartment and rosewood body with some light dinging.
Good
WOL326 327
30
60
6402-225
6402-225 STANLEY No. 386 jointer fence. Very clean condition with only minor loss of nickel plating.
Good plus
FNK586
40
80
6402-226
6402-226 MILLERS FALLS NO. 88 jointer gauge. Patented in 1872 and sold by the Langdon Mitre Box Co. under the name

Perfection

until Langdon was acquired by MF.

Good clean condition with japanning near 100 percent and no significant rust.
Good plus
BFS299
80
160
6402-227
6402-227 STANLEY No. 386 jointer fence IOB. Tool is near mint and looks unused in original wrapping with only one tiny flake from the original nickel plating.

Box is tattered but complete with label - one end is detached but included.

Original packing slip with some holes.
Fine
GAN280
100
200
6402-228
6402-228 ULMIA veneer slitter IOB. All parts present

decal worn

box worn but mostly intact. Includes instructions but wont do you much good unless Sie kšnnen Deutsch sprechen.
Good plus
DCR
45
90
6402-229
6402-229 STANLEY No. 88 clapboard marker IOB. Tool is in very good condition with some trace surface rust .

Second sweetheart mark.

Box tattered but complete - one split seam - intact label.
Good plus
GAN279
30
60
6402-230
6402-230 STANLEY No. 88 clapboard siding marking. Sweetheart mark. Wood is a little worn and some surface corrosion but no damage.
Good
FNK583
40
80
6402-231
6402-231 Hatmakers gauge. Thats my guess

anyway.

It expands when the handle is squeezed to measure the inner diameter of something and is graduated in what looks like hat sizes.

Unsigned

but well made and in nice shape.

Different.
Good plus
VTD79
60
100
6402-232
6402-232 Spider gauge. Solid brass.

English with a trademark registration No. 924658 that I was unable to locate.

Unlike most has one long - 3 half inch- leg.

Some dinging to brass.
Good
GAN41G
60
120
6402-233
6402-233 Farriers horseshoe angle gauge. Brass.

Surface oxidation but in good condition.
Good
MKJ336
30
60
6402-234
*6402-234 STANLEY No. 95 butt gauge IOB. Gauge is near mint and box tattered but intact.
Fine
THF355
25
50
6402-235
*6402-235 WOODJOY dovetail layout gauge IOB. An ingenious gauge that can be used to layout 1-8 or 1-6 dovetails. Brass and oxidized steel. Looks unused and box is a little soiled but intact.
Fine
DCS3
20
40
6402-236
6402-236 Wooden trammel set.

Unmarked and user made. Fixed head and sliding head with wedge- iron points- wood looks like walnut.

25 half inches long and heads 7 inch plus iron points.

Nicely made.
Good plus
NW900
80
160
6402-237
6402-237 User made trammel points. Sliding heads are brass with iron points and square head locking bolts

on a 27 inch square iron keeper bar.

Nicely made.
Good
DCR26
75
150
6402-238
6402-238 Set of adjustable trammel points. Unsigned but with a key trademark.

One has an unusual fine adjustment mechanism and the other has pencil lead still in it.

Surface corrosion and discoloring.

Has the bottom half of the original box.
Good minus
VIN223
35
70
6402-239
6402-239 User made trammel points. Barrel shaped turned heads.

One fixed and one sliding with wooden wingnuts.

Brass points.

Very nicely made and attractive. 24 inches long.
Good plus
DCR25
110
220
6402-240
6402-240 User made iron trammel set. One fixed head and one sliding head-solid iron throughout -square keeper bar is 17 inches long. Heads are 4 half inch. Well made and different.
Good plus
NW1631
50
100
6402-241
6402-241 User made panel gauge. 14 inches long. Unusually shaped wedge. Nice clean condition.
Good plus
JRI923
30
60
6402-242
6402-242 User made panel gauge. Looks like oak head with nicely made handforged wingnut in iron.

Point is worn down.

Hand ruled 24 inch stem.
Good
DCR24
40
80
6402-243
6402-243 Lot of two user made gauges.

Marking gauge with oval head.

Turned knob on stem and a 24 inch panel gauge with wedge locking slitter -wedge is there and slitter missing-.

Both have nicely made wooden locking screws.

Both super clean and unmarked.
Good plus
SSA203 208
80
160
6402-244
6402-244 Lot of four wooden marking gauges.

Three STANLEYS.

A No. 65 beech marking gauge missing the brass shoe

and a No. 77 rosewood mortise gauge with unusual brass washer around thumbscrew. Both with some dinging but no major damage.

Points are good. And an unmarked No. 65 rosewood oval head in super clean condition. Plus a beech example with mark IÕve seen but canÕt make out the name.

A little dirty with a hang hole but nice and straight.
Good and better
CDE1823

1847

1853

1854
60
120
6402-245
6402-245 Ultimatum mortise gauge.

Oval brass plated rosewood head- round solid brass stem.

A few scratches on brass but very clean and points are immaculate. Has the mark of a Glasgow maker and could be Mathieson but too faint to read.

Owner mark on head.
Good plus
GAN38G
125
250
6402-246
6402-246 STANLEY No. 77M metric mortise gauge. The metric version of the No. 77 is much less common.

Rosewood is clean and crisp with a couple of tiny paint specks. Brass has some schmutz that would clean right off.

Points nice and sharp.

Sweetheart mark.
Good plus
DT
40
80
6402-247
6402-247 G. W. HOPPLE Sheffield marking gauge. Ebony head with notched boxwood locking screw.

Unusually large -1/

on side- brass marking blade.
Good
CDE1819
30
60
6402-248
6402-248 Lot of four gauges.

Two STANLEY.

Very clean No. 61 beech marking with notched rectangle mark plus unmarked rosewood No. 77 mortise gauge with good points and only minor dinging. Also two user made marking gauges. One is double leg type that looks hand carved with cast iron screws and the other is a boxwood one with round head nicely made but with some cracks in the head.

Double points.
Good minus and Good
CDE1824

1827

1838

1858
60
120
6402-249
6402-249 Lot of four STANLEY wooden gauges.

Two beech No. 64 -

clean - one marked and one unmarked. Plus No. 77 marked only with patent date with good points and only a few minor dings. Plus unmarked No. 77 rosewood with some dents along stem and owners initial on head and points worn down.
Good and better
CDE1812

1836

1857

1860
75
150
6402-250
6402-250 Lot of two Sheffield braces. An unplated MATHIESON and SON with pushbutton chuck

and a plated BRADSHAW.

Both have dinging to beech bodies. Some brass tarnish but good cocobolo heads.
Good minus
CDE973 974
40
80
6402-251
6402-251 Lot of two Sheffield braces. COLQUHOUN and CADMAN with lever action chuck.

Plating is tarnished but chuck assembly is good.

Nice ebony head with medallion and an unmarked trade brace in rougher shape with significant dinging and tarnish

but intact.
Good minus and better
GAN42G 43G
40
80
6402-252
6402-252 Primitive pod brace. Nicely made with handcarved pegged head. One pod with spoon bit. Friction fit chuck with iron plate for missing thumbscrew.

Nice wood with some inactive worm. 9 inch sweep.
Good
NW753
40
70
6402-253
6402-253 Lot of two Sheffield style braces. One looks like a trade brace.

Good brass pushbutton chuck and good beech body and cocobolo head a little loose with missing medallion.

And one that looks user made with handcarved head and an iron pushbutton chuck with some pitting. Crack in body and some staining.
Good
NW817 818
50
100
6402-254
6402-254 Lot of two plated Sheffield braces. Bodies in decent shape.

One has screwheads a little chewed up and screw ends protruding from side.

Heads both a little loose but intact.

3 half inch throw.
Good
JRI189 195
50
100
6402-255
6402-255 JAMES BEE Sheffield Brace. Beech.

Plate.

Some dings but nothing serious.

Head is missing medallion and is a little loose with a tight crack.
Good minus
RSH26
30
60
6402-256
6402-256 Lot of three STANLEY braces. A No. 945A with 10 inches sweep - No. 923 with 10 inches sweep and good decal on pad - and English version of the No. 945B with 10 inches sweep.

All in nice clean condition with minor surface rust and work smoothly.
Good plus
GAN21G 23G 25G
70
140
6402-257
6402-257 Lot of three metal braces. FRAY No. 100 corner brace.

STANLEY No. 2101 10 inch

-Bell System-

brace

and HSB and Co. No. 1908 8 inch on which someone has attached a 7 inch diameter breast pad.

All with varying degrees of rust -

Bell System ratchet needs work.
Good
VTD80 81 82
75
150
6402-258
6402-258 Lot of two nonratcheting barber chuck braces. A MILLERS FALLS No. 42 with rosewood head and grip -10 inches sweep- and a JOHN S. FRAY No. 0110 with hardwood head and grip -9 inch sweep-.

The Frays chuck is missing the spring but still usable.

Both in very nice condition and cleaned to display well.
Good
CDE511 513
50
100
6402-259
6402-259 Lot of two STANLEY No. 923 braces. 8 inch and 10 inch sweeps.

Both in nice clean condition with traces of surface rust. They work smoothly - good users.
Good plus
GAN22G 24G
50
100
6402-260
6402-260 CRAFTSMAN brace. Hefty three jaw chuck -

unusual push button ratchet mechanism.

Fruitwood handle and grip

worn but no cracks or dings.

I know collectors sneer at Craftsman

but this is a very nice brace.

11 inches sweep.
Good plus
CDE514
30
60
6402-261
6402-261 PECK

STOW and WILCOX

Samson

brace. The

-Samson-

ball bearing chuck was the cadillac of PSandWs line of braces.

This one is marked with the original PSandW mark rather than the later

Pexto

and is the No. 8010B with a 10 inches sweep.

In super clean condition and ratchet works smoothly but grip and pad may be relacquered.
Good plus
CDE503
75
125
6402-262
6402-262 MILLERS FALLS No. 112 breast drill. Single speed drill.

Some loss of red paint and decal about 60 percent. All teeth good and above average condition.
Good
CDE2190
30
60
6402-263
*6402-263 GOODELL PRATT breast drill. Red paint on the gear has serious crackling. The rest of the paint is about 85 percent. Gears are good and work smoothly.
Good
JW152
20
40
6402-264
6402-264 Lot of two MILLERS FALLS two speed breast drills. A No. 12

circa 1915 with Leland jaw chuck in nice condition with most red paint. And a No. 10 in rougher shape

with some chipped teeth and missing its level. Repainted.
Good
CRT97 152
45
90
6402-265
6402-265 WARDS Master Quality breast drill. Two speed model. Clean and complete with good original green paint and level in cast iron frame.

Improper modern bolt holds head on and would need to be replaced
Good
CDE2413
30
60
6402-266
*6402-266 MILLERS FALLS No. 112 breast drill. Metal parts have surface corrosion and japanning about 75 percent but all gear teeth intact and works smoothly.
Good
DWH89
20
40
6402-267
6402-267 FOOTPRINT hand drill. From Sheffield England.

In mint condition with original blue paint job.

The bluest drill youll ever see.
Fine
ALV681
30
60
6402-268
6402-268 Lot of two hollow augers. Adjustable Hargrave model manufactured by CINCINNATI TOOL CO.

One of the rarer hollow augers in very clean condition with its depth stop.

Plus an unusual unmarked version with four replaceable heads

probably also a Hargrave model. -nine sixteenths -

five eighths - three fourths - and seven eighths-

no depth stop.
Good and better
MKJ303 313
110
220
6402-269
6402-269 IRWIN

Borchest

set of auger bits. Complete set of 13 bits in original wooden box with 4 through 11 in top compartment and swing out lower compartment for the larger ones. Box is dirty and missing top latch but with good label.
Good plus
FNK629
100
180
6402-270
6402-270 Set of STANLEY N. H1227 auger bits. Set of six auger bits from fourth inch through three fourths inch in very clean condition with original red painted ends -some loss of paint-

in original flip top wooden box. Dirty but intact.
Good plus
MAX401
50
100
6402-271
6402-271 STANLEY No. 71 half router. Type 4.

In nice clean condition and includes all three cutters.
Good plus
LBD440
80
160
6402-272
6402-272 Lot of two STANLEY No. 71 routers. A Type 5 with significant nickel flaking and a Type 8 with the throat closing mechanism broken off but otherwise in nice clean condition.

Each with a single cutter.
Good
LBD439 441
60
11
6402-273
6402-273 Lot of RUSSELL JENNINGS auger bits IOB. 2 seven eighths inch in proper box. 1 seven sixteenths inch in a three sixteenths inch box

and an empty seven eighths inch box. Shafts have some surface rust but bits themselves still wrapped.

Boxes are tattered with some split seams.
Good
BB13 14 16
30
60
6402-274
*6402-274 German multitool. Cigar shaped box unscrews to store the bits and also serves as auger style handle. Made in Germany as so many of these were. Four bits. Minor surface rust.
Good
DCS6
25
50
6402-275
6402-275 STANLEY Jobmaster bolt cutter. Not one of Stanleys successful products. 50s era with yellow plastic handles. Marked

Patent pending

and No. 84 205. Decal is ragged and scotch taped on

otherwise in very clean condition. Your Stanley collection isnt complete without it.
Good plus
FNK582
50
100
6402-276
6402-276 Lot of three tools. Nice old primitive handforged brace. Square hole in chuck with good handle that looks like hickory.

16 inch sweep.

An interchangeable bit screwdriver patented in 1899 by Charles Mann of Buffalo. Handle worn and pin that holds the blade in not there. Not sure if it was supplied.

And a genuine whatsit - two hammer heads mounted on either end of a leaf spring. Your guess is as good as ours.
Good
VIN14 40 51
30
60
6402-277
6402-277 Lot of two tools. STANLEY No. 992A variable angle vise.

7 inches long and adjusts to different angles.

Some surface rust but solid worker. Plus A. E. CUNNINGHAM band saw set.

Very complex spring powered and unmarked

but unmistakable as patented by Roswell Cook in 1873. Made of brass and cast iron and very attractive.
Good and better.
ALV252

592
75
150
6402-278
6402-278 Lot of four tools.

Bone handled race knife.

Unmarked blade has some surface pitting and handle is worn but solid. Gouge with brass banded handle.

Gouge itself is 3 to 4 inches in diameter and 5 inches long.

Name on tang illegible.

Handle looks user made with dark wood and three brass bands.

Very well made and attractive. Spanish training bridle

purchased in Spain these wooden blocks have iron spikes and were mounted as part of the bridle when training draft animals to reinforce the trainer commands.

Very unusual and riffler

a curved headed rasp used by patternmakers and carvers to smooth concave surfaces. Typically double ended

but this one has a good turned hardwood handle with a good figure.

18 inches long overall

and unusual and attractive tool.
Good and better
DCR127

133

331

333
100
200
6402-279
6402-279 Mixed lot of tools. A DISSTON No. 3

Conqueror

swage in original wooden sliding lid box. Two filemakers chisels and two printers blocks - one for Maydole hammers and one for Koerchers hatchets.

And a brass seamstresss pricking wheel.
Good
MKJ306

318 325 331
30
60
6402-280
6402-280 Mixed lot of tools. Small hatchet marked Hubbard and Co. - A WINCHESTER miniature S shaped open end wrench. A reversible flush cutting saw

and two pop up bench dogs.
Good
MKJ316 317

321 326
30
60
6402-281
6402-281 Lot of seven tools. Five gimlet and hand augers.

Largest is 7 inches long and half inch diameter. Different types of makes

all with surface rust but usable and one has slight bend. Plus BRIDGEPORT

-Yellow Crown-

screwdriver

5 half inche long.

Unusually small blade with

one eighth inch cross. Plus carvers mallet which has hit a lot of chisels and shows it with chip from top.

Good solid original 10 inches handle likely made of oak.
Good
DWH51

65

69 70 71 72 74
30
60
6402-282
6402-282 Lot of two blowtorches. One is marked TURNER BAFFLE and is patented 6-15-20 by William Pagel of DeKalb - Illinois.

Nice condition brass tank with remnants of

Turner No. 4 inch decal.

Other is unmarked with some surface rust

dents in tank and chips in handle.

Both 10 to 11 inches high.
Good and better
MRA143 144
45
90
6402-283
6402-283 Lot of cast iron keys. 18 inches total.

Ranging from 2 inches to 5 inches in length with some with various elaborate wards. Mild surface rust on some.
Good
WOL292
30
60
6402-284
*6402-284 Lot of two No. 12 plug cutters. Cuts a three fourths inch plug.

One nice and sharp and other is duller and has a crack.
Good
JRI1136
20
40
6402-285
6402-285 Soldering iron. Unusually nice example with solid copper head and twisted iron handle.

Well used and iron collar is loose. 20 inches.
Good
DCR30
35
70
6402-286
6402-286 IDEAL patent tent peg. Patented by Cecil Wickstrum of Omaha

showing that there were ingenious entrepreneurs in Omaha before Warren Buffet showed up. Can be used as a hammer

or the hooks are used to secure tents. Marked

IDEAL.

13 half inch long.
Good
CRT25
30
60
6402-287
*6402-287 Farriers buttress. Marked either 98 or 86 and well used but still sharp and intact with attractive form.
Good
WOL289
20
40
6402-288
6402-288 Draw knife chamfer guide. Some minor surface rust but ready to use.
Good
MKJ328
30
60
6402-289
6402-289 Hand forged adjustable washer cutter. Includes an unusual forged locking wedge and has some file decoration.

An unusual variation on the washer cutter

most had locking screws.
Good
MKJ311
30
60
6402-290
6402-290 GRABLER bit extender. With a square tang designed to be chucked into a brace

marked with a 2-18-90 patent date which appears to be for McCoys patent chuck which has an A rating in Pearson.

Manufactured by GRABLER MFG CO of Cleveland.

Rare.
Good
ALV320
60
120
6402-291
6402-291 Multi purpose leather workers tool. Unsigned but looks manufactured.

Combination awl-

hole punch - and slitter.

Japanning mostly worn off but clean and ready to use.
Good plus
MKJ327
30
60
6402-292
6402-292 User made adjustable screwplate. Brass body with iron tightening screw. Threads are kind of chewed up and rusty.

Unusual design and attractive. 13 inches long. Signed D.G. Hussey.
Good
MKJ340
35
70
6402-293
6402-293 Patented hand held corn sheller. Patented in 1866 by Michael and Simeon Housman of Huntingdon- Indiana

uses springloaded jaws.

Surface corrosion and wear to wooden handles but still works.
Good
MKJ334
150
300
6402-294
6402-294 Lot of two automotive tools. A tire probe patented in 1930 by NORMAN L. PLUMMER of Portland- Maine

in never used condition in original box with instructions and what I think is a cast iron tire removal tool.

Unmarked.
Good and better
ALV47 207
30
60
6402-295
6402-295 STARRETT No. 492 protractor-level. The largest 7 inch size.

The tool is in immaculate condition but missing the rule.
Good
ALV53
35
70
6402-296
6402-296 Jewelers anvil. Unmarked. Nice and clean.

3 inches tall and 4 inches long.
Good plus
MKJ315
30
60
6402-297
6402-297 Lot of six screwdrivers.

Three NORTH BROS including two Yankee No. 44 metal handled push drills that are nice and clean and include 3 bits. A Yankee No. 130A driver that is a nice example with a very clean handle with only minor corrosion spots and works smoothly but no bit. And a Yankee No. 10 ratcheting driver with very clean handle with no rust on blade and works smoothly. Plus a BILLINGS patented retractable blade screwdriver - small 4 inch model marked with both patent dates though missing one of the four blades but nice and clean and works smoothly. Plus MILLERS FALLS No. 59 ratcheting screwdriver with unusual MF tool with a stubby screwdriver bit.

Handle has wear but no damage and ratchet works smoothly.
Good and better
BFS10

11

12

25

27

28
80
160
6402-298
6402-298 Lot of three NORTH BROS. Yankee automatic screwdrivers. Nos. 30A - 130A - and 277A. All with wear to wooden handles but metal is clean and rust free and works.
Good plus
CRT28
50
100
6402-299
6402-299 Turnscrew. 18 inch with good turned boxwood handle.

Unsigned.

Plus a letter opener awarded to a two gallon donor by the Charlotte County blood center.
Good
ALV179 215
30
50
6402-300
6402-300 F.A. HOWARD reversible screwdriver. Based on Jones 1895 patent and manufactured by F.A. Howard and Sons of Belfast ME as the improved reversible screwdriver.

The No. 1 size that extends to 16 fourth inch with brass body and good handle.

Works smoothly and a very nice example.
Good plus
DCR28
60
120
6402-301
*6402-301 YANKEE No. 41 push drill IOB. Tool is in nice clean condition and has its original bits.

Box is tattered but intact with part of label missing.
Good plus
FNK570
25
50
6402-302
6402-302 YANKEE No. 41 push drill IOB. Super clean condition with all original bits and box is intact with minimal wear.
Fine
FNK568
30
60
6402-303
6402-303 HULTBERG JOHANSON tool holder. Patented in 1913 by Peter Johanson of Warren Pennsylvania

and manufactured by the Hultberg Johanson Co.

consists of a 7 inch handle and six bits with a friction fit. Comes with a tapered wedge to push the bits out of the handle which is missing. Mild surface rust.
Good
ALV54
60
120
6402-304
6402-304 AJAX folding triangular drill caddy. Holds 60 drills of different sizes

and folds flat for easy carrying.

Different and cool.
Good plus
MKJ338
50
100
6402-305
6402-305 Lot of two screwdrivers. MILLERS FALLS No. 59 ratcheting screwdriver.

6 inches long and an uncommon MF tool.

Plus an unmarked 3 half inches locksmiths screwdriver with a square shank that can open doors if the knob is missing.
Good
MKJ305 319
50
100
6402-306
6402-306 Lot of four tool handles.

One by J.S. FRAY with rosewood handle and nine tools.

There is a crack in collar and chip from handle thread.

One unsigned with fruitwood handle and five tools.

One by BUELL BROS. with good rosewood handle and six tools.

And one unsigned with crack in collar with softwood handle with loose end and six tools.
Good
CGN37

44

62

196
30
60
6402-307
6402-307 Lot of two screwdrivers One by IRWIN with a very nice

-perfect-

handle and a cast iron model marked FORDSON.

Both 9 inches long.
Good plus
ALV194
50
100
6402-308
6402-308 Lot of five knife honing steels. Two with bone handles.

One by KEEN KUTTER.

And three with wooden handle.

Largest marked CASEXX. One wooden handle is pretty worn and others are all in nice condition.
Good and better
DST811 813 819 841 842
35
70
6402-309
6402-309 Lot of mortising chisels. 7 straight ranging from three sixteenths pigsticker to five eighths.

Some duplicates

and one half inch gooseneck. Most unmarked but a couple are marked MARPLES. All in nice clean condition with solid handles.
Good plus
WOL255
80
160
6402-310
6402-310 Lot of three chisels. 1 inch and 2 fourth inch diameter.

1 inch needs a new handle.

Larger one has a few chips on blade but can be honed out.

Plus a parting tool marked

-Bridgeport-

in a leather sheath.
Good
ALV127 193 406
40
80
6402-311
6402-311 Lot of two WITHERBY bevel edge butt chisels IOB. 2 inches chisel blades

blades are immaculate

separate handles a little worn

in original box intended to hold six

by the WINSTED EDGE TOOL WORKS of Winsted

CT.
Good plus
GAN27G
40
80
6402-312
6402-312 Lot of six STANLEY chisels. None are marked but five look like No. 50 butt chisels with half inch -well worn down-

Three 1 inch

and a 1 half inch that needs sharpening. Plus a longer 14 inch paring chisel with a sweetheart mark.
Good
THF357
45
90
6402-313
6402-313 Lot of four STANLEY No. 750 bevel edge butt chisels. Fourth inch - three eighths inch - half inch-

and three fourths inch. All in good condition with sharp edges and original handles. The three eighths inch was double stamped.
Good plus
THF359
60
120
6402-314
6402-314 Lot of five knife honing steels. Three with bone handles - one very white and others with yellowing and one crack.

One with sterling handle and one with decorative steel handle.
Good and better
DST810 812 815 838 843
40
80
6402-315
6402-315 Mixed lot of paring chisels and gouges. Three straight gouges.

Two by BUCK and one SWAN.

A swan neck gouge - two STANLEY butt chisels and two pig stickers.
Good
THF360
45
90
6402-316
6402-316 Lot of two old womans tooth routers. Both of dark wood that looks like walnut.

Both have owners stamps.

Plain but well made.
Good
WOL301 302
40
80
6402-317
6402-317 Lot of three wooden tools. R. BLISS wooden clamp.

7 inch jaws marked

-815-.

Plus a tap and screwbox set.

Both items labelled three fourths inch. Screwbox has a mark that starts

-IIILCL-

then fades out. Surface dinged but intact. Tap is good with decorative knurled band.

No handle. Plus 1 inch screwbox that is nicely made and marked 1855 on side. Held together by handcut thumbscrews

-marked 1 and 2 so you dont mix them up-. Surface dinged but no major damage.
Good
DWH47

48

60
80
120
6402-318
6402-318 Old womans tooth wooden router. Nicely shaped with some decorative lines and punchwork and has

-AFGS-

owner mark.
Good plus
NW1756
50
100
6402-319
*6402-319 STANLEY No. 12 series handle. Reconditioned rosewood handle for the No. 12 series of scraper planes. Very nice condition. If you have a handleless No. 12

this is for you.
Good plus
GNM294
25
50
6402-320
6402-320 Lot of three floats. Used by gunsmiths or planemakers.

Longest is 10 inches.
Good
MKJ307
30
60
6402-321
6402-321 Carvers mallet. Good solid hickory construction to head and handle.

Iron rings around both faces. Faces are well used and one crack in the head. Leather thong in handle. 5 half inches head. 7 inch handle.
Good
RYP1A
60
120
6402-322
*6402-322 Turning tool. Complex cutting head on fibreboard handle.
Good
DUP652
5
10
6402-323
6402-323 Screwbox. Unmarked

1 inch diameter.

Threads worn but overall good condition. Plus a user made large diameter spoke pointer.
Good
CRT117 155
45
90
6402-324
6402-324 Dealers lot of graving tools. 10 burins and 15 bent tip engravers.

Most unsigned but some with various makers with some rust but overall good shape.
Good
DSTvarious
60
120
6402-325
6402-325 Lot of two tool handles. One patented August 12 1884 by Granville Wright

assigned to Sargent but not marked with Sargent name.

7 inches long with nice rosewood handle.

Some corrosion on metal parts. Nice set of 10 tools.

Plus one marked

E.A. Benjamin

with nine tools and a hand vise.

4 inch rosewood handle.

Both well above average for tool handles.
Good and better
MKJ308 329
60
120
6402-326
6402-326 STANLEY No. 2

Excelsior

tool handle. Handle in good clean condition.

Includes 8 tools.
Good
ALV46
35
550
6402-327
6402-327 Lot of four EZRA BOWMAN gravers. All based on Wundes 1893 patent for the adjustable graver handle and manufactured by Bowman of Lancaster -Pennsylvania.

Four different sizes and all well marked ranging from super clean to paint stained.
Good
MKJ330
60
100
6402-328
6402-328 Lot of two tools. Set of 12 HENRY H. TAYLOR graining combs in original tin box.

Plus a Universal Automatic Titler

used to make titles for your home movies in original box and looks like 1950s or earlier.

Different.
Good
MKJ300 304
30
60
6402-329
6402-329 BROWN and SHARPE No. 382 combination square IOB. Tool is mint. Box has a couple of split seams but is intact with good label.
Fine
DCS5
45
90
6402-330
6402-330 HJORTH Perfection Spring Winder. Patented in 1907 by Henry Hjorth and manufactured by Hjorth Lathe and Tool Co. of Boston.

Used to make springs out of wire.

Complete in original box with instruction sheet.
Good plus
MKJ322
30
60
6402-331
6402-331 MARBLES safety folding knife. Blade is longer than the handle so when its folded a guard extends to protect the blade

opens into a Bowie type.

Basically unused in original box labelled K 419.

Bone handle.
Mint
MKJ310
50
100
6402-332
6402-332 Lot of seven WARD plow plane cutters. Widths from one eighth inch to nine sixteenth inch and all in nice clean sharp condition

some ends a little snecked.
Good plus
WOL337
30
60
6402-333
6402-333 Lot of four tools.

Box opener hammer with a pry bar on the end marked DASCO. A HAV A TAMPA cigar box hammer. An IRWIN heavy duty handled screwdriver with extra heavy blade and marked -IRWIN US of A-

handle worn but no damage.

Plus 5Ó screwdriver with perfect handle.

Good
ALV81

214

292

669
50
100
6402-334
*6402-334 Two unmarked WINCHESTER store price cards. For the Winchester collector who has everything else.

NOS.
Fine
MKJ301
20
40
6402-335
6402-335 Lot of two boxed cutting tools. A hand burring kit with 18 burs and handle.

In original box labelled

-The Special-

looks like a trademark.

Tools in immaculate condition. Box is tattered but intact with original packing and wooden block to hold the burs.

Plus a set of four No. 6 die cutters by BEAVERETTE in original patented box.
Good plus
ALV50 51
60
120
6402-336
*6402-336 Set of weights. 12 brass weights in wooden box.

Smallest is missing and one doesnt seem to fit its hole.

Largest -500 gram- has a bakelite handle with a chip in it.
Good minus
CRT15
15
30
6402-337
6402-337 L and I.J. WHITE slick. 3 half inches blade. 36 inches long overall. Blade is in very nice condition and sharp and clearly marked. Screw attaching handle is a modern replacement. Handle itself clean with no cracks.
Good plus
KGM18
120
200
6402-338
6402-338 D.R. BARTON slick. 3 inch blade.

26 inches long overall. In very nice clean condition.
Good plus
DCR167
90
160
6402-339
6402-339 Lot of two framing chisels. A 2 inches chisel by DOUGLASS MFG. CO.

A relatively uncommon maker that started out in Vermont in 1856 and was purchased by James Swan in 1876. Their chisels have a distinctive peaked profile

and many were laminated although I cant tell with this one. Handle is a replacement. And a 1 half inches unmarked model and handle may also be replaced but is older.
Good
KGM19 20
60
120
6402-340
6402-340 T.H. WITHERBY slick. 2 inches wide

and down to 6 three fourths inch so sharpened a few times.

Good solid handle.

Owners initials scratched on blade.
Good
ALV192
30
60
6402-341
6402-341 WITHERBY corner chisel. 1 inch corner chisel.

1 to half inch long handle.

Surface rust but nothing major. Old socket handle a little loose.
Good
KGM21
30
60
6402-342
6402-342 STANLEY No. 83 scraper. Roller looks proper.

Minor corrosion on nickel.

Good handles.
Good plus
MAX
40
80
6402-343
6402-343 MILLERS FALLS No. 1

cigar

shave. 10 inches model with 2 inches cutter.

Dirty with some surface discoloration but no damage.

Good
NW1761
30
60
6402-344
6402-344 STANLEY No. 67 universal spokeshave. Needs the fence.

One cutter. Handles dinged but intact.

Mold surface corrosion.
Good minus
DCS4
30
60
6402-345
6402-345 Lot of two brass instrument shaves. 3 half inches wide.

One with flat sole and one curved unmarked but in almost new condition.
Good plus
MKJ332
30
60
6402-346
6402-346 One handed scraper. Unusual design with ball joint in handle.

Unsigned

unusually short handle.
Good
DST370
30
60
6402-347
*6402-347 HSB and CO.

scraper Based on a 1906 patent and also sold by Shapleigh Hardware.

This one is very rusty

with dinged up handle with paint spots.

Short cutter.

ItÕs a rare scraper but needs a lot of work.
Fair
DST369
20
40
6402-348
6402-348 English STANLEY No. 151 adjustable spokeshave. Mint unused condition.
Mint
MAX369B
50
100
6402-349
6402-349 L. BAILEY spokeshave. Curved blade spokeshave.

The version with the heavier holddown.

Immaculate condition.
Fine
MAX369C
80
160
6402-350
6402-350 Lot of two STANLEY cast iron spokeshaves. No. 59.

Earliest small trademark

and No. 63 with third sweetheart.
Good
MAX369A
45
90
6402-351
6402-351 Lot of two STANLEY No. 12 veneer scrapers. One is complete and marked No. 12 but with holes tapped for rosewood sole and brass thumbscrew to hold cutter. Japanning only about 25 percent and user initials in handle.

Widened throat.

The other is cut off 1 inch in front of the throat.

No blade or holding screw.
Good minus
DST353 354
40
80
6402-352
6402-352 MILLERS FALLS No. 65 veneer scraper. MFs version of the Stanley No. 12 but much less common.

In very clean condition

a little slight surface rust

japanning close to 100 percent.

Missing its cutter

but otherwise an excellent example of a rare MF plane.
Good
DST352
80
160
6402-353
*6402-353 E.C. STEARNS cabinet scraper. No cutter. One screw replaced with bolt.

Japanning worn on handles.
Fair
DST364
15
30
6402-354
6402-354 STANLEY No. 80 cabinet scraper. Later model with concave leading edge.

No mark on cutter holder. Needs a cutter. Japanning about 80 percent and nickel in good shape. Good user.
Good
DST361
35
70
6402-355
6402-355 STANLEY No. 80 cabinet scraper. Later model with convex leading edge.

No mark on cutter holder but owners name scratched. Cutter missing. Japanning about 80 percent.

Good user once you put a cutter in it.
Good minus
DST360
30
60
6402-356
6402-356 STANLEY No. 81 cabinet scraper. Nickel plating good except for wear on handles. Good rosewood sole. Needs a cutter.
Good
DST362
35
70
6402-357
6402-357 STANLEY No. 80 cabinet scraper. Early type with leading edge straight across rather than convex. Sweetheart mark on holder and cutter. Cutter is worn down to about 1 inch wide.

Still some life in it but not much.

Japanning about 75 percent. Surface rust on nickeled parts.
Good
DST359
30
60
6402-358
*6402-358 STANLEY No. 81 cabinet scraper. Nickel plating good except for wear on handles.

Rosewood sole worn with screws poking through. Needs a cutter.
Good minus
DST363
25
50
6402-359
6402-359 Lot of 20 wooden spokeshaves. All wooden fixed blade types but most unmarked. Most boxwood and both straight and curved soles.
Good and better
GAN88
50
100
6402-360
6402-360 Lot of six wooden spokeshaves. All with blades secured by brass nuts and brass throat plates. One stamped

-HAWKESWORTH-

and the rest unmarked.

Mostly boxwood and one old model of darker wood maybe red beech.
Good and better
GAN485
35
70
6402-361
6402-361 Rosewood spokeshave. Nicely shaped.

13.5 inches long.

Flat sole with two iron plates.

Unmarked.

Hanghole in one arm.
Good plus
NW1758
80
160
6402-362
6402-362 Wooden body scraper. Nicely made beech body. Cast iron holder for cutter. Due to casting flaw marking is - ATKINS and INDIANAPOLIS IND. -

Held by cast wing nuts one is missing one wing.
Good
NW1751
50
100
6402-363
6402-363 Lot of two wooden spokeshaves. One rosewood.

One beech.

Both 10 inches.

Rosewood one has brass nuts and brass strip on sole.

Both missing cutters but otherwise clean and attractive.
Good minus
NW1759 1760
40
80
6402-364
6402-364 User made wooden spokeshave. Beech with two copper plates in sole.

Very nicely made and attractive. No signature.
Good plus
NW1757
55
110
6402-365
6402-365 Lot of two shaves. A boxwood reversible stair shave.

Some staining and dings but complete.

And a blacksmith made spokeshave made out a piece of flat stock and very crude - rusty but still sharp.
Good minus
MKJ314 335
40
80
6402-366
6402-366 Craftsman made scraper. Elegant sculptural shape with cast brass blade holder

has a Henry Disston blade.

Nicely made and attractive.
Good
MKJ302
55
110
6402-367
6402-367 Lot of four conical brass plumb bobs. 3 inch to 6 inch. One marked GENERAL HARDWARE No. 800 and has a line attached. Others unmarked. Various degrees of surface dinging.
Good
LEE900
40
60
6402-368
6402-368 Brass turnip shaped plumb bob. 6 inches long overall. Unsigned. Good clean condition.
Good plus
CDE2211
30
60
6402-369
6402-369 Lot of four plumb bobs.

3 inch MILLERS FALLS.

5 half inch L. S. STARRETT No. 87 with knurling and external reel at top and initial M or W scratched on it.

And 3 half inch hexagonal body by SHAPLEIGH HARDWARE

all with some surface rust but nothing serious. Plus large GENERAL HARDWARE teardrop shaped.

7 half inches with iron tip marked -General Hardware Mfg. Co. New York No. 800.-
Good and better
NW1100

1110

1128

1305
60
120
6402-370
6402-370 Lot of seven smaller plumb bobs. Longest is 4 inches.

Steel- brass and iron.

One marked C.L. BERGER. Others unsigned.
Good
NW1219 1227 1244 1299 1300 1301 1302
60
120
6402-371
6402-371 Lot of five plumb bobs. Longest is 7 inches.

Two brass turnip shaped heavy cast iron and two steel. One steel and one marked E.C. STEARNS. Others unsigned.
Good
NW1195 1199 1228 1277 1292
65
130
6402-372
6402-372 Lot of three plumb bobs. Longer torpedo shaped types.

7 inch to 8 inch.

One with thermometer and ruled in inches.

Marked REFINERY SUPPLY CO. One steel with knurled surface. And one brass with unusual long neck and owners mark.
Good
NW1193 1283 1284
60
100
6402-373
6402-373 Wraparound head hatchet. Blade is 2 three fourths inches wide with a 10 inch original handle. Very well made example of this type of hatchet. Super clean.
Good plus
ALV68
35
70
6402-374
6402-374 Hatchet with leather sheath. Head is 5 half inches long with square poll.

2 inch blade, Very sharp and minimal surface rust with no pitting.

Original handle with one chip.

Original sheath with snaps and leather thong to tie it on your leg.

Head marked -1912- and

-43 A.W.-
Good
DCR72
40
80
6402-375
6402-375 Lot of two timber working tools. Carpenters adze.

Polled.

11 inch old handle with inactive worm. And a mortising axe with -S-

cast into head.

7 inch head.

Old 18 inch handle. Both with surface rust and crud but intact. Might want to tighten up the handles before using.
Good
ALV301 685
40
80
6402-376
6402-376 Hand forged yankee pattern broad axe. 9 inch wide head with 12 inches blade. Surface rust and couple of chips out of the blade. Old 32 inches handle.
Good
MRA141
40
80
6402-377
*6402-377 Twybill head. Blacksmith made.

19 inches long.

Surface rust but intact.
Good minus
NW1837
25
50
6402-378
6402-378 Polled carpenters adze. Blade has little curvature.

10 inches long.

minimal rust and sharp. Old 35 inch handle.
Good
CRT122
30
60
6402-379
*6402-379 Hatchet. No makers mark but

2 fourth inch cast into head. Good solid 20 inch handle.
Good plus
ALV684
15
30
6402-380
6402-380 Farmers ever ready multitool. Combination hammer.

Hatchet.

Pliers and wrench. Well used but in good overall condition.
Good
NW1708
30
60
6402-381
6402-381 Hollowing adze. Smith made.

8 inch head and 13 inch original handle. Plus a 1 half inch saw wedge marked KLEIN LOGAN.
Good
DCR33 69
40
80
6402-382
6402-382 Mortising axe. Unmarked and probably smith made. Minimal rust.

9 inch head.

24 inch handle is old but not original.

Needs a wedge.
Good
Lee935
30
60
6402-383
6402-383 Lot of two large outside calipers. Wing style with fine adjustment by W.F. BINGHAM

15 inches. And a handforged friction style.

15 inches.
Good and better
GAN28G

29G
80
160
6402-384
6402-384 Lot of three dividers. Large wing style with some decorative casting.

Locking bolt is just a bolt and may be an early replacement.

16 inches.

And two friction types.

7 inch one looks handforged but well made.

4 half inches one looks manufactured and is marked

-W and C WYNN.-

Good and better
GAN30G 35G 36G
60
110
6402-385
6402-385 Lot of two wing style outside calipers. One is by BEMIS and CALL with spring loaded fine adjustment knob -8 inch-. The other is unsigned except for

-PJ-

user mark but looks manufactured.

7 half inches.

Both in nice clean condition.
Good plus
GAN31G 32G
60
110
6402-386
6402-386 Lot of two outside calipers. One wing style with fine adjustment by P. LOWENTRAUT of Newark.

8 inch.

The other is friction type.

Unsigned but looks manufactured and well made.

5 inches.

Both nice and clean.
Good plus
GAN33G 34G
60
110
6402-387
6402-387 Lot of three tools.

Surveyors pins -at least thats what the label says-

set of five hand forged pins of different sizes on wire ring. Plus divider with 5 inch legs

and outside calipers.

Both have surface rust and no mark but fully functional.
Good
DWH67

75

79
30
60
6402-388
6402-388 Lot of two tape measures. LUFKIN

-Mezurall-

8 foot tape and STREAMLINE patented No. 406 locking tape by MASTER RULE MFG CO. in very nice condition.
Good and better
DT47
30
60
6402-389
6402-389 STANLEY No. 2 Three Angle Rule Attachment. Type 1.

Marked W.H. STANLEY and patent applied for.

Aluminum

a little dirty but complete and undamaged.

A rare Stanley tool.
Good
FNK31A
150
250
6402-390
6402-390 Lot of two adjusting calipers. One is based on Liljas 2-6-85 patent and was manufactured by STARRETT.

Very unusual Starrett tool.

The other is a friction type.

Marked

'Charles Adams'

and 1875.

The Adams has a little surface rust

otherwise very clean.
Good and better
MKJ337
90
180
6402-391
6402-391 CAMPBELL patent rule attachment. Deceptively simple tool that clamps onto a rule to make it into a square.

Similar to the Boyes patent but much less common. Plus a bag of miscellaneous parts that came with it.
Good
FNK31
150
250
6402-392
6402-392 E.C. ATKINS No. 1 mitre saw. 22 inches blade.

Good clear etching with a couple of patches of surface rust.

Good handle.
Good plus
VTD68
35
70
6402-393
6402-393 DISSTON

Keystone

steel backsaw. Circa 1935. Super clean condition. 14 inch blade.
Good plus
KGM12
50
100
6402-394
6402-394 Early DISSTON mitre saw. 14 inch blade.

No visible etching.

Split nuts with optimistic eagle medallion.

Mahogany handle with one chip out of upper horn.
Good
THF305
35
70
6402-395
6402-395 TYZACK SONS and TURNER No 120

Nonpareil

backsaw. Brass back.

8 inch blade appears unused.
Fine
KGM4
50
100
6402-396
6402-396 Lot of two backsaws by Cincinnati makers. GEORGE H. BISHOP.

10 inch blade.

Marked 76 on back.

Some surface corrosion but etching clear.

Small chips from upper horn.

Good medallion. Plus an 8 inch model by the CINCINNATI SAW COMPANY.

More surface rust but legible.

Large chip out of upper horn.
Good
THF320 321
50
100
6402-397
6402-397 BISHOP patent backsaw. Patented in 1898 by Frederick Wuest but manufactured by GEORGE H. BISHOP of Cincinnati and usually associated with Bishop. Blade is clamped by a bar that allows it to be slid up or down for variable cuts

or reversed entirely to use teeth of a different pitch. Nice condition with some surface rust but clear etching and handle with wear but no damage.
Good plus
THF318
60
120
6402-398
*6402-398 Stair saw. 8 inch blade.

Theres a name on the body but I cant read it.

Wood is dirty with some dinging but no major damage.
Good
BB217
25
50
6402-399
6402-399 PATTERSON BROS. keyhole saw. Good 6 half blade with light rust.

Handle has some dings.
Good
DWH50
30
60
6402-400
6402-400 SPEAR and JACKSON No. 52A backsaw. Brass back.

8 inch blade.

Some wear but overall very clean condition.
Good plus
KGM11
30
60
6402-401
*6402-401 KEYHOLE SAW. Old with split nuts and 5 half inches iron blade.

Unmarked.

Open London style handle.

Good condition for age.

Unmarked.
Good
LBD1009
25
50
6402-402
6402-402 DISSTON No. 196 docking saw. 30 inches.

4 half ppi filed crosscut.

A little surface corrosion but clear etching.

Good applewood handle with minor dinging.

An unusual Disston sold for cutting large timber.

As for a dock -not for docking horns-.
Good plus
GRN1
30
60
6402-403
6402-403 DISSTON No. 7 ripsaw. 26 inch blade.

7 ppi.

Etching just visible.

Lambs tongue handle worn but intact.

Rusty but sharp.
Good
SSA105
35
70
6402-404
6402-404 SIMONDS No. 371 crosscut saw. Very clean condition.

26 inch blade.

8 tpi.

Good clear etching.

Handle well patinated and one small chip.

Tooth guard has kept it sharp.
Good plus
KGM17
40
80
6402-405
*6402-405 DISSTON pruning saw. 23 inch blade.

No visible etching.

Disston medallion.

Some chips in applewood handle.
Good minus
FNK550
20
40
6402-406
6402-406 E.C. ATKINS rip saw. 23 half inches long blade.

9 tpi.

Etching readable.

Clean handle with good carving and one old barely noticeable chip on upper horn. Tooth guard has kept it sharp.
Good plus
KGM6
40
80
6402-407
6402-407 E.C. ATKINS No. 21 metal saw. NOS.

Looks unused. 2 inch blade.
Fine
KGM10
40
80
6402-408
6402-408 RELIABLE No. 59 rip saw. Made by ATKINS at the Sheffield Saw Works in Indianapolis. 16 inch blade.

9 tpi. Super clean with clear etching.

No damage to handle.
Good plus
KGM2
40
80
6402-409
6402-409 Lot of six project saws. One two handed pruning saw and the rest are carpenters saws of various lengths and configurations.

All have issues with some missing nuts and surface rust

etc.

All are salvageable and in a pinch could be used as is.

No returns on this lot.
Good minus
SSA99 101 104 112 145 269
40
80
6402-410
*6402-410 Lot of three unsigned claw hammers. One with straight claw.

One looks handforged. One lightweight.

Original handles.
Good
NW1020 1022 1024
15
30
6402-411
6402-411 Lot of 6 STANLEY hammers. A No. 291 midget ball peen.

No. 780 3lb stone cutter.

No. 602 upholsterer

and a No. 461 tinners hammer all with clean heads and original handles with partial orange Stanley decals. Plus a 16oz

Ò100 PlusÓ advertised as ÒThe Aristocrat of HammersÓ with some dinging to head but good solid handle

and a No. 312B ball peen with a damaged handle.
Good and better.
GNM188

189

191

192

193

196
50
100
6402-412
6402-412 Lot of hammers. Beall Bros. No. 414 24 inch machinists or ball peen.

Original marked handle.

And a cross peen sawmakers hammer with a trademark consisting of an A in a circle.
Good plus
NW482 484
45
70
6402-413
6402-413 Lot of three hammers. Creasing hammer.

Hand forged nailing hammer with unusually short handle -looks original- and beryllium headed hammer with old replacement handle.
Good
NW501 503 516
30
60
6402-414
6402-414 Lot of two hammers. KEEN KUTTER nailing hammer.

Nice and clean with solid original handle.

And a CHENEY adze head hammer.

Some dings and old handle is worn with chips.
Good
FNK534 535
60
120
6402-415
*6402-415 Lot of six hammers. Mostly ball peen or cross peen and unmarked.

One solid metal handle.
Good
NW478 515 518 526 530
20
40
6402-416
6402-416 Lot of two hammers. CHANDLEE patent three sided glaziers hammer with some tarnish and good handle.

Patent date faint

and an unmarked tack hammer and DUNLAP half inch cold chisel.
Good
ALV111 323
50
90
6402-417
*6402-417 Lot of two spring handled welders hammers. Some surface corrosion but solid and intact.
Good
NW532 533
20
40
6402-418
*6402-418 Lot of two tools. STANLEY No. 602 upholsterers hammer.

Head slightly loose.

Partial decal.

And a PLIERRENCH combination pliers and wrench by American PLIERRENCH of Chicago in original canvas pouch.
Good
BB43
20
40
6402-419
6402-419 Silversmiths planishing hammer. Has a mark that I cant read.

Nice condition with original bulbous handle a little loose.
Good
MKJ323
30
60
6402-420
6402-420 Lot of four novelty hammers. Log headed candy hammer -chip on head-.

Brass advertising hammer for Hammer Studios.

Two others.
Good
NW531 534 538 541
30
60
6402-421
6402-421 Lot of three wrenches.

BILLINGS COE 12Ó monkey wrench with the oval Coe trademark and triangular B mark Ð the last all metal Coe type monkey wrench manufactured. Also has ATandSF railroad logo. Head is well dinged and quite a bit of surface rust. Plus another railroad wrench

-an 18Ó steam engine wrench- flat stock marked ÒRFP RAILROADÓ in excellent condition with very little rusting. Plus TOWER and LYON adjustable wrench covered by two patents issued to Bernard Donahue

3-1-81 and 11-12-89. Sold by TandL although the logo is not readable on the head. Jaws slightly sprung and head dinged- wood handle is dry but may be old user replacement. Good complete example of uncommon wrench.
Good minus and better
ALV576

659

663
75
150
6402-422
6402-422 Lot of eight wrenches.

Two BILLINGS and SPENCER center nut types.

7 inch and 4 half inch.

Both good. Plus PECK STOW and WILCOX 6 half marked with Ellrichs 1896 patent perfect handle. Plus 6 half inch COES with a Ò2Ó stamped on all metal handle and a CLEVELAND WRENCH CO. covered by 1944 design patent. Plus three adjustable wrenches

- one miniature BETÕR GRIP crescent wrench by DUNLAP with its hang hole being a three eighths inch 12 pt box wrench.

A

4 inch adjustable with an ÒLÓ inside a keystone logo

and one unsigned 4 inch lacquered with jaw slightly sprung.

Good and better
ALV227

383

386

409

598

613

615

689
80
160
6402-423
*6402-423 MOORE monkey wrench. Manufactured by Moore Drop Forge Company of Springfield- Massachusetts which primarily sold the pipe wrenches patented by its founder. 9 inches long.

Surface rust.

Jaws a little beat up.
Good
DWH76
20
40
6402-424
6402-424 Lot of two alligator wrenches from MARSHALLTOWN

IA. A

-Crocodile-

brand combination wrench by HAWKEYE WRENCH CO.

with screwdriver and three thread chasers in the middle

and a combination screwdriver- hammer- and wrench marked

-The Teddy-

with original dark red paint.
Good plus
ALV228 236
60
120
6402-425
6402-425 Lot of three adjustable nut wrenches. A UNIVERSAL wrench patented by Roland Stathan and manufactured in Detroit

and a GORDON wrench with springclosing jaws.

Both have surface corrosion but no major damage.

Plus a slidingcollar type marked

Made in Germany.
Good and better
ALV83 242

439
100
180
6402-426
6402-426 Lot of crescent wrenches. A double-ended 6 to 8 inch model

and a collection of seven 4 inch wrenches.

Most by Crescent itself but a couple of knockoffs. All clean and working with good jaws and no rust.
Good plus
FNK552

554 556 558 559 561 564
90
180
6402-427
6402-427 Patented

EAGLE GRIP

pipe wrench. Patented 10-12-54 by Ernest Olson of Oshkosh- NE

and manufactured by MID AMERICAN PRODUCTS of Omaha.

You use the standard knurled nut to close the jaws

and then lock it with a lever like a vice grips.

14 inches long and in immaculate condition. Only one Ive ever seen.
Good plus
ALV132
80
160
6402-428
6402-428 Lot of nippers and wrench.

GUNDLACH tile nippers IOB.

Marked 85C.

Used only once or twice.

New old stock. Plus COES perfect handle wrench.

6 half inches model.

Handle intact.

Jaws a little dinged but close smoothly.
Fine
DWH68

78
30
60
6402-429
6402-429 Lot of two adjustable wrenches. A 6 inch COE wooden handle monkey wrench

and a COCHRAN 8 inch patented pipe wrench - patented 4-21-08 and manufactured in Chicago.

Both in very clean condition. Jaws of the Coe a little dinged up.
Good and better
ALV143 185
60
120
6402-430
6402-430 KING DICK bicycle wrench in pouch. 3 inch King Dick center nut wrench in plush draw string bag and enclosed in zippered leather pouch.
Good plus
ALV52
30
60
6402-431
6402-431 Lot of two WESTCOTT curved handle crescent type wrenches. Manufactured by Keystone Manufacturing Co. of Buffalo.

One is a No. 78

the other unmarked

both 6 inches.

Decent condition with some surface corrosion on the 78 and some jaw dinging.
Good
MAX358
60
120
6402-432
6402-432 TROJAN patented quick adjusting wrench. Patented 7-31-34 by John Long of Los Angeles and manufactured by the Trojan Wrench Co.

Has a sliding quick adjust collar and a pawl that is supposed to lock it at various widths.

Nickel plating has wear and the mechanism doesnt work smoothly but a very uncommon adjustable wrench.

12 inches.
Good
ALV469
60
120
6402-433
6402-433 Massive AMPCO beryllium nut wrench. 18 inches long.

9 half pounds.

Beryllium -actually beryllium copper alloy- tools were used where you couldnt afford sparks.

This one is stamped

-US-

so maybe used by the Army in a powder magazine or similar environment.

A few dings but overall clean and jaws work smoothly.

Good plus
DCR29
60
120
6402-434
6402-434 Lot of five wrenches.

One 9 inch marked MOORE DROP FORGING.

One 9 inch marked BARCALO BUFFALO USA with tang on end. Others just with Ford mark -8 inch and 9 inch with tang-. Jaws a little chewed up but surfaces generally good. Plus 11Ó Billings and Spencer.
Good
CGN26

77

78

80

87
30
60
6402-435
6402-435 Lot of five wrenches. Three are crescent wrenches.

Two 9Ó ones marked Crescent Tool Co. and one marked Ford

and a 10 half inch marked Diamond Tool and Horseshoe Co.

Plus two adjustable nut wrenches

- a WINCHESTER 10 inch with wooden -perfect- handle with a small crack but good clean jaws

and a PEXTO 8 inch with waffle pattern metal handle and jaws dinged up but close smoothly.
Good
CGN22

25

27

111

156
40
80
6402-436
6402-436 MILLERS FALLS combination hand vise and tools in handle. Nice clean condition with undamaged rosewood handle and almost no loss of nickel plating.

Nine tools stored in the handle.

Good plus
MAX142
100
200
6402-437
*6402-437 YANKEE No. 41 automatic drill.

Includes one bit.

In decent condition.
Good
ALV107
10
20
6402-438
6402-438 Lot of three adjustable nut wrenches. A 12 inch

-Polly-

manufactured by GELLMAN WRENCH CO. of Rock Island- Illinois. An 8 inch

-Space Tool-

with sliding button to adjust the jaws manufactured somewhere in Texas. And an 8 inch BEMIS and CALL with adjusting nut. All in very clean condition with good working jaws and no rust.
Good plus
FNK551 557 564
100
180
6402-439
6402-439 Lot of two adjustable wrenches. WAKEFIELD No. 19.

Patented 11-14-22 and manufactured in Worcester- Massachusetts.

Nice clean condition.

And a BOARDMAN patent combination nut and pipe wrench - patented 7-10-66 and manufactured first in Connecticut

later by Tower and Lyon.

Significant surface corrosion and patent date just legible

but a rare wrench.
Good and better
ALV248 304
80
160
6402-440
6402-440 Lot of five wrenches.

Two FORD open end wrenches.

Flat wrench is five eighths inch and three fourths inch and larger has seven eighths inch open end and five eighths inch closed. Three patented adjustable wrenches

COCHRAN 6 inch

-Speednut-. BILLINGS and SPENCER 8 inch S handle marked with 11-14-05 patent.

And ELGIN

-Live Alligator-

with some light surface corrosion.
Good and better
CGN85

97

142

203

203A
30
60
6402-441
*6402-441 Combination fencing tool. Hammer with curved pliers.

Ive seen them but the mark is unreadable.

Chip from end of one handle.
Good minus
CRT30
15
30
6402-442
6402-442 Lot of two adjustable nut wrenches. 7 inch wooden handle Coe type by PSandW Cleveland.

Jaws slightly sprung and dirty but decent shape. And an unmarked twisted handle type.

10 inches.

Needs a serious cleaning and jaw currently locked.
Good
DCR27 32
50
100
6402-443
6402-443 MILTON H. BACHELLER JR.

American Marking Gauges- Patented and Manufactured. Hardcover with dust jacket. 2000 printing. Signed by author. Both book and dust jacket in excellent condition.
Fine
BFS163
50
100
6402-444
*6402-444 KENNETH L. COPE

American Wrench Makers 1830 to 1915. First Edition published in 1999.

Paperback.

Cover has some blue staining but pages clean and in good condition.
Good
BFS161
25
50
6402-445
*6402-445 Lot of RONALD S. BARLOW books. The Antique Tool Collectors Guide to Value

editions 1985 and 1999. 1985 edition in good condition with some wear to the cover. The 1999 edition cover is tattered and worn.
Fair and Good
BFS143

148
25
50
6402-446
6402-446 Lot of three catalogs. All paperback. Watchmakers Jewelers and Engravers Tool and Material Catalogue

Otto Young and Co.

1892 to 1893. Reprinted from original in 1998-

in good condition. Plus American Tools by Buck and Hickman. 1902 Catalog

reprinted from original in 1989-

in good condition. Plus September 1942 edition of Stanley Tools Catalog No. 34-

good condition-

some wear and a few bent corner pages but no writing.
Good plus
BFS131

141 154
100
200
6402-447
6402-447 EMIL and MARTYL POLLAK

A Guide to the Makers of American Wooden Planes. Fourth edition.

Revised by Thomas L. Elliott. Signed -and handmade plane drawing- by Elliott from 2001. Paperback in excellent condition.
Good plus
BFS115
50
100
6402-448
*6402-448 SANDOR NAGYSZALANCZY

The Art of Fine Tools. Paperback. Full Color.

Glossy.

Printed in 2000. Beautiful photos of exquisite hand tools. Small tear at bottom binding.
Good
TKY105
10
20
6402-449
6402-449 Lot of books and booklets. All paperbacks. Antique Tools- Our American Heritage by Kathryn McNerney in good condition-

published in 1988. Collecting Farm Antiques- Identification and Values by Lar Hothem

published 1982

cover worn but pages in good condition. Sharpening and Care of Woodworking Tools and Equipment by John Sainsbury-

published in 1984 in good condition. 2 booklets entitled

-Berks County Pennsylvania Fraktur-

about fraktur - a type of German lettering from the fifteenth century until WWII

and

-Early Tools and Equipment-

by Elmer L. Smith

printed in 1983.

Good
BFS136

135

116

147

140
40
80
6402-450
6402-450 Lot of rule books.

A Rule Concordance and Value Guide by Philip E. Stanley - 2004. Stanley Folding Rules- A History and Descriptive Inventory by Alvin Sellens - signed copy. Has some writing in pencil on pages

and owner sticker on inside front cover. 1984 printing. Dust jacket falling apart

but book in decent condition. Fundamentals of Rule Collecting- Excerpts from Studies by Kenneth D. Roberts and Philip E. Stanley - printed 1997 and in good condition. To Measure- Metric Rules by Stanley Rule and Level - a presentation by B. Youart at Brown Auction

2006

booklet with illustrations. A Source Book for Rule Collectors by Philip E. Stanley - signed copy. Printed in 2003

in excellent condition.
Good and better
BFS134

149

138

139

133
150
300
6402-451
6402-451 ROGER K. SMITH

Patented Transitional and Metallic Planes in America 1827 to 1927 -PTAMPIA I-. Hardcover with signature of author. Second edition - 1990. Cover has some wear

but has clear plastic dust jacket -now faded-. Pages have some moisture warping

but no marks and clean.
Good
BFS132
100
200
6402-452
6402-452 THOMAS C. LAMOND

Manufactured and Patented Spokeshaves and Similar Tools. Signed by the author. Illustrated identification of the artifacts and profiles of the makers and patentees. 1997 First Edition-

book in excellent condition including dust jacket with no fading and very little wear.

Good plus
BFS162
75
150
6402-453
6402-453 Lot of two catalogs. Pocket Business Guide for New York - Boston - Philadelphia - and Baltimore compliments of New England Loan and Trust Company - from late 1880s and in fairly good condition. Plus Keogh and Thorne Illustrated Catalog of Doors - Sashes - Blinds - Newels - etc. New York circa 1873. Pages stained and some damage

cover stained and tattered and back cover bottom is no longer attached.
Fair and Good
DWH82

83
50
100
6402-454
6402-454 Lot of two books. A Price Guide to Antique Tools by Herbert P. Kean and Emil S. Pollack.

First Edition 1992. Paperback.

Book in decent condition-

some wear. Plus E.C. Simmons Keen Kutter Collectibles- An Illustrated Price Guide by Jerry and Elaine Heuring. Paperback-

2nd edition

some wear but in decent condition.
Good
BFS144

145
60
120
6402-455
6402-455 Lot of two books. The Stanley Plane- A History and Descriptive Inventory by Alvin Sellens. Hardcover - dust jacket tattered and taped with - R.A. Easter- written on it. Book in decent condition - some fraying of cover

and the words

-Stanley Planes-

written on bottom of book. First Print -1975- with pages in decent condition

fairly rare book. Plus bound photocopy of

-The Woodworker-

Series No. 6 entitled

-How To Use the Stanley Universal Plane for Moulding-Matching-Ploughing-

by A Practical Woodworker.
Good minus
BFS137

130
100
200