Auction Archive 6401 - Summer 2014
Auction ended September 14, 2014. Next auction (6402) runs November 17th-December 14th, 2014. Auction put online November 18th, 2014.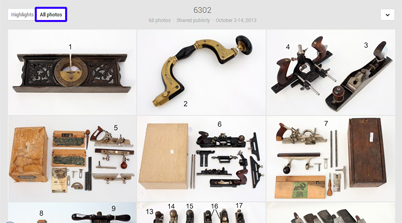 To view all auction items in our Web Albums, click here. To see all photos in order, select All Photos (in blue in the image above)
Auction 6401 has ended.
Thanks to all who participated!
LOT
DESCRIPTION
CONDITION
SOURCE
LOW
HIGH
PHOTO
(click to enlarge)
6401-001
6401-001 Complete set of HIELDS hollows and rounds. Even numbered from 2 through 18. Most marked with same owner -W. Welch- or unmarked. Superclean good sharp cutters all wedges look original. Extra nice and crisp set. William Hields worked in Nottingham England from 1832-1881.
Fine
GAN476
800
1600
6401-002
6401-002 WORRALL patent jointer. Before Thomas Worrall founded the Multiform Plane Co. he patented a method of adjusting cutter pitch through a screw through the heel of the plane and they were manufactured by COPELAND and CO. of Huntington MA. AWP lists only one other plane double-marked with both the Copeland mark and the Worrall patent and gives it four stars. Unfortunately the plane itself is in rough shape with major chips from the tote and dings tight cracks and paint splatters but it all there and a rarity like this is worth restoring.
Good
GAN43
220
450
6401-003
6401-003 UNION No. 36 wood bottom bench plane. Wood is way above average except for scratches to sole some loss to japanning. Clearly marked on toe with 10-22-89 patent date which has been found on some Union planes and is something of a mystery. The only known plane patents on that date are to Mosher and Rust and neither was associated with Union.
Good plus
CGD145
120
240
6401-004
6401-004 STARRETT No. 133A engineers and plumbers level. Well above average version of Starretts classic inclinometer which is usually a rusted mess. Very little rust and minor damage to japanning. Starrett is still making these and you can buy a brand new one for 435 dollars but wouldnt you rather have one with a little age for half the price.
Good plus
CGD57
150
300
6401-005
6401-005 Type 1 STANLEY No. 11 beltmakers plane. With the vertical adjustment and correct cutter. A chip out of the throat otherwise good.
Good
CGD221
110
200
6401-006
6401-006 STANLEY No. 6 fore plane. Notched rectangle mark on cutter orange rectangle on lever cap. Minor surface rust good tote and knob.
Good
SSA42
30
60
6401-007
6401-007 STANLEY No. 6 fore plane. Type 6 with the 1892 patent date on the cutter. A major chip out of the end of the tote otherwise good.
Good minus
CGD150
35
70
6401-008
6401-008 SARGENT No. 422 jointer plane. 22in sole Type 3 with VBM cast into lever cap. Immaculate near-mint condition.
Fine
BFS244
80
160
6401-009
6401-009 SARGENT No. 424C jointer plane. Has the Type 1 mark on the cutter but a horseshoe style lateral adjustment so lets call it a Type 2. Only apology is a chip from the end of the tote and some loss of japanning.
Good
BFS243
75
150
6401-010
6401-010 SARGENT No. 424 jointer plane. Type 2 with earliest mark on cutter and horseshoe style lateral adjustment. Super clean condition.
Fine
BFS57
75
150
6401-011
6401-011 SARGENT No. 422C jointer plane. Type 3 with VBM cast into lever cap. Very clean condition with some minor spots of surface rust and dings on knob.
Good plus
BFS58
60
120
6401-012
6401-012 Corrugated sole jack plane. I dont recognize this plane. The frog is screwed down to a steel frame kind of like a Liberty Bell and it has a slip-in lever cap with two adjusting screws. The cutter is notched to engage the adjustment screw. 15in long corrugated sole tote is loose and missing one screw.
Good minus
SSA46
30
60
6401-013
6401-013 STANLEY No. 8 jointer plane. Notched rectangle mark on cutter but otherwise appears older low knob no kidney shaped hole on lever cap. One chip from near heel tip of tote missing. Restoration project or decent user.
Good minus
JAR192
40
80
6401-014
6401-014 CHAPLINs patent jointer plane. 21in sole manufactured by TOWER and LYON. Unmarked but unmistakable with cast-in corrugations and blade clamp based on Chaplins 1872 patent missing its tote which would need to be replaced otherwise good example of a rare plane.
Fair
DST301
40
80
6401-015
6401-015 STANLEY No. 7 jointer plane. Later model with notched orange rectangle mark on cap good clean condition.
Good plus
DST298
60
120
6401-016
6401-016 STANLEY No. 7C corrugated sole jointer plane. Type 13. Some discoloration to metal and slight loss of japanning at toe and heel but overall very clean condition.
Good plus
DST297
100
175
6401-017
6401-017 STANLEY No. 7C corrugated sole jointer plane. Second sweetheart mark type 12 -first type with high knob-. Largish chip from one side of tote otherwise very nice condition.
Good
DST296
90
180
6401-018
6401-018 STANLEY GAGE No. G6 fore plane. Fair example of the self-setting planes manufactured by Stanley from John Gages patent. Type 2 without G in number old soldered repair to one cheek tote is missing end and has crack at base.
Fair
DT10
40
80
6401-019
6401-019 STANLEY GAGE No. G5 jack plane. Good example of the self-setting planes manufactured by Stanley from John Gages patent. Type 3 surface rust throughout screw holding tote has been replaced and has a washer not found on original. Still good example of a rare plane and would clean up well.
Good minus
DT9
75
150
6401-020
6401-020 MARSH M5 jack plane. Marsh Tool Co. of Rockford IL manufactured a line of bench planes similar to the Stanley design before being acquired by Stanley in the 1920s. This is their equivalent to the No. 5. End of tote is missing and the lever cap is poor fit and probably a replacement significant surface rust.
Fair
DT7
40
80
6401-021
*6401-021 STANLEY Defiance bench plane. The Defiance line equivalent of the No. 3 good overall condition with some surface pitting. Decent user.
Good
SSA50
20
40
6401-022
6401-022 STANLEY No. 40 scrub plane. Sweet heart mark chip on knob some roughness on tote.
Good
SSA48
60
120
6401-023
6401-023 STANLEY No. 50 light plow plane. Nickel plated version. One depth stop nine cutters. Some loss of nickel but overall good.
Good
CGD173
90
180
6401-024
6401-024 STANLEY No. 3C bench plane. 1907-09 mark on cutter some minor surface rust tote broken and reglued.
Good minus
SSA39
30
60
6401-025
6401-025 STANLEY No. 3 bench plane. Vee mark on cutter good overall condition with some loss of japanning at the toe. There are some parallel scratches on one side of the tote at first I thought it was reglued but none of them seem to go all the way through.
Good plus
SSA40
50
100
6401-026
6401-026 STANLEY No. 48 swing-fence match plane. Later nickel-plated version some loss of nickel both cutters present.
Good
GCD39
75
150
6401-027
6401-027 STANLEY No. 45 combination plane. Type 14 only has main fence has both depth stops but no slitter one blade nickel plating in decent shape.
Good
CDE1541
50
100
6401-028
6401-028 STANLEY No. 45 combination plane. Type 12 with script mark on skate. What you see is what you get no extra cutters rods etc. Nickel plating in nice condition so if you have a set of cutters youre in business.
Good
CDE1540
40
80
6401-029
6401-029 STANLEY No. 45 combination plane. Type 12 no cutters but otherwise in nice condition only minor flaking to nickel plating includes the cam stop.
Good
DST7
75
150
6401-030
6401-030 Homemade plow plane. Made of a hunk of cast iron strapping with crude wooden tote and skate. Depth stop held on by two cast straps. Ugly as sin but it looks like it would work and a piece of folk art.
Good
NW1933
40
80
6401-031
6401-031 STANLEY No. 45 combination plane. Type 8 one cutter slitter on rear depth stop worn down significant flaking on nickel.
Fair
DST6
50
100
6401-032
6401-032 STANLEY No. 45 combination plane. Type 2 missing the long depth stop on the fence and no auxiliary parts just one cutter. Slots in fence locking screws a little chewed up some traces of paint on tote.
Good
DUS47
80
160
6401-033
*6401-033 Set of combination plane blades.Mixed set of 11 cutters in wooden holder mostly for a combination plane but not all have the notch for a 44 or 55. One marked with Goldsboroughs 2-19-84 patent date and one complex pattern.
Good
CGN 71
20
40
6401-034
6401-034 STANLEY No. 193 fiberboard plane. Plane itself is very clean. Has all of the attachments except that the No. 7 circle cutter has the arms broken off and No. 4 is missing set screws. Includes an extra No. 1 -without cutters- No. 2 and No. 5.
Good
FNK195
75
150
6401-035
6401-035 Lot of two bench planes. DUNLAP No. 3 bench plane with a little surface rust tote has some dinging but a good solid user with no major issues. Plus STANLEY No. 3 bench plane with orange rectangle on lever cap rectangle mark on cutter light dinging and a few spots of surface rust but good overall condition.
Good
DUS41 45
65
130
6401-036
6401-036 Core box plane. Unsigned and may have been user made. Sides are 3 1-2 and 4 1-2. There are several tapped holes that may mean it originally had some extensions like a STANLEY 57. Rosewood knob thats a little loose cast iron base. Nicely made and different.
Good
VIN215
60
120
6401-037
6401-037 Core box plane. Unsigned and may have been user made. Sides are 2 1-8in and 3 1-2in. Nice boxwood tote cast iron base. Some shallow pitting on cutter. Nicely made and different.
Good
VIN215A
60
120
6401-038
*6401-038 STANLEY No. 191 rabbet plane. Surface rust sweetheart mark on cutter good decal on tote.
Good
DT11
25
50
6401-039
6401-039 METAL PRODUCTS Parplus jack plane. Equivalent to a No. 4 with the Metal Products mark and PARPLUS in a diamond on the cutter. Unusual mark listed in PTAMPIA I as having been sold circa 1925. Tote has been broken and reglued and has crackle finish knob and metal are good.
Good minus
DUS38
30
60
6401-040
6401-040 CRAFTSMAN four sided cutter plane. Aluminum plane with a four-sided cutter. 9 1-2in sole some dinging but good overall condition. These gizmos turn up occasionally but are uncommon first Ive seen marked by Craftsman.
Good plus
DUS49
30
60
6401-041
6401-041 MILLERS FALLS Plane-R-File. Its a plane - Its a file - Its a PLANE-R-FILE. Thats how MF advertised this surform back when Superman was a popular TV show. Handle reverses for use as a file. Typical Buck Rogers styling some dings to the grey paint but in decent shape. An unusual MF tool.
Good
BB37
35
70
6401-042
6401-042 STANLEY No. 5 1-2C corrugated jack plane. Looks like a type 6 but with an aluminum tote and black painted lowrise knob. Otherwise in very nice condition.
Good
FNK119
50
100
6401-043
6401-043 Lot of three bench planes. STANLEY Bed Rock No. 603C corrugated smoothing plane Type 1 with rounded sides thoroughly covered with surface rust and some dinging -and crude user initials- in tote but its all there and would clean up to a nice example of a rare Bed Rock. KEEN KUTTER KK3 bench plane KKs version of the Stanley No. 3 surface rust and discoloration but no damage light dinging to tote and knob. VAUGH and BUSHNELL No. 904 smoothing plane cutter is a replacement with the Stanley sweetheart mark and doesnt engage the lateral adjustment properly surface corrosion and nicking to tote and knob.
Good
DT16 17 27
145
300
6401-044
6401-044 SARGENT VBM No. 708 smoothing plane. Features Albert Pages auto set patent much rarer than the typical Bailey knockoff. Japanning 50prcnt tote is dinged but intact. A rare plane.
Good
DT13
90
180
6401-045
6401-045 SHELTON No. 04 smoothing plane. Patented in 1933 by Cornelius McAller and manufactured by Shelton Plane Co. of Shelton CT. Youd think by 1933 they would have learned that they couldnt improve the Bailey design but they kept trying. 9in long good overall condition noting surface corrosion and some paint splatters. A rare plane.
Good
DT14
90
180
6401-046
6401-046 No. 3 size bench plane. Not sure who made these but the lever cap adjusting knob and other part are made of sheet steel rather than cast rusty and dirty but all there.
Good
DT15
30
60
6401-047
6401-047 SARGENT No. 160 roughing plane. Solid casting type japanning is only about 40prcnt but casting is complete and crack free good cutter.
Good
COL113
120
240
6401-048
6401-048 STANLEY No. G5 gage jack plane. Some loss of nickel on cap screw and blade adjustment but otherwise very clean example of this uncommon plane japanning 95prcnt trace of decal on tote.
Good plus
FNK118
95
180
6401-049
6401-049 STANLEY No. 78 duplex rabbet. Script logo vee logo on cutter japanning worn and some surface rust. Missing depth stop.
Good minus
CRT71
30
60
6401-050
6401-050 STANLEY No. 148 double end match plane. Some flaking to metal needs both cutters.
Good minus
COL120
40
80
6401-051
6401-051 FULTON -Sargent maybe- scraper plane. Plane is unmarked but looks very much like a Sargent No. 59. Cutter is marked Fulton Tool Co. which was a Sears brand and since Sargent made planes for the Fulton line Im guessing this one came from Sargent. The very tip of the tote was sheared off and smoothed over a long time ago otherwise in immaculate condition.
Good
CDE1484
90
180
6401-052
6401-052 WARDS MASTER No. 4 smoothing plane. Probably made by Stanley for Wards. This one is super clean with only a couple of scratches to the knob standing between it and mint.
Fine
CDE1475
45
90
6401-053
6401-053 CRAFTSMAN smoothing plane. The Craftsman version of the No. 4. Nice and clean with the blue Craftsman oval logo on the lever cap and just a trace of the decal on the tote. If you collect Craftsman -somebody must- or just want a nice user No. 4 this is for you.
Fine
CDE1477
35
70
6401-054
6401-054 STANLEY No. 40 scrub plane. Sweetheart mark. Nice clean example of this uncommon plane.
Good plus
CDE1483
80
160
6401-055
6401-055 STANLEY No. 40 scrub plane. Sweetheart mark. Tip of tote sheared off and some loss to japanning.
Good minus
CDE1481
40
80
6401-056
6401-056 STANLEY No. 40 scrub plane. Sweetheart mark. Knob and tote have some wear but no major damage and overall a nice clean example of this uncommon plane.
Good plus
CDE1482
60
120
6401-057
6401-057 ESTE German-made bench plane. 8 1-2in sole red painted knob and tote. ESTE mark cast in lever cap and good SandT decal on top of tote.
Good
CRT146
30
60
6401-058
6401-058 SARGENT No. 409 smoothing plane. Part of Sargents VBM series of adjustable bench planes. This one has a little dinging to show it was used but is overall very nice and clean.
Good plus
CDE1479
30
60
6401-059
6401-059 SHELTON bench plane. A super clean example of the 1932 MacAller patent which claimed to replace the classic Bailey adjustment mechanism with a single long screw. Generally mocked by users but interesting looking and every collection needs at least one and youll look a long time for a cleaner one 9in sole.
Fine
CDE1478
60
120
6401-060
6401-060 STANLEY Defiance No. 4 sized smoothing plane. Super clean example of Stanleys Defiance line. Only a couple of very minor dings.
Fine
CDE1487
40
80
6401-061
6401-061 STANLEY No. 5 1-2 C corrugated jack plane. Early type 11 with T mark on iron. Surface discoloration on metal part but no rust or pitting good japanning tote and knob.
Good plus
CDE1488
60
120
6401-062
6401-062 METAL PRODUCTS Parplus jack plane. Equivalent to a No. 5 with the Metal Products mark and PARPLUS in a diamond on the cutter unusual mark listed in PTAMPIA I as having been sold circa 1925. Surface discoloration on the metal but overall good clean condition.
Good
CDE1806
50
100
6401-063
6401-063 STANLEY No. 5C corrugated jack plane. Late model with notched rectangle mark but no mark on lever cap. Some dings on lever cap otherwise very clean excellent knob and tote.
Good plus
CDE1890
45
90
6401-064
6401-064 STANLEY No. 5C corrugated jack plane. Late model with orange notched rectangle on lever cap super clean throughout close to mint.
Fine
CDE1487A
75
150
6401-065
6401-065 UNION MFG CO. jack plane. 13in sole surface corrosion but no pitting or damage. Tote is a little loose but undamaged.
Good
CDE2083
30
60
6401-066
6401-066 STANLEY FOUR SQUARE No. 1105 jack plane. A few minor dings to the lacquered knob and tote but finish is good and cutter sharp. JOverall a very nice example of the Four Square line.
Good
JW105
50
100
6401-067
6401-067 Lot of two planes. STANLEY No. 4 bench plane Type 9 with the 1892 patent logo on cutter extra clean and complete example. Plus WARDS MASTER No. 5 jack plane toolbox dinging and light surface rust on cutter but overall good clean example.
Good
GNM341 351
110
220
6401-068
6401-068 SARGENT No. 408C corrugated sole bench plane. Very nice clean example of Sargents answer to the No. 4C. Some minor dinging to knob good tote a few rust flecks.
Good plus
BB120
50
100
6401-069
6401-069 FULTON bench plane. 9in sole. Varnish on the tote is worn but otherwise nice and clean.
Good
CDE1480
30
60
6401-070
6401-070 MILLERS FALLS No. 9 smoothing plane. MFs equivalent of the Stanley No. 4. This one is super clean and almost unused varnished hardwood tote and knob rather than the top-of-the line rosewood.
Fine
CDE1476
40
80
6401-071
*6401-071 CRAFTSMAN four sided cutter plane. Aluminum plane with a four-sided cutter 9 1-2in sole paint about 50prcnt worn off. These gizmos turn up occasionally but are uncommon first Ive seen marked by Craftsman.
Good
CDE1545
25
50
6401-072
6401-072 Lot of three block planes. UNION TOOL No. 227 SHELTON unnumbered 7in model and STANLEY Handyman No. H102. Three less common block planes in good condition.
Good and better
CDE1019 1021 1038
50
100
6401-073
*6401-073 Unmarked block plane. 6in sole adjustable throat only mark is an anvil trademark on cutter. Lever locking knuck cap.
Good
CDE1302
20
40
6401-074
*6401-074 Block plane. Modern appearance marked only Made in USA slate blue japanning and hard rubber knob. Virtually unused and perfect user.
Fine
CDE1323
20
40
6401-075
*6401-075 STANLEY No.110 block plane. Later type with notched rectangle on cutter trace of decal japanning and metal in very good condition throughout.
Good plus
CDE1278
20
40
6401-076
6401-076 FULTON block plane. Similar to a Stanley No. 220 with endwise brass depth adjuster. Nice and clean with solid gold knob and adjusting screw. Okay I guess it could just be gold painted.
Good
DT40
30
60
6401-077
6401-077 CAPEWELL block plane. Similar to a Stanley No. 220 with endwise brass depth adjuster. Nice and clean with original dark blue japanning and good nickel on cap. A little surface corrosion and small paint flecks but nothing you couldnt clean up. Manufactured by Capewell Horse Nail Co. of Hartford See PTAMPIA II p. 309. A rare plane.
Good plus
DT6
80
160
6401-078
*6401-078 STANLEY No. 9 1-2 block plane. Late model with notched rectangle mark on cutter. Some light surface rust that would clean right up japanning complete bottom half of original box.
Good plus
DT18
20
40
6401-079
*6401-079 MASTER MECHANIC smoothing plane IOB. Equivalent to a No. 4 with 9insole. Sole has some paint streaks on it from use on painted wood but otherwise close to mint. Box complete and in very good shape.
Fine
CDE2182
25
50
6401-080
*6401-080 STANLEY No. 1203 Defiance bench plane IOB. Not marked but immaculate condition with only a few spots of surface rust. Box is tattered with split seams but complete with label.
Fine
CDE2179
25
50
6401-081
6401-081 STANLEY No. 90 bullnose rabbet plane. Good cutter with patent date. Nickel plating about 50prcnt.
Good
GNM268
40
80
6401-082
6401-082 STANLEY No. 271 miniature router. Immaculate near-mint condition.
Fine
GNM278
50
100
6401-083
6401-083 Miniature router. Closed throat. 4 1-2in long knobs look like bone. Includes set of five extra blades but I dont know if theyre original since theyre round and the one in it has a square shaft.
Good plus
DT29
50
100
6401-084
*6401-084 STANLEY No. 101 miniature block plane. Japanning worn cutter has notched rectangle mark under surface corrosion.
Good
DT37
20
40
6401-085
6401-085 Lot of four block planes. DEFIANCE stamped steel plane STANLEY No. 220 missing front knob STANLEY No. 9 1-4 notched rectangle mark on cutter japanning good except where worn on knob. Plus CRAFTSMAN version of No. 9 1-2 good with some loss of nickel.
Good
CPK14 15 16 17
30
60
6401-086
*6401-086 Unmarked block plane. Resembles a Stanley 102 but no mark other than Made in USA. Some pitting decent condition.
Good
CDE1294
10
20
6401-087
6401-087 MILLERS FALLS No. 87 block plane. Some loss of japanning on knuckle cap but otherwise nice clean example good cutter with very clear mark.
Good plus
CDE1325
35
70
6401-088
*6401-088 STANLEY No. 110 block plane. No mark on cutter japanning worn slight pitting.
Good minus
CDE1289
10
20
6401-089
*6401-089 STANLEY No. 220 block plane. Unmarked looks like a 220 but with some unusual features. Rounded trademark on cutter like earlier 220s cutter adjustment knob is knurled brass blue-gray japanning.
Good
CDE1319
25
50
6401-090
*6401-090 TWIX block plane. 7in sole pressed steel body throat has been widened. Unusual maker.
Good minus
CDE1296
20
40
6401-091
*6401-091 STANLEY No. 110 block plane. Later model with blue japanning -100prcnt- good overall condition with partial decal one scratch on bed.
Good plus
CDE1305
20
40
6401-092
*6401-092 TOWER and LYON block plane. Cutter marked Chaplins Patent as well as TandL name but I dont know what patent is referring to. Adjustable throat lever cutter adjustment some loss of nickel on cap but otherwise nice and clean.
Good
CDE1554
25
50
6401-093
6401-093 Lot of two block planes. STANLEY No. 110 block plane later type with notched rectangle on cutter super clean condition perfect user. Plus AMERICAN BOY block plane nonadjustable 6 1-2in sole wide flat knob unusual maker.
Good plus
CDE1286 1297
40
80
6401-094
6401-094 Lot of two block planes. UNION MFG. CO. block plane 6in sole adjustable throat lateral and blade adjustments. Plus English STANLEY block plane similar to a No. 110 but marked G12-247 on side good clean blue and red japanning almost complete decal.
Good plus
CDE1279 1332
50
100
6401-095
*6401-095 SARGENT block plane. No model number marked but 6in sole lever locking knuckle cap rear cutter adjustment knob good overall condition.
Good plus
CDE1327
20
40
6401-096
6401-096 STANLEY No. 120 block plane. Sweetheart mark. A little schmutz on the sole and small scrape on tote but otherwise immaculate.
Good plus
GNM248
30
60
6401-097
6401-097 SARGENT No. 5206 low angle block plane. Made of solid steel and advertised as virtually unbreakable. Light surface rust but no pitting or damage.
Good
VIN41
30
60
6401-098
6401-098 Lot of five block planes. Three STANLEY No. 102s all of recent vintage one with cordovan paint. Plus a CRAFTSMAN adjustable one like a 9 1-2. Plus a DUNLAP adjustable similar to a 220.
Good and better
CDE1018 1022 1030 1033 1035
55
110
6401-099
6401-099 Lot of two 7in block planes. MILLERS FALLS No. 75B and WORTH non-adjustable model. Both very clean with almost no rust japanning worn on knuckle caps.
Good plus
CDE1026 1028
40
80
6401-100
6401-100 Lot of two STANLEY block planes. No. 110 and No. 118 both with notched rectangle marks on cutters in very clean and usable overall condition.
Good plus
CDE1025 1031
45
90
6401-101
6401-101 Lot of two SARGENT block planes. Adjustable mouth plane similar to No. 307 marked EDGERITE. Edgerite tools were manufactured by Sargent for Eaton Department Stores the Sears of Canada. Looks like a No. 307. An unusual mark for the Sargent collector in very nice condition. Plus No. 107 but the bed has 110 cast into it.
Good and better
CDE1020 1029
40
80
6401-102
6401-102 Lot of two STANLEY NO. 9 1-2 block planes. 1960s era model with midnight blue paint super clean. And a post-WWII model with number stamped on side a little more worn but still good condition.
Good and better
CDE1034 1037
40
80
6401-103
6401-103 STANLEY No. 60 low angle block plane. Early semi-circular mark on cutter. Super clean just a couple of minor marks on nickel stand between it and mint.
Fine
GNM233
60
120
6401-104
6401-104 STANLEY No. 65 low angle block plane IOB. Plane is close to mint with notched rectangle mark on cutter. Blade has one split seam but lid complete with label. Includes flyer for weather-stripping tools.
Fine
CDE2181
60
120
6401-105
6401-105 STANLEY No. 118 block plane IOB. Very clean condition with a few spots of missing japanning and rust notched rectangle mark. Box has one split seam but lid complete with label.
Good plus
CDE2184
30
60
6401-106
6401-106 STANLEY No. 220 block plane IOB. Plane is close to mint with notched rectangle mark on cutter. Blade is tattered with split seams and missing label. Rating is for plane only.
Fine
CDE2185
30
60
6401-107
6401-107 MILLERS FALLS No. 75-01 block plane IOB. In near mint condition corrugated box dirty but complete. Later model with grey japanning.
Fine
CDE2180
30
60
6401-108
6401-108 SANDUSKY No. 94 plow plane. Boxwood fence and nuts. In immaculate condition only a few small chips on threads owners initials HHS and wheatsheaf carving well done on sides. A very nice Sandusky plow.
Good plus
DCR270
140
280
6401-109
6401-109 AandE BALDWIN plow plane. Very nice condition a few small chips on threads inner nuts are steel and brass.
Good plus
CRT76
100
200
6401-110
6401-110 F.SPENCER wedge arm plow plane. Good overall condition with typical dinging cutter wedge is chewed up arm wedges appear original brass ends on arms nice and tight skate has only light rust.
Good
JRI 583
50
100
6401-111
6401-111 GREENFIELD TOOL CO. No. 534 screw arm plow. Body in decent condition chipping on arms skate has rust with some pitting wedge a replacement.
Fair
JRI579
30
60
6401-112
6401-112 European stylescrew arm plow plane. Looks like fruitwood body good overall condition with some dinging good boxwood arms and nuts wedge chewed up minor rust on skate.
Good
JRI516
45
90
6401-113
6401-113 CASEY KITCHEL and CO. handled plow plane. Needs wedge and cutter. Chip off end of tote old repair split on fence. Screw arms in above average shape.
Fair
JRI517
30
60
6401-114
6401-114 Wedge arm plow plane. No cutter body and wedge have significant dinging brass ends of arms loose arm wedges appear original but one has major chip.
Fair
JRI577
30
60
6401-115
*6401-115 OGONTZ TOOL CO. No. 13 jack plane. Tote missing and replaced by dowel chipping at end of wedge rusty cutter.
Fair
JRI1101
20
40
6401-116
6401-116 Lot of two wooden jack planes. E.C. SIMMONS Chipaway 16in long good condition with some staining to body and small chips from edge of tote. Chipaway was the mark used by Simmons for second-tier planes here it is marked on toe and iron. Plus a STANLEY No. 26 tote broken and needs regluing and rusty cutter.
Good
BB89 251
40
80
6401-117
6401-117 OHIO TOOL CO. nosing plane. Cuts a full half circle 1 1-8in in diameter for nosing of step treads. Razee body heel has been struck a few times but otherwise in very nice condition 13in long.
Good plus
JRI1106
50
100
6401-118
6401-118 STANLEY No. 37 Jenny plane. One of the rarer transitionals with its extra-wide sole. Type 8 without the eagle mark on the toe and the P mark on the cutter body in good shape noting one 1-4in chip where the left side joins the toe. I suspect the tote of being a later addition as it is suspiciously smooth but they did a nice job if so and the wood matches almost perfectly. Metal and cutter very clean.
Good plus
CDE1792
50
100
6401-119
6401-119 Nosing plane. Toe stamped C.E. KULP but hes not listed in AWP so could be craftsman made. A nosing plane cuts a perfect half circle for the edge of stair treads this one is 1 3-8in diameter. Someone pounded on the wedge a few times but otherwise very nice clean condition 14in long.
Good
JRI1028
60
120
6401-120
6401-120 KEEN KUTTER fore plane. 20in long good mark on toe and cutter. Wood has most of original finish with only minor dinging good tote knob and wedge.
Good plus
JRI1102
60
120
6401-121
6401-121 TOWER and LYON wood bottom bench plane. Based on O.R. Chaplins 1872 patent 8in sole with a couple of small splits metal and cutter in good overall condition No. 73 stamped on heel.
Good
CDE1579
100
200
6401-122
6401-122 J.A. NEWBOULD groove cutter. Half of matched tongue and groove set. AWP lists a J.A. and F.W. NEWBOULD in Buffalo this is just J.A. who is not listed as working by himself. Wood is dirty with some dinging but wedge and tote both good hole through body for handle iron skate and cutter both rusty. Rare maker.
Good minus
JRI1047
50
100
6401-123
6401-123 European style panel raiser. Missing one external locking nut but otherwise very clean and attractive plane.
Good minus
NW1725
35
70
6401-124
6401-124 OHIO TOOL CO. wood bottom jointer. 24in transitional jointer plane. Wood has wear and mark on toe is hard to read but no major damage.
Good
CGD147
30
60
6401-125
6401-125 Lot of two KEEN KUTTER transitional planes. No. 26 with the wood in unusually good condition mark on toe is worn and hard to read and has a Stanley iron. And what appears to be a K35 although the number isnt on the toe the wood more worn with some cracks in the sole and a cutter marked Gold Seal.
Good and better
CGD149 168
50
100
6401-126
6401-126 ARROWMANETT WORKS No. 172 adjustable sash plane. Super clean with only very minor dinging threads immaculate.
Good plus
NW1724
50
100
6401-127
6401-127 Asian bench plane. Appears to be Asian in origin 17in long and narrow with side handles. A dark heavy wood dirty but in decent condition and a W. BUTCHER cutter rusty and slightly spalled.
Good
VIN264
30
60
6401-128
6401-128 Lot of two coffin-shaped smoothing planes. E.C. SIMMONS Chipaway good condition with some scratching on sole. Chipaway was the mark used by Simmons for second-tier planes. Plus a seriously beat up one with a mark too eroded to read thrown in very rusty cutter and split in body iron strike button.
Good Simmons only
BB93 101
30
60
6401-129
6401-129 GARDNER and MURDOCK compass plane. Coffin shape with 8in compass sole reinforcement in front of throat is missing. Body and wedge good Butcher cutter mark with Green Street address is faint but readable 2 stars in AWP.
Good
CRT54
70
140
6401-130
6401-130 STANLEY No. 135 Liberty Bell plane. Looks like a Type 2 but no mark on cutter. Wood is average with dinging a couple of paint spots a couple of chips out of the knob. Metal is decent with minor loss of japanning.
Good
DUS43
30
60
6401-131
*6401-131 COATES carriage maker plane. Flat sole with curved sides. Unfortunately missing its cutter but body and wedge are in nice shape.
Good minus
BB218
20
40
6401-132
6401-132 IOHN GREEN panel raising plane. Rare mark from Iohn -John- Green who worked in York England from 1768-1808. In good overall condition some wear to fence has integral wooden depth stop with brass reinforcement. A rare plane by a rare maker.
Good plus
VIN224
80
160
6401-133
6401-133 NEW YORK TOOL CO. coffin smoother. 8in sole and in very nice condition. New York Tool was an imprint of Auburn. Mark on cutter is partly obscured but looks like Hillebrand Auburn.
Good plus
CDE1800
35
70
6401-134
6401-134 European compass plane. Deeply radiused nice horn on front. No mark on plane but ROSENFORS on cutter. Wood in exceptionally nice condition.
Good plus
CDE1898
120
240
6401-135
6401-135 European compass plane. Compassed sole some decorative carving old repair to throat. Form looks European but has an A. Howland cutter. Crack and split where horn is attached dont detract seriously from appearance.
Good
CDE1790
80
160
6401-136
6401-136 R. WYMAN casing molding plane. An unusual design 12 1-2in long with an adjustable depth stop set on angle. The R. WYMAN name stamped on the toe looks like a makers name but isnt listed in AWP so could be user-made. A couple of dings cutter rusty but overall in good condition and an unusual type of plane.
Good
BB246
60
120
6401-137
6401-137 Scandinavian style 18th century smoothing plane. The front horn nicely carved out of a smooth grained wood that looks like boxwood is the best feature of this old plane but there is also some nice decorative carving around the throat and the initials OEV carved into it twice. A short wedge but it doesnt look broken off throat widened and cutter edge very bad but this is a plane to look at not use.
Good
CDE1799
50
100
6401-138
6401-138 User made panel raising plane. On the small side for a panel raiser 9 1-2in long nicely made out of what looks like red beech with an Isaiah Williams cutter. The horn at the front is original and adds a distinctive look.
Good plus
CDE1796
45
90
6401-139
6401-139 HALL CASE and CO. lying ogee. Cuts a 3 1-2in lying ogee profile. Cutter has Hall Case mark but plane itself isnt marked. Body is a nice piece of wood noting several tight cracks and what looks like some water spots good wedge tote has major chip from end.
Good
JRI1249
60
120
6401-140
6401-140 WM. P. BROWN moving filletster. Good overall condition 3in wide sole. Skewed cutter light dinging on body wedge and tote but no major damage.
Good
JRI504
50
100
6401-141
6401-141 CASEY KITCHEL and CO. tongue cutting plane. Wood tote and wedge all good with a splash of green paint but has been relacquered moving wood fence hole drilled in toe with no apparent purpose.
Good minus
JRI1095
30
60
6401-142
6401-142 Moving filletster plane. Unmarked except for initials HZ but very well made. Looks like a typical moving filletster but the cutter has a reverse bevel at the end away from the fence. 12 1-2in long immaculate wood wedge and tote. Unusual.
Fine
JRI1099
100
200
6401-143
6401-143 Fenced lying ogee plane. Unsigned 13in long fence is nailed to side but looks original good Butcher cutter. Cuts a 2in wide ogee.
Good
CRT141
75
150
6401-144
6401-144 OGONTZ TOOL CO. No. 13 jack plane. Good overall condition with tight crack behind tote and some roughness to edge of toe good clean SANDUSKY iron.
Good plus
JRI1097
50
100
6401-145
6401-145 Wide profile molder. Profile is basically a reverse lying ogee but with a quirk in the middle. Total profile is 3 3-4in wide unmarked with nice clean body and wedge and chip out of the end of the tote. Hole through the body originally held a handle.
Good
JRI505
35
70
6401-146
6401-146 CURRIE complex molding plane. Very complex profile cut by two separate irons consisting of three beads one quirked and a beak. Boxed at the beak. Dual irons. Currie was a Glasgow planemaker. In very good condition with the smaller wedge chewed up. One W.R. liked this plane enough to cut his initials deeply into the side. The tip of the tote got sheared off at one point and they decided to smooth it down and pretend it always looked like that.
Good
JRI1103
75
250
6401-147
6401-147 T.J. MMASTER moving filletster. 16in long 3 1-2in body. Decent overall condition noting chip from throat chips from edge of tote and nicker wedge badly worn good butcher iron good clear eagle mark on toe -type B1 in AWP-.
Good
JRI1096
70
140
6401-148
6401-148 Gutter plane. Probably a fore plane adapted to cut 3 1-4in cutters since the throat is wider at the sides. Body is good with a few tight cracks end of tote sheared off and rounded over years ago. Good BUTCHER cutter.
Good
JRI1250
50
100
6401-149
6401-149 Gutter plane. 21in jack plane rounded to cut a 3 1-4in gutter. Body is dirty and has some dinging but intact good wedge missing cutter the tote has a chip out of the top and crack at the base and is reinforced with an iron brace that looks original. Very unusual design. Unsigned.
Good minus
JRI1215
50
100
6401-150
6401-150 OGONTZ TOOL CO. razee body jointer plane. 26in length. Dark wood good overall body wedge tote and strike button some light dinging but no damage. SARGENT cutter. Toe also marked 05.
Good
DWH91
30
60
6401-151
6401-151 CAYUGA jointer plane. The Cayuga NY mark has three stars for rarity in AWP and could be an imprint of Auburn Tool Co. 28in long immaculate body and wedge chip from end of tote good Ohio Tool Co. cutter slightly spalled.
Good plus
JRI1218
80
160
6401-152
6401-152 Lot of two wooden jointers. Both 26in First signed PETER NEFF and SONS a Cincinnati hardware dealer 1849-1865 -2 stars in AWP- in overall good condition with a few tight checks in the toe and small chips from the tote edge. Second has a very small mark that looks like O. CHAPES that I could identify wood a little more worn with a flat strike button Moulson Bros. cutter.
Good
GAN43D
90
180
6401-153
6401-153 J. M. TABER wooden jointer. Very clean overall condition with just minor dinging prominent and undamaged strike button 26in long. Nice clear mark with J.M. TABER and NEW BEDFORD upside down to each other which AWP doesnt mention.
Good plus
GAN43X
60
120
6401-154
6401-154 SCIOTO WORK wooden jointer plane. 28in long wood is in immaculate condition with a few dings on the wedge good strike button owners mark on top.
Good plus
JRI1216
75
150
6401-155
6401-155 Lot of two English wooden jointers. A 26in model with MULHOLLAND and BAKER in script on the toe which I could find in any reference. In good overall condition noting a tight crack behind the tote and some staining on one edge W. Kent cutter. Plus a 21 1-2in model by D. KING and SONS of Birmingham a darker heavier wood old repairs around throat some dings inactive worm and paint splatters.
Good
GAN43A 43B
90
180
6401-156
6401-156 Lot of two wooden jointers. Both 26in One RICHARD CANNADINE of London in nice clean condition WARD cutter with some pitting. And one by HILL and WINSHIP of Springfield MA in rougher condition with a chip out of the sole deep dings in the wedge and the diamond strike button flat Ibbotson cutter.
Good
GAN43C
100
180
6401-157
6401-157 OHIO TOOL CO. lying quirked ogee. 5-8in profile. No boxing very good condition noting one inactive worm hole.
Good plus
DBR28
35
65
6401-158
6401-158 D.R. BARTON quirk ogee. 1-1-2in profile. Type E mark very clean condition - boxing is particularly nice.
Good plus
DBR32
45
80
6401-159
6401-159 Lot of four rounds. 1 1-2in 1 1-4in 1 5-8in GREENFIELD TOOL H.L. JAMES OHIO TOOL CO. and ARROWMAMMETT WORKS. All in good clean condition.
Good
DBR31 39 40 41
55
100
6401-160
6401-160 ROUTLEDGE complex molder. Complex pattern including fillet dropped astragal and ogee. Boxed heel is marked with R. ROUTLEDGE BIRMINGHAM. Several cracks in heel otherwise good clean condition.
Good
JRI645
35
70
6401-161
6401-161 OHIO TOOL CO. hollow and round pair. No. 5 with 7-8in profile. Some dinging but good overall condition.
Good
DBR23 44
30
60
6401-162
6401-162 SCOVILL molder. Lying reverse ogee joining quirk and bevel. Boxed very good overall condition noting one long chip out of top. Type C mark two stars in AWP.
Good plus
JRI811
40
80
6401-163
6401-163 OHIO TOOL CO. lying ogee. 3-4in profile marked 59 1-2. Very clean condtion.
Good plus
DBR33
40
75
6401-164
6401-164 Lot of three molding planes. 3-8in boxed side bead by RANDALL and COOK of Albany unsigned complex molder astragal and quirked ovolo with handle hole through body and side bead with a missing fence by CAULDWALL - not in AWP but looks American.
Good and better
BB149 152 153
45
90
6401-165
6401-165 H.WELLS dovetail plane. Cuts 1in 45 degree diagonal surface extra clear stamp with the eagle which rates three stars in AWP. A rare plane with a rare mark.
Good
BB86
50
100
6401-166
6401-166 AUBURN TOOL CO. reverse ogee. Cuts 1 1-4in profile good clean overall condition.
Good plus
JRI648
35
70
6401-167
*6401-167 Lot of three boxed beading planes. Two by SANDUSKY TOOL -one center bead and one side bead- and a quirked side bead just marked Rochester. All in as-found condition with some dinging cutters rusty and wedges chewed up on ends but no major damage.
Good minus
BB73 104 107
20
40
6401-168
6401-168 HUNT and WISEMAN side rabbet. Nice clean example of this uncommon plane type from a St. Louis firm. Wedge chewed up but body good.
Good
DBR51
30
60
6401-169
*6401-169 A. CUMINGS plank match tongue and groove planes. Well worn with surface rust on cutters and iron fences wood is worn and dirty and groove cutter is missing the top of tote - an old loss so worn it almost looks like it was designed that way. Cumings Boston mark.
Good minus
BB79
25
50
6401-170
6401-170 KENNEDY and WHITE adjustable sash plane. Body clean wedges a little chewed on the ends and very tight but I think its just swelling of the wood they look original.
Good
BB162
30
60
6401-171
6401-171 OHIO TOOL CO. No. 64 complex molder. Fillet and quirk ovolo. 7-8in. Double boxed. Closed crack in body and some staining otherwise good.
Good
DBR52
30
60
6401-172
6401-172 Lot of three D.R. BARTON side beads. 3-4in 1-2in and 1-4in -including quirk-. D E and F marks. All boxed. 1-4in double boxed.
Good
DBR34 48 49
50
90
6401-173
6401-173 OHIO TOOL CO. No. 62 1-2 ogee. 1 1-4in overall profile quirked at one end boxing strips nailed on. Good clean condition.
Good
DBR36
30
60
6401-174
6401-174 OHIO TOOL CO. hollow and round pair. No. 6 with 1in profile. A few paint spots otherwise super clean.
Good
DBR15 19
30
60
6401-175
6401-175 OHIO TOOL CO. No. 43 1-2 cove plane. Cuts a 3-4in quirked cove with an integral fence. A couple of closed cracks in the body.
Good
DBR47
30
60
6401-176
6401-176 Lot of two groove cutting planes. A CASE and CO. No. 9 in very nice condition and an A.C. BARTLETTS -Type A mark- No. 66 in rougher condition with the side boxing coming loose. Both cut 1-4in grooves.
Good
DBR37 43
50
80
6401-177
6401-177 Lot of two OHIO TOOL CO. beads. No. 41 1-4in center bead double boxed and No. 37 1-4in boxed side bead. Both in nice clean overall condition noting a couple of paint spots on the center bead.
Good
DBR29 45
35
65
6401-178
6401-178 J. ANGERMYER quirked ogee plane - 4 stars. Boxed at both sides of the ogee. The plane is in immaculate condition with no damage noting a couple of cracks in the boxing strips and light surface rust on the cutter. Angermyer has four stars in AWP probably worked in western Pennsylvania circa 1830.
Fine
JRI572
60
120
6401-179
6401-179 Lot of two one-star 5-8in rounds. EDGERTON of Buffalo and CHILD PRATT and CO. of St. Louis. Two uncommon makers from the middle of the 19th century both in good clean condition.
Good
DBR21 35
35
65
6401-180
*6401-180 SANDUSKY TOOL CO. skew rabbet plane. 1-2in sole wood has a raw look and feel unusual in a plane this edge remnants of tape on one side good clean wedge and cutter.
Good
JRI643
25
50
6401-181
6401-181 AUBURN TOOL CO. recessed casing plane. Cuts a 7-8in recessed quarter round very clean with almost no dinging good wedge.
Fine
JRI571
50
100
6401-182
6401-182 Unmarked hollow and round pair. 1-2in hollow and round. Some minor staining but otherwise good clean condition.
Good plus
DBR30 46
30
60
6401-183
6401-183 ISRAEL WHITE complex molder. Looks like a quirked ogee and astragal. Both the quirk and astragal have inset boxing. Wood is well worn with rounded edges and a handle hole drilled through it but no major damage good wedge. The mark isnt exactly like any of them in AWP it has ISRAEL WHITE WARRANTED and PHILA on three lines with stars at the ends of each line but no eagle. Nice J user initial on side.
Good
JRI574
70
140
6401-184
6401-184 EDGERTON rabbet plane. 1 5-8in rabbet. Orrin Edgerton worked in Buffalo 1836-1847. One star in AWP. Body in very clean condition a couple of nicks in the wedge.
Fine
DBR38
45
90
6401-185
6401-185 OHIO TOOL CO. No. 48 standing filletster. Cuts 5-8in rabbet nicker depth stop and open rabbet throat. Nice clean condition.
Good plus
DBR42
35
70
6401-186
6401-186 Adjustable sash plane. Unsigned good overall condition nuts a little tight but threads good one wedge may be a replacement.
Good
JRI568
45
90
6401-187
6401-187 Lot of two wooden marking gauges. An unmarked STANLEY No. 65 rosewood oval head in super clean condition. And a beech example with a mark on it that Ive seen but cant make out the name a little dirty with a hang hole but nice and straight.
Good and better
CDE1847 1854
40
80
6401-188
6401-188 Lot of two STANLEY wooden gauges. Very clean No. 61 beech marking with notched rectangle mark. Plus unmarked rosewood No. 77 mortise gauge with good points and only minor dinging.
Good and better
CDE1824 1858
40
80
6401-189
6401-189 Lot of two STANLEY wooden gauges. Marked beech No. 64 1-2 very clean. Plus an unmarked rosewood No. 77 with some dents along the stem and owner initials on head points worn down.
Good and better
CDE1836 1857
35
70
6401-190
6401-190 Lot of two STANLEY wooden gauges. Very clean unmarked beech No. 65 marking gauge. Plus No. 77 marked only with patent date good points only a few minor dings.
Good plus
CDE1812 1860
40
80
6401-191
6401-191 Lot of two STANLEY wooden gauges. No. 65 beech marking gauge and No. 77 rosewood mortise gauge. Both with some dinging but no major damage points good No. 65 is missing the brass shoe No. 77 has unusual brass washer around thumbscrew.
Good
CDE1823 1853
30
60
6401-192
*6401-192 Lot of two user made marking gauges. Double leg type looks hand carved with cast iron screws. Plus a boxwood one with round head nicely made but with some cracks in the head double points.
Good minus
CDE1827 1878
20
40
6401-193
6401-193 Lot of two STANLEY measuring tools. STANLEY No. 92 butt and mortise gauge. Stanleys top of the line gauge with brass stem and rosewood head. Some toolbox dinging but nice and clean overall with the often missing steel scribe present. Plus a STANLEY No. 41 square level with the sheet brass cover replacement screw.
Good plus
DUS46 52
40
80
6401-194
6401-194 W. MARPLES mortise gauge. Rosewood two brass strips in head wood and brass are in very good condition pins good.
Good plus
CDE1840
40
80
6401-195
*6401-195 Unmarked internal screw mortise gauge. Boxwood full brass plate on head a couple of dents on the shaft where it was tightened but overall very nice clean condition.
Good plus
CDE1820
25
50
6401-196
*6401-196 Ultimatum style mortise gauge with solid brass stem. Ebony head maker looks like Carlisle. Screw head a little chewed but otherwise nice condition.
Good
CDE1833
25
50
6401-197
6401-197 Lot of three STANLEY measuring tools. No. 260 torpedo level and No. 136 1-2 caliper rule both in immaculate near new condition. Plus a 66 1-2 carpenters rule worn and slightly sprung but no major damage. Fine except 66 1-2 rule.
Fine except 66 1/2 rule
GNM95 96 125
35
70
6401-198
6401-198 Lot of two STANLEY rules. No. 62 fourfold a little dirty but no damage one pin missing. And a No. 32 caliper rule also dirty and with interior pins missing.
Good
UNK107
35
70
6401-199
6401-199 STANLEY No. 53 1-2 architect rule. Outside a little worn couple of small stains good pins and hinge.
Good
GNM90
30
60
6401-200
*6401-200 Lot of two STANLEY measuring tools. No. 62 fourfold carpenters rule surface dirt but straight with good pins and a No. 12TS try square 6in version with blued steel finish in very clean condition.
Good plus
GAN487
20
40
6401-201
6401-201 Lot of two metal rules. Four foot folding steel rule a little surface rust but nothing major. And a 100mm folding brass rule in nice condition. Both unsigned.
Good
DUP235
30
60
6401-202
6401-202 Lot of two measuring tools. FARRAND Rapid Rule marked with patent dates and manufactured by Hiram Farrand before it was acquired by Stanley in brass case some oxidation on rule. Plus a lateral gauge marked Erie RR 7in long.
Good
BB208
75
125
6401-203
*6401-203 STANLEY No. 62 1-2 carpenters rule. Fourfold two-foot brassbound narrow rule. Some minor staining but fully readable straight with all pins present.
Good plus
DUP199
25
50
6401-204
*6401-204 Lot of two bevels. UNIVERSAL bevel 5 1-2in with aluminum body. And a 6in STANLEY No. 25 with rosewood handle.
Good plus
FNK464 476
25
50
6401-205
6401-205 DISSTON locking bevel. 8in blade lightly pitted 5in rosewood handle with brass trim and locking lever some dinging. Nice example of an uncommon Disston tool.
Good
CRT37A
30
60
6401-206
6401-206 W.S. STALEY Sheffield style brace. Nice beech body cocobolo head may have been varnished nice clean pushbutton chuck 8in sweep.
Good plus
NW755
75
150
6401-207
6401-207 T.E.WELLS Sheffield style brace. Nice red beech body cocobolo head a little loose with some chipping brass chuck a little dinged but works. 8in sweep.
Good
NW815
40
80
6401-208
6401-208 SLATER Sheffield brace. Body in decent shape worn and patinated but no big cracks or damage nice head a little loose 3 1-2in throw.
Good
JRI199
45
90
6401-209
6401-209 WM. MARPLES and SONS plated Sheffield brace. Red beech body in good overall condition head has one big crack and Hibernia Works medallion -worn- 3 1-2in throw.
Good
JRI180
45
90
6401-210
6401-210 F. WALTER and CO. plated Sheffield brace. Red beech body in nice condition a little corrosion around the screws head is tight but good shape with nice medallion 3 1-2in throw.
Good plus
JRI177
55
110
6401-211
6401-211 PALSER and SON Sheffield brace. Well used trade brace with chip out of edge of rosewood head pushbutton chuck.
Good
CDE1660
50
100
6401-212
6401-212 BROWN and FLATHER plated Sheffield brace. Good overall condition a couple of minor tight cracks good lignum head working pushbutton chuck 3 1-2in throw.
Good plus
JRI192
100
200
6401-213
6401-213 Unplated Sheffield style brace. Unmarked beech body is in good condition ebony head unchipped and turns smoothly. A nice example of an unsigned trade brace.
Good plus
CDE1594
35
70
6401-214
6401-214 TILLOTSON and CO. plated Sheffield brace. Has Tillotsons unique rotating chuck lock body and head both in very nice condition head a little tight owner initials stamped in brass 3 1-2in throw.
Good plus
JRI178
70
140
6401-215
6401-215 Chairmakers brace. Nice beech construction wide wooden head that works smoothly coat of shiny varnish. Friction fit chuck with brass ring no pods 7in sweep.
Good plus
NW816
45
90
6401-216
6401-216 Lot of three primitive Scandinavian style braces. One large and crudely carved and big crack in chuck repaired with old nail but loose nicely carved and fit head 7in sweep. Second with one spoon big pod needs a stick through a hole in the chuck to keep it from turning a couple of cracks in head iron ring around chuck and old repair to rear of chuck 8in sweep. And a miniature version with 4in sweep iron ring around base by head chuck collar missing.
Fair
NW752 654 826
30
60
6401-217
6401-217 STANLEY No. 8 spofford brace. Has the US Army Ordinance mark on the thumbscrew. 8in sweep. Black paint complete except for some missing spots on head.
Good
CDE1914
40
80
6401-218
6401-218 Brace with wide chest plate. Looks manufactured but the only mark on it is 587in and 5. Wide chest plate works very smoothly chuck is an integral part of the body with a set screw. 6in sweep.
Good plus
CDE1917
35
70
6401-219
6401-219 PECK STOWE and WILCOX NO. 1002 ratcheting bit brace. Has the ratcheting mechanism with flip-out pawls characteristic of 1880 era PSandW braces good rosewood head and grip. 10in sweep. Some dinging but works smoothly and never polished.
Good plus
CDE523
40
80
6401-220
6401-220 BARTHOLOMEW patent brace. Clearly marked with Bartholomews 5-14-1870 patent for the chuck jaws. Also marked 116. Appears to have been manufactured by Bartholomew prior to the acquisition by Stanley. Metal is discolored but not rusted fruitwood handle and grip are good. 8in sweep.
Good
CDE504
35
70
6401-221
6401-221 AMIDON patent ratchet brace. Amidons 1883 patent with a square pawl that is rotated by hand to change the ratchett setting. The brace is unmarked and Im not sure if these were manufactured by Millers Falls or one of Amidons other companies. Brace has some surface pitting but is intact with good head and grip. 10in sweep.
Good
CDE510
35
70
6401-222
6401-222 Lot of two early patented braces. Taylor-type brace similar to that patented by Jeremy Taylor in 1836 with a spring-activated chuck lever. Unmarked and probably not made by Taylor since similar braces of the era are quite common in decent condition for age with some shallow pitting and the head a little loose. 7in sweep. Plus an unmarked example of Abel Streeters 1857 patent with thumbscrew locking chuck nice and clean but no plug in handle.
Good
CDE505 509
40
80
6401-223
6401-223 Unusual ratchet brace. No marking and with a ratchet mechanism I havent seen before. Its in a nonmagnetic metal housing - probably tin - with a pin that is lifted and turned to reverse or lock the ratchet. Different. Stained hardwood handle and grip handle is wobby and missing a plug.
Good
CDE507
30
60
6401-224
6401-224 BACKUS patent brace. Based on Quimby Backus first 1872 patent and the subject of a protracted lawsuit with Millers Falls. Marked only No. 9. A few small chips out of the head otherwise in very clean condition. 9in sweep.
Good
CDE306
35
70
6401-225
6401-225 FRAY No. 107 spofford brace. Very nice example of the Spofford type braces that were the mainstay of the JOHN S. FRAY line. Good rosewood head and split grip with the pewter rings. 7in throw.
Good plus
CDE516
40
80
6401-226
6401-226 BACKUS Draper-type bit brace. Quimby Backus acquired Drapers chuck patent and reworked it into this clamshell design with two jaws that are forced together by a cone to grip a square tang. Marked on No. 9. Some dinging on metal and walnut head and grip but overall good condition 8in sweep.
Good
CDE328
40
80
6401-227
6401-227 STANLEY No. 8 spofford brace. Has the US Army Ordinance mark on the thumbscrew. 8in sweep. Black paint mostly complete except for some missing patches on head.
Good
CDE526
40
80
6401-228
6401-228 E.C. SIMMONS No. 100 brace. Marked E.C. SIMMONS T.B. BRACES which isnt a common Simmons mark. Almost certainly made by PECK STOWE and WILCOX for Simmons. Split walnut grip with pewter rings small chip in one half cocobolo head. Nice cleaned condition 10in sweep.
Good plus
CDE525
35
70
6401-229
6401-229 Lot of two thumbscrew locking braces. Neither is marked. One has the thumbscrew on top of the chuck -probably Streeters patent- the other on the side -probably Bartholomews patent-. Good clean overall condition one with a 9in throw is more dinged up and head a little loose the other with 8in throw is very good.
Good and better
CDE515 524
45
90
6401-230
6401-230 User made brace. Unusual chuck with flat tang folded back over itself and locking thumbscrew. Cast iron head steel sleeve for grip. Nicely made includes augur bit.
Good plus
CDE512
30
60
6401-231
6401-231 Lot of two ratchet braces. Neither is marked with a maker although one is marked Anniversary. One looks like a MILLERS FALLS with a Lion chuck and 10in sweep good rosewood head and grip. The other might also be a MF or possible STANLEY although not sure what model also 10in sweep. Both have half-boxed ratchets that work smoothly and are in nice clean condition.
Good plus
CDE508 517
50
100
6401-232
6401-232 Lot of two bit braces. One has a ratchet mechanism that looks a little like the PFLEGHAR patent but Im not sure mechanism a little sloppy and metal has been cleaned with light pitting but nice linum vitae head and grip 9in sweep. The other one is unmarked but Ive seen them a Spofford type chuck and unusually small head 10in sweep.
Good
CDE320 529
50
100
6401-233
6401-233 Lot of two DAVIS braces. Two braces manufactured by DAVIS LEVEL and TOOL CO. Older pre-ratchet version with brass collar around chuck japanning worn and brass discolored but would clean up well dinging on head but no major damage 12in sweep. And the nickel plated type with BOLEN patent ratchet mechanism lots of surface rust and big chip out of cocobolo grip head loose. A restoration project with a 14in sweep.
Fair
NW819 824
30
60
6401-234
6401-234 STACKPOLE patented brace. Stackpoles 1867 patent with the rotating collar the less common and more attractive brass collar version. Some dings in the brass. 6in sweep.
Good
NW821
60
120
6401-235
6401-235 AMIDON patented brace. Has Charles Amidons 3-19-78 patented chuck. Brace is otherwise unmarked. Closed crack in head otherwise good condition. 7in throw.
Good
CDE530
40
80
6401-236
6401-236 Lot of two braces. TAYLOR patent type with no spring in chuck catch surface corrosion and some paint spotting 8in sweep. And a heavy cast iron one with hole for square tang bits copper grip 7in sweep.
Good minus
NW822 825
30
60
6401-237
6401-237 Lot of two patented braces. First one has a knob on the rear of the chuck that draws the jaws in to tighten it. Ive seen it but cant place the patent. Rosewood head has a big chip and grip has been repaired with copper wire. Other one is newer with an unusual knob activated ratchet marked only FORGED STEEL USA rusty.
Good minus
NW820 823
50
100
6401-238
6401-238 Roll of miniature tools. Very strange set of tools. There are a number of individual files and miniature gouges and carving tools plus a number of tools designed for a handle. There are three handles that are clearly a matched set but the tools dont seem to fit them. Plus a small screw plate with 60 holes that must have been for a watchmaker or jeweler. All in a nice intact felt roll.
Good
NW1930
50
100
6401-239
6401-239 Lot of glass cutters. One compass style and six hand held. Two are french with brass handles three with wooden handles and marked KARELSEN P.H. SINS and RED. Last one is all metal and unmarked.
Good and better
NW1884 1903 1904 1948 1955 1956 1957
60
120
6401-240
6401-240 Mounted set of gimlets. A set of eight gimlets of different sizes and handle shapes -both wood and iron- mounted on a plastic board. There are old labels on them some seem to indicate who they belonged to and some are just numbers. Unfortunately too late to ask the owner what the tags signified but they make an oddly compelling display or just take them off and use them.
Good
NW1938
60
120
6401-241
6401-241 Figural calipers. Not as graphic or Junoesque as some examples but if youre a leg man this is the one for you.
Good
ALV211
55
110
6401-242
6401-242 Lot of watchmakers and jewelers tools. A small brass vise marked TEVIN a hand vise with a 5-29-94 patent date what looks like a spring compressor and some others that Im guessing on because they came with a batch of jewelers tools.
Good
NW1874 1887 1905 1916 1921 1926 1954 1984
30
60
6401-243
6401-243 Carving mallet. Burl head in very nice condition almost no marking nicely turned original handle. This is as pretty as carving mallets get.
Fine
JRI898
55
110
6401-244
6401-244 Carving mallet. Good solid head looks like walnut a couple of cracks and chips handle has a couple of holes drilled in it.
Good minus
JRI897
30
60
6401-245
*6401-245 Carving mallet. Unsigned little used original handle some inactive worm.
Good
JRI899
15
30
6401-246
6401-246 Carvers mallet and beading router Heavy oak-maybe- head good solid original handle well used but attractive old tool. Plus a coachmakers double router unsigned and probably user made in clean condition.
Good
LEE886 844
40
80
6401-247
6401-247 Lot of three coopers hoop drivers. 9in long nicely turned handle head thoroughly spalled. Plus 7in long looks factory made head thoroughly spalled old split in head repaired with iron bolt. Plus craftsman made looks unused 7in long.
Good minus
JRI919 920 922
45
90
6401-248
6401-248 Lot of two coopers hoop drivers. 8in long good condition with head only slightly spalled. Plus 8in long iron ring head thoroughly spalled.
Good
JRI918 921
30
60
6401-249
6401-249 Lot of 20 wooden spokeshaves. All wooden fixed blade types most unmarked most boxwood both straight and curved soles.
Good and better
GAN848
50
100
6401-250
6401-250 Lot of 8 wooden spokeshaves. Unsigned darker wood such as red beech some gullwing shapes with convex soles others straight soles. All have fixed blade one or two with brass sole plates.
Good and better
GAN486
35
70
6401-251
6401-251 Lot of two STANLEY shaves. STANLEY No. 65 chamfer shave with sweetheart mark. Light surface corrosion and japanning worn but complete and would clean up nicely. Plus a STANLEY No. 51 raised handle shave surface rust and missing adjusting screw.
Good
DT 20 41
40
80
6401-252
6401-252 Lot of two STANLEY lightweight spokeshaves. No 64 with no model number sweetheart mark on cutter. Japanning about 75prcnt. And a No. 63 also with sweetheart mark but more rust on cutter and some paint on body.
Good
GNM157 159
40
80
6401-253
6401-253 Lot of four cast iron gullwing spokeshaves. Two are marked with a star on one arm and a number -8 and 9- on the other third is marked only with a 7in fourth is unmarked. Convex soles of different diameters. Dirty but very little rust no pitting.
Good
GAN482
30
60
6401-254
6401-254 Ebony spokeshave. Unmarked but looks manufactured. Similar to a STANLEY No. 81 or 82 razor edge but unmarked. 12in with 2 1-4in fixed blade. Dirty with some surface corrosion and chip out of one end but an attractive tool that would clean up well.
Good
BB169
80
160
6401-255
6401-255 Lot of 20 smaller wooden spokeshaves. Shorter and more delicate shaves for finer work shortest is 4in long. All boxwood with fixed blades most unmarked but a couple are marked MARPLES and one has a Sheffield decal.
Good and better
GAN483
50
100
6401-256
6401-256 Cast iron log caliper. Cast iron but looks manufactured. 29in long log scales on sides thumbscrew tightened jaws.
Good plus
GAN132
70
140
6401-257
6401-257 Large bench-mounted saw vise. Unmarked but clearly manufactured. 9in long with bench mount and locking swivel. Japanning worn and some surface rust.
Good
CDE2427
55
110
6401-258
6401-258 Set of spoon bits. Longest is 17in square tang bits includes 9-32 5-16 3-8 13-32 19-32 47-64 23-32.
Good
JAR142
40
80
6401-259
6401-259 Lot of two spring balances. Unusually large CHATILLON balance with brass face. John Chatillon and Sons was the leading manufacturer of scales and balances in New York. And an unusual model with external spring labelled PELOUZE SCALE AND MFG. CO. CHICAGO.Both calibrated to 100 lbs.
Good plus
CGD240 299
110
220
6401-260
6401-260 SIBLEY patented sighting level. One of the earliest sighting levels. Missing the removable sights as most are but otherwise good condition with wet vial.
Good
ZOM559
35
70
6401-261
6401-261 Machinists adjustable trammel point set. Unsigned but clearly manufactured includes a bar with two points one with fine adjustment and some additional parts that look similar but may not all be part of the same set including a rod broken at end. In a sliding lid wooden box.
Good
BB18
60
120
6401-262
6401-262 SAWYER TOOL CO. trammel point set. Includes three 14in bars two point holders with straight points set of two curved points and two collars to lock the bars together -one with replaced screw-. A little surface rust but very nice and unusual set. In a wooden box with sliding lid dont know if it is original.
Good plus
BB17
100
200
6401-263
6401-263 Lot of hollow augers. Fixed 3-4in diameter by JAMES SWAN in good condition. Plus an unmarked adjustable that looks like one of the STEARNS patent but Im not sure japanning about 60prcnt and some surface rust but it has its depth stop. Plus a 1in heavy duty tenon cutter that looks like its designed to be chucked in a lathe.
Good
VIN29 37 56
40
80
6401-264
6401-264 Lot of three bitstock tools. Two fixed diameter hollow augers -one 1-2 one 7-8in- with same owner stamp and a dowel pointer. Plus unsigned hollow auger.
Good
BB189 194
40
80
6401-265
6401-265 BONNEY patent hollow auger. Rotating collar design was patented in 1870 by Charles Bonney but largely overshadowed by the similar Stearns design the Bonney is much rarer. Complete including depth stop with some loss of japanning and surface rust.
Good
BB197
50
80
6401-266
6401-266 A.A.WOODS hollow auger. Complete with depth stop japanning worn and surface rust.
Good
BB187
30
70
6401-267
6401-267 Lot of two bitstock tools. Adjustable washer cutter with two sliding arms secured by thumbscrews mfd. by PETER LOWENTRAUT of Newark. Plus an adjustable hollow auger probably patented but I dont recognize it covered with surface rust but undamaged.
Good and better
BB188 191
60
100
6401-268
*6401-268 O. ZERNIKOW tachometer. Measures revolutions per minute. Zernickow is still in business but this has an early 20th century look glass face is broken and needs to be replaced and gears seem to skip so for display rather than use.
Fair
BB182
20
40
6401-269
6401-269 Jewelers vise. Anvil is 3 1-2in long rusty set in heavy lead base.
Good
BB154
30
60
6401-270
6401-270 Lot of two cast iron tools. Hacksaw with heavy cast iron frame and turned wooden handle. And a pair of what appear to be blacksmith made calipers need a little WD-40 but still work.
Good
BB196 204
35
75
6401-271
*6401-271 Lot of C clamps. The large one was patented in 1900 by James Taylor of Newark and is unusual. Plus an assortment of five later clamps in different sizes.
Good and better
JAR224 225 226 227 228 229 282
20
40
6401-272
*6401-272 STANLEY No. 49 bit gauge IOB. Good clean condition. Box is tattered but intact with good label.
Good plus
JAR284
20
40
6401-273
*6401-273 DISSTON saw vice. Marked HENRY DISTON and SONS. Surface rust and japanning worn but still solid. Just has a hole on the end - dont know if it originally had a more elaborate mounting mechanism.
Good minus
JAR52
20
40
6401-274
*6401-274 Lot of two. A semi-circular protractor of heavy brass with an aluminum vial carrier that swivels around it vial missing. Marked patent pending but Ive never seen it before. Also a Greens patent pocket level missing its vial and clamping screw.
Fair
NW112 117
20
40
6401-275
6401-275 Lot of two saw vises and a clamp. Saw vises 4in and 6in 4in is marked HILGER and SONS 6in may be handforged. Plus a handforged 4 1-4in c-clamp of graphic form.
Good
CDE2429 2561 2565
55
100
6401-276
*6401-276 STANLEY No. 89 clapboard gauge. Some slight loss of nickel and a few spots of surface rust but overall good conditon for this uncommon gauge.
Good
RPG3
20
40
6401-277
6401-277 Rams-horn shave. Heavy-duty tool I think missing its blade and cap iron. Old iron is rusty and has some cracks wooden handles well worn. Decorative scalloped edges and could be manufactured but no readable name. Different. 16in long.
Fair
GAN220
30
60
6401-278
6401-278 Solid iron coopers chamfering howel. Unusual all metal version of the tool used to shape the indentation around the inside end of the barrel staves. Marked MADE BY C.F. CLOSE ROCHESTER NY PAT. APPD FOR. Mr. Close in fact received his patent in 1913. The two nuts that hold the fence dont exactly match one may be an old replacement but it looks good. A rare tool that no coopers tool collector can afford to miss.
Good
GAN219
75
150
6401-279
6401-279 Lot of two axe heads. Western pattern broad axe has a name that ends in LKS 12 1-2in blade. Plus an unusual design like a felling axe but shaped almost like a trade axe looks hand forged with steel edge. Both have surface corrosion but solid and complete.
Good
GAN224 226
60
120
6401-280
6401-280 Bowl adze. Extra wide 9in blade some surface rust but solid and sharp good solid old handle with some tight cracks and a hang hole.
Good
GAN218
70
140
6401-281
6401-281 D. SIMMONS and CO. broad axe head. In very good condition with minimal surface rust and good sharp 13 1-2in blade.
Good plus
GAN223
50
90
6401-282
6401-282 STANLEY Defiance hand axe. Hand hewing axe in immaculate condition original handle with almost complete decal 16 1-2in long.
Fine
GAN225
60
120
6401-283
6401-283 Firemans axe. Early style unmarked good clean blade with downward curving spike thats probably been cleaned but not obnoxiously crack in metal by eye. Looks like original handle loose and needs a wedge.
Good
LBD513
85
170
6401-284
6401-284 Carpenters adze. 6in blade hammerhead poll rusty but intact. Old handle that needs tightening.
Good
ALV556
30
60
6401-285
6401-285 Froe. Probably hand forged blade has a couple of chips on the edge but well above average solid old handle. 13 1-2in blade 15 1-2in handle.
Good
GAN229
40
80
6401-286
6401-286 Lot of 3 saws. DISSTON saw not sure what this was used for. Short -16in- blade with steep curve 7 tpi handle looks like rosewood worn with some light chipping along edge Disston medallion 1934in stamped on blade. Plus crosscut no visible etching on blade or makers mark. Medallion just says warranted superior. 20in blade 7 tpi good handle. Plus JACKSON smaller saw 18in blade good medallion 9 tpi some surface discoloration on blade but etching clearly visible good handle with large B scratched in it.
Good
TKY13 23 32
70
140
6401-287
6401-287 DISSTON No. D-8 crosscut saw. Pretty sure it s a D-8 skewback although the etching is not visible. Good handle with the dual grip thumbhole with minor dinging. Surface corrosion on blade. 6 ppi.
Good
GRN5
30
60
6401-288
6401-288 DISSTON No. 12 ripsaw. 1880s version good clean blade with legible etching and user name chip-carved applewood handle with some wear and a small chip from lower horn. 4 1-2 ppi.
Good
GRN4
30
60
6401-289
*6401-289 Lot of two keyhole saws. One has etching on blade that looks like Milford and Made in USA the other one is unmarked. First has wingnut attachment for exchangeable blades. Good users.
Good
TKY24 35
20
40
6401-290
6401-290 E.C. ATKINS small crosscut saw. 16 1-2in blade 11 ppi. Etching is visible although blade is discolored chip-carved applewood handle has wear but no major chips.
Good minus
GRN3
30
60
6401-291
*6401-291 Hacksaw. Old model with solid iron frame and older iron blade turned hardwood handle. Surface rust but intact.
Good
LEE854
25
50
6401-292
6401-292 Panel saw. Medallion marked only Warranted Superior so probably a secondary line acquired by Disston. 20in blade 9 tpi discolored and no etch visible good applewood handle with wheatsheaf.
Good
COL137
30
60
6401-293
6401-293 Lot of two saws. DISSTON panel saw probably from around 1900 based on medallion 20in handle 10 tpi crosscut. Discolored blade no visible etch decent handle with elaborate wheatsheaf and small chip from top horn. Plus a STANLEY No. 42 saw set in decent condition.
Good minus
CRT24 132
30
60
6401-294
6401-294 Lot of two handsaws. A DISSTON D-23 7 tpi crosscut good clean example of this workhorse of the later Disston line minor roughness on handle and etch visible. Plus a WOODROUGH and MCPARLIN 10 tpi rip saw top horn of handle has been repaired blade discolored but etch visible one nut missing. A project saw.
Good plus (Disston only)
SSA107 109
40
80
6401-295
6401-295 Lot of four DISSTON handsaws. Various models all with surface discoloration to blades and handle damage. Offered for restoration or parts.
Mixed
SSA100 102 110 268
30
60
6401-296
6401-296 Lot of two handsaws. Nice clean KEEN KUTTER - SHAPLEIGH HARDWARE Marathon No. 1922 rip saw with 25in blade and 7 tpi clean blade with good etch small chip out of top horn. And a HARVEY W. PEACE crosscut 22in blade and 11 tpi. Has Hankin and Tinneys patent handle reinforcement but the bottom horn broke off anyway. Rusty blade no visible etch.
Good and better
TKY8 10
60
120
6401-297
6401-297 Lot of two handsaws. 1840s era DISSTON rip saw with Optimistic Eagle medallion and split nuts 28in blade 5 tpi. Nib on blade blade is discolored but old Henry Disston stamp visible minor chips on applewood handle. Plus an E.C. ATKINS pruning saw surface discoloration and a few chips out of handle but solid worker.
Good and better
NW1037 1038
90
180
6401-298
6401-298 SANDVIK crosscut saw. 26in blade with 9 tpi. Very light surface rust but etching clearly visible nice decorative handle from the premier Swedish saw maker.
Good plus
SSA108
30
60
6401-299
6401-299 CRAFTSMAN crosscut saw. 26in inch blade with 10 tpi. Handle has some dings but no major damage. Sure it s a Craftsman but a perfect user.
Good plus
SSA106
30
60
6401-300
6401-300 Lot of four small levels. Hand sighting level used by U.S. Army in original box with instructions two STANLEY square levels one with thin brass face and one with cast iron and a level from a protractor.
Good
NW1812 1870 1959 1960
40
80
6401-301
6401-301 STANLEY NO. 83C fourfold caliper rule. Wood is in immaculate condition traces of varnish on brass one missing face pin.
Good plus
LBD44
65
130
6401-302
6401-302 STANLEY No. 36 1-2 caliper rule. Nice clean condition with some loss of lacquer on reverse side notched rectangle mark.
Good
LBD40
35
70
6401-303
6401-303 STANLEY No. 65 1-2 rule. One foot brass bound fourfold rule very clean condition missing one face pin.
Good
LBD30
75
150
6401-304
6401-304 STANLEY No. 3 caliper rule. One of Stanleys smallest fourfold caliper rules in immaculate conditon.
Fine
LBD8
100
200
6401-305
6401-305 STANLEY No. 57 rule. One foot fourfold brass bound rule in very good condition with some wear to outside face nice tight joints.
Good
LBD11
75
150
6401-306
6401-306 Lot of two boxwood log rules. One is unsigned and in very clean condition 15 log scales and ruled. The other is smaller in cross section and has a partial label on which the words Fabian and Maine can be made out so probably by Valentine Fabian of Milo ME. Both 4ft.
Good and better
GAN68A 68B
80
150
6401-307
6401-307 Lot of two boxwood log rules. One is 4ft very clean and marked HOLLAND. The other is 5ft a little more worn with one paint spatter but still completely legible. Both have 12 scales -3 per side-.
Good and better
GAN68C 68D
80
150
6401-308
6401-308 Lot of two LUFKIN log sticks. An unusual metal version marked with six different scales and a square head. Some slight surface discoloration but totally legible. And a hickory version with bulbous handle and hooks on end marked Decimal Scale C Wisconsin Legal Standard worn but legible.
Good
DCR193 233
80
150
6401-309
6401-309 Lot of two LUFKIN log sticks. Both hickory with bulbous handles. One with an end hook and one with a diamond head. Both marked with Scribner Doyle scales. One has very clean markings the other is more worn but still completely legible.
Good and better
DST 669 670
80
150
6401-310
6401-310 Large user made wooden dividers. 23in legs missing one point but well made and used. Paper label on the back of the arc marked Decoration and Finish by A.B. Cole 46. N. Main St. Hornell NY. That label is found on chairs and its possible the arc was made from a chair slat.
Good
COL112
30
60
6401-311
6401-311 BAKER brass rolling navigation chart rule. Solid brass and in immaculate condition. Signed BAKER 244 High Holborn London. Charles Baker worked at that location circa 1830. Has been kept in essentially unused condition by a modern fitted box.
Fine
DST252
125
200
6401-312
6401-312 LUFKIN 066D engineers folding rule. One side marked conventionally in feet and inches the other side in tenths and hundreds of a foot. Light wear but good clean overall condition with tight joints.
Good plus
ALV65
30
60
6401-313
6401-313 Lot of two measuring tools. L.S. STARRETT machinists shafting level vials in good condition but iron base has some serious rust that needs to be cleaned IOB but box is falling apart. Plus a Measurite brass caliper marked US patent 271185 but it doesnt match.
Good
ALV80 49
30
60
6401-314
6401-314 SIMONDS No. 342 crosscut saw tool IOB. Includes setting stake gauge instruction sheet and original invoice. Box is complete and intact. As nice an example as youre liklely to find.
Fine
ALV56
40
80
6401-315
6401-315 Lot of two folding rules. A LUFKIN No. 966 in very clean condition and a yellow rule by MASTER RULE MFG. CO. of NY a little more worn with a couple of paint splatters. Both 6ft rules without extensons.
Good
DST271 273
30
60
6401-316
*6401-316 Lot of four folding rules. STANLEY 266F in nice clean condition LUFKIN No. 460 with more wear and very worn two LUFKIN inside measurement rules.
Good minus
DST266 267 269 270
20
40
6401-317
6401-317 Lot of six STANLEY metal handle try squares. One type 1 No. 2 with the lead fill around the rivets 6in. The rest are Winterbottoms patent combined square and bevel various sizes and types.
Good and better
CRT43
50
100
6401-318
6401-318 Lot of six STANLEY combined square bevels. All based on Winterbottoms patent. Rosewood handles with handy-grooves various models and sizes including one rare 6in metric model offered in 1902 only.
Good and better
CRT40
60
110
6401-319
*6401-319 Lot of two try squares. STANLEY No. 20 with blued steel blade. And a mint new No. 480 by JOHNSON LEVEL and TOOL with stainless blade. Both 8in.
Good plus
JAR264 265
25
50
6401-320
6401-320 Lot of two STANLEY No. 12 try squares. 12in model in very clean condition a little discoloration on blade but completely readable. Plus a 6in model with sweetheart mark a little more rust and some reddish paint on the handle but perfect user.
Good
GNM74 77
30
60
6401-321
6401-321 18in try square. Unsigned with H. MILLER owners mark. Graduations look hand marked. Brass liner edge on rosewood handle hole where there was a stop.
Good
CGD116
50
100
6401-322
*6401-322 Ungraduated try square. 14in blade rosewood handle well worn with brass edge but no major damage four diamond shaped rivet plates.
Good
CDE2219
10
20
6401-323
6401-323 HORTON drawknife. 10in blade surface rust but no pitting and still very sharp nice old wooden handles. Marked HORTON NEW YORK.
Good
JAR50
30
60
6401-324
6401-324 Drawknife. Marked only 9in and has a 9in blade. Some surface rust but no pitting and still very sharp nice old wooden handles.
Good
JAR47
30
60
6401-325
6401-325 PECK STOW and WILCOX drawknife. Marked PS andW NO. 1 EX. 9in blade. Handmade blade guard has kept it sharp and clean. Good old wooden handles. An above average draw and an unusual maker.
Good
JAR44
45
90
6401-326
6401-326 CANTELO patent folding drawknife. Patented in 1891 by John Cantelo of Boston the Thomas Edison of folding drawknife handles with five separate patents. This one uses spring-loaded sliding collars to lock the handles and doesnt work very well. Good sharp 8in blade.
Good minus
JAR51
35
70
6401-327
6401-327 Lot of two adjustable handle drawknives. Large one marked with Watrous 12-15-57 patent and sold by NOBLES MFG. of Elmira. Good sharp 8in blade original handles are worn but solid. And a miniature verson with swiveling handles that lock with allen-head screws 3 1-2in blade.
Good plus
DUS34
45
90
6401-328
6401-328 STANLEY No. 66 hand beader. Nickel plated model. One cutter only.
Good
ALV280
50
100
6401-329
6401-329 CONARD hand auger. 20in long two sides of the handle don t exactly match and one has tight split.
Good
CGD226
30
60
6401-330
6401-330 STANLEY No. 82 scraper. Type 1 with split fork handle and no spring adjustment.
Good
CGD404
30
60
6401-331
6401-331 Patented scraper. Based on a 1906 patent that Ive never been able to find these were sold by Shapleigh Hardware and HSandB. Universal joint in handle and cam locking mechanism for cutter. Some rust but good example of a rare patented scraper.
Good
SSA58
55
110
6401-332
6401-332 Lot of two STARRETT scrapers. Starrett was better known for its machinists tools but they also made some woodworking tools including these cabinet scrapers. A No. 181 and a No. 194 with universal swiveling head. Both have significant rust and the 181 has a chip out of the end of the handle but could be cleaned up for use or display.
Good
SSA57 59
50
100
6401-333
6401-333 Lot of two drawknives. 14in EAGLE brand and a 9 1-2in L and IJ WHITE with offset handles. Both have surface corrosion but good sharp blade solid handles.
Good
JAR45 46
50
100
6401-334
6401-334 BAGSHAW and FIELD spokeshave. Nicely made 12in boxwood shave with fixed blade. Body is well worn but undamaged and good blade.
Good
NJB119
30
60
6401-335
*6401-335 Batwing scraper. Wood 11in long not marked with maker wood is well used and dirty blade rusty.
Fair
BB105
15
30
6401-336
6401-336 STANLEY Type 1 No. 80 cabinet scraper. Leading edge is straight across rather than concave vee logo on cutter holder and cutter patent date on holder. Some wear to japanning on handles otherwise nice and clean.
Good plus
DST358
45
90
6401-337
6401-337 STANLEY Type 1 No. 11 beltmakers plane. Has the vertical adjustment knob characteristic of type 1 original beech handle with some wear good cutter with 1892 patent date japanning and metal all good.
Good plus
GNM254
175
350
6401-338
6401-338 STANLEY No. 68 rabbeting spokeshave. One of Stanleys less common shaves designed to cut rabbets. Surface corrosion on sole and cutter and japanning about 60prcnt.
Good minus
VIN30
55
100
6401-339
6401-339 STANLEY No. 80 cabinet scraper. Early type with leading edge straight across rather than convex sweetheart mark on holder and cutter full decal japanning almost complete. Well above average example.
Good plus
GNM280
50
100
6401-340
6401-340 SANDUSKY grasshopper router. Cuts two narrow parallel grooves for bell wire or weatherstripping. Cast iron cross piece holds two wooden handles on either side. Clean and nice example of an uncommon gizmo.
Good plus
VIN43
150
250
6401-341
6401-341 STANLEY No. 70 box scraper. Earliest model with vee mark on cutter. Handle has some dings but otherwise very good.
Good
DST371
30
60
6401-342
*6401-342 STANLEY No. 70 box scraper. Later model with notched rectangle mark japanning mostly intact hang hole and some dinging in handle.
Good
DST374
25
50
6401-343
6401-343 STANLEY No. 104 level with No. 138 level sights. Both with Sweetheart marks. The level is in very nice condition for a 104 which usually got beat up pretty bad one of the set screws for the level sights is an improper replacement and too long and japanning is worn.
Good minus
GCD403
30
60
6401-344
6401-344 Lot of two cast iron shafting levels. STANLEY No. 36G 24in japanned model with the heavy rib good overall condition with some light rust on vial covers. And a STARRETT 18in model with some wear to japanning level vial may be an old replacement.
Good
CGD401 402
50
80
6401-345
6401-345 Lot of two STANLEY No. 36 machinist levels. Two examples of the level that was the workhorse of the Stanley machinists line for 80 years both in absolutely immaculate condition. An older 6in version without the rotating vial covers and a later 12in version with the heavy inner rib. Neither has the shafting groove.
Fine
GCD51
80
160
6401-346
6401-346 M.J. DAVISON level. Davison worked in Albany probably in the 1840s. An early and uncommon maker. This one is 28in long mahogany body in decent shape for its age worn with some edge chips but nothing major. Good brass vial covers no sideviews. Vials wet.
Good
BB32
45
85
6401-347
6401-347 STANLEY No. 23S declivity level. Not marked but has the correct green and red vials except one middle vial may be replaced. Wood may have been refinished.
Good
DST320
40
80
6401-348
6401-348 GOODELL-PRATT brassbound level. G-Ps version of the Stratton No. 11 1in x 2in mahogany stock double plumb vials. Wood is a little worn but perfect for restoration good brass.
Good
DST307
40
80
6401-349
6401-349 JOHN RABONE 18in level rule. Unusually large size. Boxwood body is worn with rounded edges and two holes drilled in it but markings legible. Brass and vials are good.
Good minus
MS37
50
100
6401-350
6401-350 Lot of two levels. A GOODELL-PRATT No. 2018 18in long with some kind of weird brass inset missing both plumb vial covers. And a STANLEY also 18in missing bottom vial cover.
Good minus
FNK264 265
30
60
6401-351
6401-351 Lot of three STANLEY levels. 24in No. 0 with sweetheart mark 22in No. 00 with 1907-09 mark and 16in No. 102 with sweetheart mark. Finish on the No. 00 has some wear otherwise nice and clean with crisp edges and wet vials.
Good plus
DST309 310 315
50
100
6401-352
6401-352 ULMIA HW3 smoothing plane mint IOB. With a 220mm sole and 48mm wide cutter -thats 8in and 2in to you- beech body with white beech sole. The pride of Germany and one of the best wooden planes being made itll run you well over 100 dollars new and this one is unused in its original box.
Mint
JAR278
80
160
6401-353
6401-353 ULMIA HW3 smoothing plane mint IOB. With a 220mm sole and 48mm wide cutter -thats 8in and 2in to you- beech body with white beech sole. The pride of Germany and one of the best wooden planes being made itll run you well over 100 dollars new and this one is unused in its original box.
Mint
JAR279
80
160
6401-354
6401-354 Lot of three tools. Handforged nose auger 9in with good solid walnut handle. Flat bodied wooden spokeshave marked RISHOR significant surface rust but body intact. And a farm implement of some sort flat blade on one end like a bark spud other end has a closed square wrench.
Good
VIN7 18 24
30
60
6401-355
*6401-355 Cork borer sharpener. Cork borers were used to cut washers out of cork. Unsigned in immaculate condition.
Fine
CGN258
20
40
6401-356
6401-356 Lot of four YANKEE recprocating screwdrivers. Three by NORTH BROS. - No. 130A 131A and Handyman No. 33H. And a STANLEY Handyman No. 253H with transparent plastic handle. All work smoothly except the return spring on the 33H Wear to handles on the long models. The Stanley has four bits in the handle. Plus an extra set of two replacement bits in the original North. Bros. vial. All ideal users.
Good and better
FNK497 498 505 517
55
100
6401-357
*6401-357 Supplement to American Wood Planes 2nd edition. The 1898 supplement to the Pollaks classic work on American wooden planemakers. Softbound well worn but binding intact.
Good minus
DUS44
20
40
6401-358
6401-358 Brass trammel points. Craftsman made one point is fixed to the end of the bar and the other slides. Iron points and hand-forged iron locking screw bar is 13in long and ruled in 1-5 of an inch. Very unusual and attractive set of trammels.
Good plus
CRT126
50
100
6401-359
6401-359 Lot of eight STANLEY screwdrivers. Seven No. 4590s with black wooden handles with various degrees of wear and a like-new 14in No. 2590 with rubber handle.
Good
GNM120
30
60
6401-360
6401-360 Lot of seven STANLEY No. 60 chisel handles and bevel chisel. Yellow plastic chisel handles in various sizes no blades in very good condition. Plus a 1 1-2in bevel edge chisel some wear to handle but blade nice and sharp.
Good
GNM103 106
35
70
6401-361
*6401-361 Lot of miscellaneous tools. Two nice old scrapers with good wooden handles a riffler file and a cold chisel with spalled end.
Fair
JAR270 273 282
10
20
6401-362
6401-362 Lot of four STANLEY firmer chisels. Appear to be No. 45s. 2in with sweetheart mark two 1in and a 7-8in.
Good plus
GNM108
30
60
6401-363
6401-363 YANKEE Handyman No. 133H screwdriver IOB. Tool itself is in immaculate condition near mint 1950s era box missing one end flat.
Fine
MLD5
30
60
6401-364
*6401-364 Lot of two HANDYMAN No. 133H yankee drills. Manufactured by North Bros. after its acquisition by Stanley older version with black handle and newer one with grey handle red paint a little worn mechanism works smoothly no bits.
Good
GNM140
20
40
6401-365
*6401-365 YANKEE No. 135A screwdriver. Super clean like new condition no bit.
Good plus
GNM138
25
50
6401-366
6401-366 Lot of two YANKEE screwdrivers. Nos. 130A and 135A. Both with some wear to handles but nice and clean and work smoothly no bits.
Good
GNM139
35
70
6401-367
*6401-367 MILLERS FALLS No. 100 Buck Rogers yankee drill. Drill mechanism works smoothly but the cap that turns to store the bits is loose. Just one bit. Red painted handle has some dirt on it but no damage and will clean up.
Good
CRT100
20
40
6401-368
6401-368 F.A. HOWARD spiral screwdriver with JONES patent. Marked with two patents both dated 3-1-92 - Howards own patent and the much rarer Jones patent for the ratchet mechanism activated by sliding a brass ring. Brass is tarnished and wood handle worn but undamaged.
Good
BB203
60
120
6401-369
6401-369 Lot of two tool handles. No. 305 tool handle not marked but appears to be the cocobolo handle version of the 305 some scratches to the metal and missing 2 of the 12 tools. Plus MILLERS FALLS tool handle 7in rosewood handle 7 tools in handle in way above average condition.
Good
GNM146 149
55
110
6401-370
6401-370 MILLERS FALLS No. 10 carving tool set. Complete in original box. Tools are in fine condition with a 10in carved into each one by prior owner. Box is tattered but intact with one split seam good label inside lid.
Good plus
BB112
35
70
6401-371
6401-371 Set of BUCK BROS. bevel-edge chisels. 8 chisels from 1-8in through 2in. Blades are all sharp and clean handles a little dirty but generally good. Theres a big chip out of the 1in and the 2in is spalled on the end.
Good plus
COL100 101 102 105 106 107 108 109
150
250
6401-372
6401-372 Set of turning tools. Eight in total. All appear to have been made from files. Blades all clean and sharp handles generally good noting one large crack.
Good
CRT108
50
100
6401-373
6401-373 WM JOHNSON turnscrew. Nice large turnscrew by the Newark toolmaker. 8in blade a little loose well used handle with no major chips.
Good
SK2
30
60
6401-374
6401-374 MILLERS FALLS tool handle. Includes set of seven tools in handle. Wood has wear and some chipping at end but chuck is nice and clean.
Good
FNK504
35
70
6401-375
6401-375 Lot of two BUCK BROS. chisels. A 3-4in bevel edge and a 1in crank neck. Both have clean sharp blades and good handles.
Good plus
COL103 104
30
60
6401-376
*6401-376 Lot of three scraping tools. Two made by attaching STANLEY blades to homemade wooden handles and a closed scorp that looks fairly modern but is razor sharp.
Good and better
JAR271 272 280
20
40
6401-377
6401-377 Tanners fleshing knife. 28in long. Mark on the blade is unreadable some surface pitting but still sharp. Some checks in handles but solid.
Good
DCR166
70
140
6401-378
6401-378 Large copper glue pot. Outer pot is 5in tall and 9in diameter. Dents and some oxidation like all old copper but solid and intact inner pot fits well.
Good
DCR320
55
110
6401-379
6401-379 Bone handled race knife. Unmarked blade has some surface pitting and handle is worn but solid.
Good
DCR133
70
140
6401-380
6401-380 F.A. HOWARD spiral screwdriver. This is the model based on Jones 1895 patent and marketed by Howard as Jones Improved Reversible. The larger size -16 3-4in extended- mechanism a little stiff but works one bit.
Good
CRT131
60
120
6401-381
6401-381 Cattle trocar. Used to pierce the rumen of bloated cattle to allow gas to escape. The blade is withdrawn leaving the cannula or tube in place to hold the incision. Name on the blade looks like B.L Sener. Paint on wooden handle is worn otherwise good condition.
Good
DCR132
60
120
6401-382
6401-382 Gouge with brass banded handle. Gouge itself is 3-4in diameter and 5in long theres a name on the tang but I cant read it. I think the handle was user made dark wood with three brass bands. Very well done and attractive.
Good
DCR127
60
120
6401-383
6401-383 W. DEMOTT T-handle slick. Marked W. Demott and Cast Steel on handle. 26in long overall good solid hot dog style handle.
Good plus
DCR172
80
160
6401-384
6401-384 Slick. 3in wide 31in long unmarked good sharp blade handle chipped on end and taped good user.
Good
SSA301
35
70
6401-385
6401-385 T.H. WITHERBY slick. 3 1-2in wide 31in long overall. Badly pitted.
Good minus
SSA302
30
60
6401-386
*6401-386 Lot of four cast iron burning awls. Longest is 23in handforged rings on ends.
Good
JAR152
20
40
6401-387
6401-387 Lot of two firmer chisels. Both have same mark that ends and CO but I cant read the rest. Both have 1-1-2in blades one is 20in long overall and handle has been struck the other has a longer replacement handle used for turning.
Good
SSA298 300
35
70
6401-388
*6401-388 Gooseneck chisel. 1-2in blade unsigned some surface rust handle probably a replacement.
Good
SSA179
20
40
6401-389
6401-389 L.M. HARRIMAN framing chisel. 2in blade 16 1-2in long looks like replacement handle with iron ring around end.
Good
SSA180
30
60
6401-390
6401-390 Corner chisel. 1in blade marked Rochester but no name well used but cared for and nice and sharp some chips to handle but solid.
Good
SSA299
35
70
6401-391
6401-391 Mixed lot of chisels and gouges. One later Marples 1-2in bevel with plastic handle. Two larger firmer chisels with damaged handles and three gouges.
Mixed
SSA168
45
90
6401-392
6401-392 Hook tip bark spud. 27 3-4in long overall unmarked blade has surface rust and light pitting handle a little loose but still solid.
Good
JRI1284
60
120
6401-393
6401-393 DOUGLAS MFG. CO. slick. 27in long overall 4in blade some chips on edge that would need to be honed out good solid socket handle with some minor dings.
Good
JRI1281
70
140
6401-394
6401-394 Massive WARD and PAYNE Sheffield turnscrew. 36in overall good clean mark overall fine condition with a few minor dings to handle.
Fine
MAX283
90
180
6401-395
6401-395 Massive WARD and PAYNE Sheffield turnscrew. 36in overall good clean mark overall very clean condition with a few minor dings to handle and very light surface rust on blade.
Good plus
MAX284
70
140
6401-396
6401-396 STEVENSON MAWHOOD and CO. turnscrew. 28in turnscrew with boxwood handle. Excellent example of a large turnscrew by an uncommon Sheffield maker.
Good plus
JRI1282
70
140
6401-397
6401-397 Turnscrew. Marked JBH 1952in and C2279in on blade 27 1-2in overall handle has some wear and small paint spatters.
Good
MAX285
60
120
6401-398
6401-398 Hand crafted trammel points. Beautifully made out of a light wood - possibly ash. Fixed point and wedge-locked sliding point on 32in bar iron points. A couple of small cracks where the points are inserted into the heads but overall very nice.
Good plus
DCR194
110
220
6401-399
*6401-399 Dealers lot of old plane cutters. All different sizes makers and conditions mostly 19th century. Plus some miscellaneous parts. No return on these.
Fair
JAR267
20
40
6401-400
6401-400 Miscellaneous bench plane parts. Cutter cap irons some wooden wedges totes and block plane bodies. No returns.
Mixed
DST923
50
100
6401-401
*6401-401 Dealers lot of STANLEY and RECORD cutters. Mostly for bench planes but with some block and specialty planes included. 21 cutters in total. All in good clean conditon and some nearly new -one still in package-. No returns.
Good and better
JAR367B
25
50
6401-402
6401-402 Decorative turnip-shaped plumb bob. 6in brass with iron tip ornate turning some dinging including one in the turning.
Good
NW1114
45
90
6401-403
6401-403 Large GENERAL HARDWARD teardrop shaped plumb bob. 7 1-2in brass with iron tip marked General Hardware Mfg. Co. New York No. 800.
Good plus
NW1128
50
100
6401-404
6401-404 Lot of three plumb bobs. Two brass steel tips with some minor rust. Both marked JLT-8 oz. Plus a nice clean unmarked steel bob. All 5in long.
Good plus
DUS50
40
80
6401-405
6401-405 Lot of three steel plumb bobs. 3in MILLERS FALLS 3 1-2in hexagonal body by SHAPLEIGH HARDWARE and 5 1-2in L.S. STARRETT No. 87 with knurling and external reel at top. All have some surface rust but nothing serious the Starrett has the initial M -or W- scratched.
Good
NW1100 1110 1305
55
110
6401-406
6401-406 Lot of two plumb bobs. 6in brass with no iron tip unusual slender design. Brass has oxidized but is undamaged some rust on the nut that holds it together. Plus cylindrical type.
Good plus
NW1124
55
110
6401-407
6401-407 Lot of two turnip-shaped plumb bobs. 5in and 5 1-2in brass with iron tips good clean condition.
Good plus
NW1085 1088
50
100
6401-408
6401-408 External reel plumb bob. 3 1-2in unsigned brass with iron tip very clean.
Good plus
NW1159
35
70
6401-409
6401-409 Dealers lot of plumb bobs. A bakers dozen of assorted bobs both iron and brass mostly conical and teardrop shapes. A few have numbers marked but generally unsigned.
Good and better
NW various
300
600
6401-410
6401-410 Lot of four cast iron turnip shaped plumb bobs. Ranging in size from 2 1-2in to 4 1-2in. Some surface rust unmarked.
Good
DUS48
30
60
6401-411
6401-411 GENERAL RADIO CO. sound level meter. No idea if it works or not but it looks really cool. Comes with the oldest Eveready battery Ive ever seen - 67 1-2 volts. You can also plug it in but as with all electric apparatus dont complain to us if it electrocutes you.
Good
PMG28
40
80
6401-412
6401-412 DUMORE tool post grinder. In original metal box with a number of grinding accessories. Cord looks good but as with all electric tools caveat emptor is the rule.
Good
PMG29
150
250
6401-413
6401-413 WESTCRAFT No. 549 electric drill. For those not completely prejudiced against electricity this early product of the WESTERN AUTO company is a good example of 1940s era drills. With the original owners manual in poor shape and in an envelope and a non-original wooden box. Nothing bad happened when I plugged it in but no warranties.
Good plus
ALV629
30
60
6401-414
6401-414 Lot of two drills. MILLERS FALLS No. 2 star trademark dates it to circa 1910 one chip from rosewood head. And a CRAFTSMAN two-speed breast drill. Both have wear to japanning and red paint but good teeth and work smoothly.
Good
AED22 25
40
80
6401-415
*6401-415 GOODELL-PRATT iron frame breast drill. Red paint on wheel has crackling but otherwise in good condition handle a little loose.
Good
CRT149
25
50
6401-416
6401-416 Dealers lot of old bits. 80plus bits mostly spoon bits of different sizes with square tangs both notched and unnotched. Sold as is no returns.
Good
JAR276
30
60
6401-417
*6401-417 YANKEE 1-2in drill chuck IOB. Manufactured by NORTH BROS. part No. 1595. Straight shank. Chuck is like new box a little worn but intact.
Good plus
JAR285
20
40
6401-418
*6401-418 Lot of augur bits Six spade augur bits designed for Sheffield style chuck. 3-8in to 1in. Different makers.
Good
GAN488
20
40
6401-419
6401-419 Dealers lot of bits. Mostly but not all spade bits both modern and older bits with square tangs and a couple of older Forstner types. At least one adjustable augur. Sold as is no returns.
Good
JAR277
30
60
6401-420
6401-420 Five 13-16in RUSSELL JENNINGS augur bits IOB. Bits have some surface rust but in virtually unused condition one still wrapped. Box is tattered but intact.
Good plus
BB12
50
100
6401-421
*6401-421 Lot of auger bits. Two 1in RUSSELL JENNINGS auger bits IOB shafts have some surface rust but bits themselves very clean one still wrapped. Plus a 7-16in bit very clean in wrongly marked Box is tattered but intact.
Good
BB15
20
40
6401-422
6401-422 BROWN and SHARPE adjustable caliper. Nice condition with very ornately engraved user initials original case is tattered but complete.
Good plus
UNK110
40
80
6401-423
*6401-423 Lot of three specialty square shank bits. Adjustable auger bit marked CLARK but overstamped STANLEY 129 a countersinking bit and a dowel pointer.
Good
GNM180 181 182
10
20
6401-424
*6401-424 Lot of two washer cutters. One by PETER LOWENTRAUT of Newark one locking thumbscrew is a replacement. Plus one that looks hand-forged.
Good minus
VIN1001
25
50
6401-425
6401-425 Lot of two bitstock tools. Unsigned reamer 1in x 4 1-2in in like new condition. And an adjustable washer cutter by OTIS SMITH of Rockfall CT maker of the Fales parent plane with some surface discoloration but no damage. Both with tapered square shanks.
Good plus
JAR269 281
30
60
6401-426
6401-426 Lot of four advertising items. Brass combination letter opener and pen nib trimmer marked patent applied for and commemorating the 50th anniversary of the Home Insurance Co. in 1903. Plus two novelty hammers and a cigar cutter commemorating other worthy products.
Good
VIN32
30
60
6401-427
*6401-427 Lot of two measuring tools. Nice heavy duty set of steel calipers unsigned 8. And a 50ft CRAFTSMAN steel tape blue fabric cover has some wear but tape is clean and rust-free.
Good
VIN31 58
20
40
6401-428
6401-428 FENNER patent saw set. Pliers-type saw set patented in 1869 by Augustus Fenner of Cold Brook NY and manufactured by him. Good condition with a little surface rust clearly marked with patent date.
Good plus
BB212
30
60
6401-429
*6401-429 Set of STANLEY No. 28 cornering tools. Both tools with sweetheart marks and an extra 1-8 - 1-16in tool from an earlier set. Some surface corrosion but fully usable.
Good
CP 78
10
20
6401-430
*6401-430 STANLEY No. 373 and half butt marker IOB. Used to mark jambs for hinges. Drive it in and then chisel it out. Tools is like new box tattered but complete.
Good plus
VIN15
20
40
6401-431
6401-431 KEEN KUTTER scissors. For those who cant resist anything labelled Keen Kutter heres a nice pair of scissors patented in 1880 by one Leopold Strauss of Middletown CT. Some surface corrosion but not much and Keen Kutter name clearly marked.
Good
VIN60
30
60
6401-432
6401-432 GOODELL-PRATT double mortise gauge. Patented 1888 by Lucius Barrett and sold by GP for several years two arms with piecutter blades at end. Nickel has some flaking and one wheel is worn but otherwise good example of an uncommon gauge.
Good
BB134
30
60
6401-433
6401-433 Lot of eight wrenches. Four buggy wrenches the two square end ones are each marked Patd one one side and with a model number hexagonal one has a trademark of E in a circle which is the same as the smaller square one and an open end model. Plus a bed wrench unmarked except for 73in and three unmarked open end wrenches. Surface rust and light pitting but good overall condition.
Good
ABR2 4 5 717 18 21
30
60
6401-434
6401-434 Lot of two adjustable wrenches. TOWER and LYON 15in wrench covered by two patents issued to Bernard Donahue 3-1-81 and 11-12-89. Sold by TandL although their logo is not readible on the head. Head dinged and jaws slightly sprung wood handel is dry and may be an old user replacement still a complete example of an uncommon wrench. Plus a 12in BILLINGS COE monkey wrench with the oval Coe trademark and Triangular B mark. The last all-metal Coes type monkey wrench manufactured unfortunately head is well dinged and a lot of surface rust. Also has ATandSF railroad logo.
Good
ALV576 659
50
100
6401-435
6401-435 Lot of four adjustable wrenches. Unusual 6in model by BOOS TOOL CO. of Kansas City MO tightened by rotating handle WAKEFIELD quick adjusting wrench with the optional toothed jaws inserted -and with a couple of chips- 12in Polly wrench patented 4-16-23 and manufactured by GELLMAN MFG. of Rock Island IL 14in ROBERTS adjustable pipe wrench patented 2-21-22 and made by ROBERT WRENCH CO. of New York -the wrench is marked Robert but Ken Cope says it should be Roberts.-
Good and better
LEE894
60
100
6401-436
6401-436 Lot of two adjustable wrenches. HEIMBACH patent nut wrench patented in 1915 and sold by the LEVER WRENCH CO. of Duluth. Lift the lever on the back to slide the jaws and press down to lock. 10in long version jaws a little dinged up but overall good condition. Plus an ANDERSON TURN-MORE wrench patented 1906 and sold by ANDERSON COUPLING CO. of Portland CT. Jaws are in very good condition sheet metal handle has some pitting that partly obscures the name.
Good
ALV565
50
100
6401-437
6401-437 Lot of two adjustable wrenches. HEIMBACH patent nut wrench patented in 1915 and sold by the LEVER WRENCH CO. of Duluth. Lift the lever on the back to slide the jaws and press down to lock. 8in long version jaws a little dinged up but overall good condition. Plus BOSTON WRENCH CO. adjustable nut wrench based on Gagnons 1906 patent solid metal 8 1-2in with springloaded lower jaw locked in place by a sliding wedge. Some loss of nickel and surface corrosion particularly in the head and a couple of dings in the jaw but mechanism works smoothly.
Good
ALV94 567
50
100
6401-438
6401-438 Lot of two adjustable wrenches. GORDON AUTOMATIC quick adjusting nut wrench in 1921 and manufactured by Gordon Automatic Wrench Co. of Union NJ. Spring loaded rack adjustment mechanism 7in long extra clean with jaws undamaged. Plus BAXTER double headed wrench based on Baxters 7-17-1883 patent with the flat oval adjusting screw 8 1-2in metal has significant overall dinging but is intact and works. A rare Baxter wrench.
Good and better
ALV181 311
50
100
6401-439
6401-439 NASH patent saw set. Marked only with the word Patent but unmistakable William Nashs 1867 patent. Nash made several types of sets but this is an early and unusual version.
Good plus
BB213
30
60
6401-440
6401-440 Lot of two adjustable wrenches. 10in STILLSON pipe wrench by WALLWORTH MFG. of Boston later model with red painted steel handle. And an 8in MASTERENCH by HELLER BROS. of Newark smooth jaw variety. The Masterench has a spot of green paint and a little surface rust but otherwise both in good condition good jaws.
Good
JAR252 262
35
70
*6401-441
6401-441 Lot of 14 open end box wrenches. Various makers and sizes. Largest is 1 1-4in x 1 1-8in down to 5-16in.
Good and better
JAR248 249 250 251 255 257 258 259260 261
20
50
*6401-442
6401-442 H.D. SMITH Perfect Handle open end wrench. Largest of the Perfect Handle wrenches with 1 3-4in opening and 15in length. A couple of dings on the handle.
Good
ABR8
20
40
6401-443
6401-443 JOHNSON patent wrench. Patented 1897 by Chester Johnson of Boston and manufactured by Whiting Macomber and Whiting of South Framingham. Swiveling head and adjustable lower jaw. Greasy and some dinging but in good condition. Perfect handle. A rare wrench.
Good
ALV168
60
120
6401-444
6401-444 FISHER pipe wrench. Patented by James Fisher of West Virginia in 1927. Some surface corrosion but good jaws and works smoothly. A rare wrench not listed 12in.
Good
VIN45
40
80
6401-445
6401-445 Barbed wire stretcher. Rotating head marked on A5. 17in long overall.
Good
FNK544
30
60
6401-446
6401-446 Lot of two adjustable wrenches. 9in wooden handle WHITMAN and BARNES pipe wrench with Martins 1898 patent rotating lower jaw. Plus a speed adjust nut wrench with a sliding collar that I know was patented but unmarked. Both greasy some chips from jaw of the WandB but overall good condition.
Good
ALV170 245
60
120
6401-447
*6401-447 French-style double head coach wrench. Has some unreadable marking old wooden octagonal handle with a split running the length surface rust and jaws slightly sprung but works smoothly.
Good minus
ALV508
25
50
6401-448
6401-448 HAMMOND patent nut wrench. Patented 9-3-89 by Henry Hammond and later manufactured by J.H. WILLIAMS of Brooklyn 6in. Some dings and jaws slightly sprung but a good example of an uncommon patent.
Good
ALV310
50
100
6401-449
*6401-449 Lot of two forged tools. Forged saw wrest set. And a prying tool of some sort with a rounded portrusion to provide leverage inactive worm in handle.
Good minus
ICK111
20
40
6401-450
6401-450 Lot of three adjustable wrenches. Two BILLINGS and SPENCER center nut types 7in and 4 1-2in and a PECK STOW and WILCOX 6 1-2in marked with Ellrichs 1896 patent perfect handle.
Good
ALV227 386 409
55
100
6401-451
6401-451 Lot of five center screw bicycle wrenches. Two BILLINGS and SPENCER two KING DICK and one marked TENT SHEFFIELD. Ranging from 7in to 4in. All in good overall condition with some minor rust spots the larger BandS has some dings and the owners name engraved on the handle.
Good
ALV372 379 382 387 388
60
120
6401-452
6401-452 Lot of three wagon wrenches. A good example of ROSWELL COOKS patent wrench with spring-loaded clamp in the 1 1-4in size. Plus one by KING PLOW CO. of Atlanta GA and an unmarked example.
Good
ALV217 366 413
65
130
6401-453
6401-453 WRIGHT quick adjusting monkey wrench Patented in 1904 and manufactured by WRIGHT WRENCH CO. of Tacoma WA it used a leaf spring to hold the jaw in place and could allegedly be adjusted single handed. A good clean example with only minor dinging 15in.
Good plus
ALV415
50
100
6401-454
6401-454 Lot of two combination tools. Combination adjustable nut wrench hammer and pry bar labelled G.M. CO. L.I.CITY N.Y. in good clean condition and a combination crimping pliers hammer pry bar and screw driver labelled U.S. POST OFFICE DEPT.
Good
ALV331 421
30
60
6401-455
6401-455 Lot of two quick adjusting pipe wrenches. A PARMENTER wrench patented in in 1915 and 1917 and manufactured in Boston 7in. And a plier-wrench marked only B and D with a screwdriver bit -slightly bent- on one leg 7in. Both are good lean examples.
Good
ALV411 427
55
110
6401-456
6401-456 Lot of two NEVERSLIP wrenches. Both 7-16in one right-angled and one straight. The Neverslip company of New Brunswick NJ originally specialized in tools for horseshoe caulks and branched out into wrenches
Good
ALV233 234
55
110
6401-457
6401-457 Lot of three wrenches. STILLSON pipe wrench manufactured by WALLWORTH of Boston 7in wooden handle nice condition 6in COCHRAN SPEED NUT also in good condition and an unmarked plierrench with surface rust and some damage to jaws
Good
ALV198 418 424
60
120
6401-458
6401-458 IMPROVED ANGLE wrench. Marked patented 1915 and manufactured in Bloomington IL but I cant find the patent. A typical adjustable nut wrench but with a swiveling head that can be locked at different angles.
Good
ALV365
55
110
6401-459
6401-459 Lot of two quick adjusting wrenches. An old model with scissors-action legs with different holes for adjustment stamp looks like Bauers Patent which Ive been unable to locate some chipping to teeth 9 1-2in with screwdriver blade on one leg. And a Fitzall nut wrench with sliding collar by STANDARD WRENCH and TOOL CO. of Providence RI 7in model.
Good
ALV401
55
110
6401-460
6401-460 LANE ratcheting angle screwdriver. Patented 1908 and sold by WILLIAM B. LANE of Chicago 7in clearly marked and works smoothly.
Good plus
ALV430
40
80
6401-461
6401-461 Lot of two box hammers. A small box-opener hammer with a pry bar on the end marked DASCO and a HAV-A-TAMPA cigar box hammer.
Good
ALV292 669
50
100
6401-462
*6401-462 Two glass tubing cutters. Each has a horsehoe-shaped end on one leg and a sliding collar on the other that can be moved to different positions. Both unsigned.
Good
NW1971
20
40
6401-463
6401-463 Lot of two English tools. A meat skewer or possible ice pick with silver handle marked SHEFFIELD. Second is brass with a spring-loaded pump action - some kind of injector possibly.
Good
ALV197 199
30
60
6401-464
6401-464 Lot of miscellaneous tools. A proto valve adjustment tool three-blade screwdriver two special purpose pliers with patent dates that I cant trace what looks like a sawset labelled E.J.BROOKS and a saw set hammer.
Good
ALV112 201 399 403 412 432
30
60
6401-465
6401-465 Lot of two combination tools. Combination wrench hammer hatchet pry bar etc. unsigned in good condition. Smaller one has an 8-24-75 patent date that I couldnt locate looks like combination kitchen tool. Looks like something was broken off the end.
Good
ALV114 668
50
100
6401-466
6401-466 Lot of two folding multitools. Probably English but both unsigned. Smaller one has six tools larger has only five and is nickel plated with some surface corrosion.
Good
ALV496 497
60
120
6401-467
6401-467 Lot of four specialized pliers. Bizarre pliers with spring-loaded screw mechanism labelled wire twister apparently you lock the pliers onto the wire and then the screw mechanism twists it for you. Plus one with three separate crimping jaws an odd-shaped one labelled Cornwell and one probably used for compressing springs.
Good and better
ALV196 213 375 448
60
120
6401-468
*6401-468 KLEIN patented fish tape puller. From the Chicago electrical supply house of KLEIN and SONS comes this unusual gadget patented in in 1927 and designed to grab the end of the metal fish tape used to thread wire through conduit. Definitely different.
Good plus
NW1909
10
20
6401-469
6401-469 AIKEN patent saw set. Herrick Aiken received several patents for saw sets in the 1830s. This one was manufactured by SARGENT and still has the hardware tag from the WYETH Company of St. Joseph MO.
Good plus
NW1970
35
70
6401-470
6401-470 Race knife. Manufactured by the NEW YORK KNIFE CO. of Walden.
Good
NW1883
35
70
6401-471
6401-471 CAPEWELL patent tackpuller. A very clean example of the 1893 patent of George Capewell the Thomas Edison of nail pullers. Marked patent applied for. If nail pullers are your thing you wont find a nicer one.
Good plus
ALV59
65
120
6401-472
6401-472 Lot of three claw hammers. Super clean KEEN KUTTER smaller STANLEY and an unmarked one with straight peen. All in very nice condition with good handles.
Good plus
NW456 471 589
40
80
6401-473
6401-473 Lot of three claw hammers. A KEEN KUTTER Dynamic model and two older unmarked straight-poll types. All old handles some wedge repair to Keen Kutter.
Good
NW455 477 597
30
60
6401-474
6401-474 Lot of four hammers. A KEEN KUTTER small nailing hammer with a roofing nail used as a wedge an OAK LEAF tack hammer very clean a BOND MAYDOLE small nailing hammer and an unmarked older model with octagonal poll and curved claws. All handles look old tightened with wedges over the years.
Good and better
NW464 473 591 593
40
80
6401-475
6401-475 Lot of four hammers. A decent KEEN KUTTER creasing hammer marked on both head and handle an unmarked farriers hammer with mushroomed poll and old replaced handle and two smaller nailing hammers one by MAYDOLE.
Good
NW457 465 474 588
35
70
6401-476
6401-476 Lot of five smaller hammers. Two handforged claw hammers two cross peen and and one ball peen. Ball peen is MAYDOLE others are unsigned. Some surface rust handles all old with some wedge repairs.
Good
VIN252
30
60
6401-477
6401-477 Lot of four hammers. Old handforged claw hammer tinsmiths bumping hammer marked only 39in and two smaller claw hammers by KEEN KUTTER and GARDEN CITY. All handles look old with some wedge repairs.
Good
NW458 467 475 595
30
60
6401-478
6401-478 Lot of three hammers. A STANLEY Bell System hammer marked with Stanley name but not Bell System old split in the handle and some repair wedges but still solid. Plus a TRUE TEMPER No. 7F lightweight nailing hammer handle is old but head seems a little crooked on it. And an unmarked miniature sledge with pitting and chipping to head.
Good
NW442 453 469
30
60
6401-479
6401-479 Lot of three hammers. Nice old strap with split-strap end of one has broken off and some pitting to metal but still solid. Plus a STANLEY Bell System sledge and an unmarked curved claw nailing hammer with an old replacement handle screw used to tighten head.
Good
NW452 462 466
30
60
6401-480
6401-480 Lot of three hammers. Unusual double-headed model that I havens seen previously unmarked. Plus a straight-claw nailing hammer with an octagonal poll mark too worn to read and a curved-claw nailing hammer with what looks like an NJHS trademark in a diamond. First two have good old handles third handle looks replaced but solid.
Good
NW449 451 463
40
80
6401-481
6401-481 Lot of three hammers. Nice old strap with hook-type straps that reach up through the eye octagonal poll original curved walnut handle. Plus an unmarked farriers style and a SIMMONS ball peen with original white painted handle very worn. All handles solid and appear original
Good
NW468 470 590
30
60
6401-482
6401-482 Lot of two hammers. Unmarked slaters hammer with old handle cracks in handle but still solid and a PEXTO adze hammer with good original handle. Both with surface rust and dinging.
Good
CRT118 147
50
100
6401-483
6401-483 Lot of three hatchets. SHINOLA hatchet by BRIDGEPORT MFG. CO. marked patent applied for with perfect type wooden handle. Plus an old and worn KEEN KUTTER with big chips out of the handle and a later model with Estwing type handle. The SHINOLA is the pick of the litter but all will still chop.
Good
NW304 1454 1475
60
120
6401-484
6401-484 Lot of two striking tools. Curve bladed pilots survival hatchet with spiked poll this has a special name but I cant place it. Plastic handle winged A trademark. Plus an old handforged froe head well rusted.
Good
ALV501
50
100
6401-485
6401-485 Lot of two hatchets. OAK LEAF lathing hatchet by SIMMONS HARDWARE and a LAKESIDE combination hammer hatchet marked Vanadium Steel. Both in decent conditon with good solid original handles.
Good
NW 592 1476
60
120
6401-486
6401-486 Cane knife or machete. Hooked end type 16in long overall blade marked Garantita -Guaranteed- which makes me suspect it may be been for use in an Italian vineyard. Also has BCF cast in mark. Solid metal handle leather wrapped with belt hook. A little surface rust but still wicked sharp.
Good plus
NW1771
55
110
6401-487
6401-487 Set of bits. A set of drill bits mounted on a board. Includes a total of 55 spade gimlet and miscellaneous bits all for a square shanked brace. According to the label these were used by Jake Poag who moved from Kent in 1860. One bit missing.
Good
NW1997
30
60